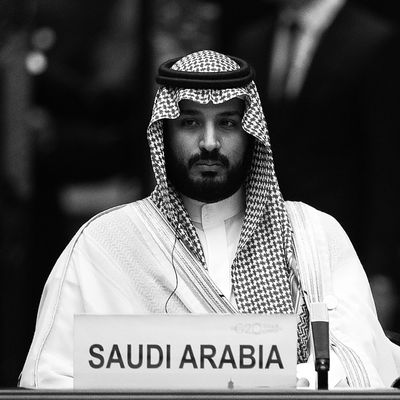 Crown Prince Mohammed bin Salman.
Photo: Pool/Getty Images
A new report from the Wall Street Journal details evidence that the Saudi Arabian security officers have tortured at least eight of 18 women's rights-activists in captivity this year. The torture and detention of the activists is reportedly a part of an effort to put an end to criticism of Crown Prince Mohammed bin Salman.
According to WSJ, the torture reportedly includes lashings and electric shock. Additional reports from human rights organizations outlined further details of alleged torture.
Human Rights Watch report on the torture allegations also detailed accounts of forced hugging and kissing. The women who endured the torture reportedly showed physical signs including "difficulty walking, uncontrolled shaking of the hands, and red marks and scratches on their faces and necks." A statement from Amnesty International stated that the abused included that "one of the activists was made to hang from the ceiling," and that others were "reportedly subjected to sexual harassment, by interrogators wearing face masks." According to both reports, one woman who suffered the abuse repeatedly attempted to commit suicide.
Some of the women who were allegedly abused include activists who were prominent in the campaign for women to have the right to drive in the country, which was officially granted on June 4 of this year. Loujain al-Hathloul, Aziza al-Yousef, Eman al-Nafjan, Nouf Abdelaziz, Mayaa al-Zahrani, Samar Badawi, Nassima al-Saada, and Hatoon al-Fassi are all being detained without being charged.
The report comes as Prince Mohammed and Saudi Arabian government face international backlash over the murder of journalist Jamal Khashoggi, who was killed in the Saudi Arabian consulate in Turkey. The Saudi Arabian government denied the allegations in a statement to WSJ: "The Kingdom of Saudi Arabia's judiciary system does not condone, promote, or allow the use of torture."
The same afternoon that the report detailing the alleged torture was published, President Donald Trump restated the United States' committed relationship to the Kingdom in an official White House statement. "The United States intends to remain a steadfast partner of Saudi Arabia to ensure the interests of our country," the statement read. "It is our paramount goal to fully eliminate the threat of terrorism throughout the world!"