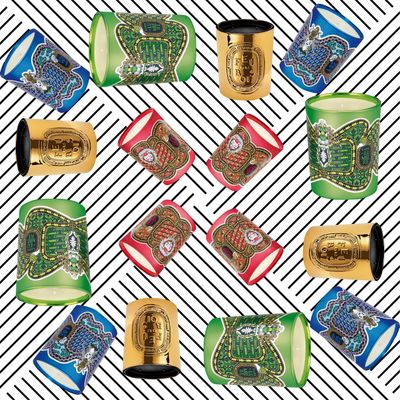 Is the
Harry Potter
theme song in your head now?
Photo: Courtesy of Diptyque
Diptyque, purveyor of fine candles and fancy gifts, has released their holiday collection. And guess what? They should open up a shop in Diagon Alley or Hogsmeade pronto because some of these candles feel very Harry Potter-esque and slightly reminiscent of the four Hogwarts Houses.
Three new holiday-inspired scented candles are at the top of the list: Exquisite Almond, which is red (Gryffindor), Amber Balm is blue (Ravenclaw), and Pine Tree of Light is green (Slytherin). As for humble, friendly Hufflepuff (yellow)? Well, Hufflepuff erasure is a thing of the past because the humblest house gets a giant Feu de Bois candle in a gold ceramic jar. It has five wicks and is supposed to "crackle" like a log in a fireplace. Overall, it's a pretty magical selection of gifts.
There are a lot of other cool gift options as well for the slightly less Harry Potter-obsessed people in your life. There's a whimsical little candle carousel that uses the heat from the candle to spin, and a couple mini-candle gift sets that are perfect for any of your holiday séance needs. Check out more highlights from the collection below, which are available now. You definitely don't need to hum the Harry Potter theme song while you scroll through, but it does make browsing more fun.
Includes 35g travel sizes of Feu de Bois, Ambre, Pomander, Benjoin and Opoponax Candles.
Includes 35g travel sizes of Feu de Bois, Ambre, Pomander, Benjoin, Vanille, Noisetier, Roses, Santal, Jasmin, Tubereuse, Baies and Mimosa Candles.
Includes 35g Baies Travel Candle, 2.5oz L'Ombre dans l'Eau Eau de Parfum Spray and mini L'Ombre dans l'Eau Shower Oil.
If you buy something through our links, New York may earn an affiliate commission.