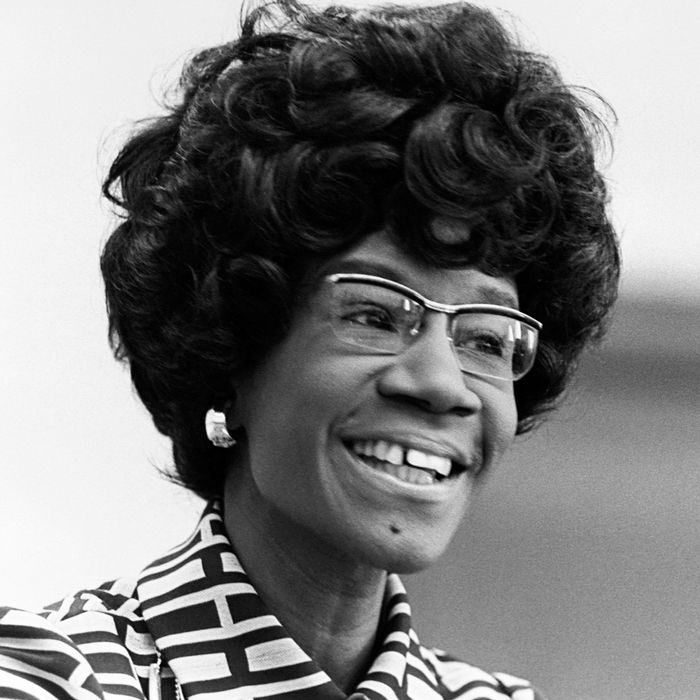 Shirley Chisholm.
Photo: Historical/Corbis via Getty Images
As of now, there are just five statues honoring women in New York City — as opposed to nearly 150 men. In an attempt to commemorate more women, earlier this year, the city asked New Yorkers to nominate worthy candidates for a monument of their own, and today they announced who was receiving the honor: Shirley Chisholm, the first black woman elected to Congress as well as the first black woman to seek a major party's presidential nomination.
On Friday — what would have been Chisholm's 94th birthday — the de Blasio administration revealed that she would be commemorated in a monument at the Parkside entrance to Prospect Park. (This year also marks the 50th anniversary of Chisholm winning her election to the House of Representatives.)
"Congresswoman Shirley Chisholm's legacy of leadership and activism has paved the way for thousands of women to seek public office," First Lady Chirlane McCray said in a statement. "She is exactly the kind of New York woman whose contributions should be honored with representation in our public spaces."
According to a spokesperson for the mayor's office, the city received 1,829 eligible submissions, many of which nominated a woman who fell under the umbrella of social reform or justice — and above rose Chisholm.
In their own words, pulled from the submissions and provided to the Cut from the mayor's office, New York City women explain why they want Chisholm honored with a monument.
M. from Manhattan
Representative Chisholm boldly and honorably represented the diverse communities of her district in Congress. She also demonstrated the importance of diversity among our elected officials, advocating for people often ignored or hindered because of discrimination. She was a brilliant and spirited New Yorker, a trailblazer who was one of city's best and brightest.
M. from Sunnyside
Chisholm's story is the embodiment of the American Dream, and her trailblazing nature is quintessentially New York. A Brooklyn-born daughter of working-class immigrants, she was unapologetically ambitious; to this day, our society is still uncomfortable with ambitious women, particularly women of color. She was so many firsts: first black woman elected to Congress, first black candidate for a major party nomination, and the first woman to run for Democratic Party's presidential nomination. She faced opposition from all sides, and yet she persisted … I think that it's time to show the power of NYC's women, immigrants, and their "unbought and unbossed" courage in taking on the status-quo.
O. from Brooklyn
As a young woman of color, there is a dearth of other women of color in our history books. Shirley Chisholm was a badass, and she deserves her own damn monument.
J. from Brooklyn
Shirley Chisholm did a very simple thing. She dared to be herself — and that meant she dared to be a leader in an era when women and people of color were not perceived to be leaders. But Shirley knew that was exactly who she was. And she did not let anyone stand in her way of being exactly who she know she was born to be … She gave voice and hope to so many. I am inspired by her story and courage, and it would give me enormous joy to see her commemorated in our great city.
H. from Queens
Her contributions really speak for themselves; I can't imagine I am the only person to nominate Shirley Chisholm. She is definitely a woman of great historic importance that all New Yorkers can be proud of.