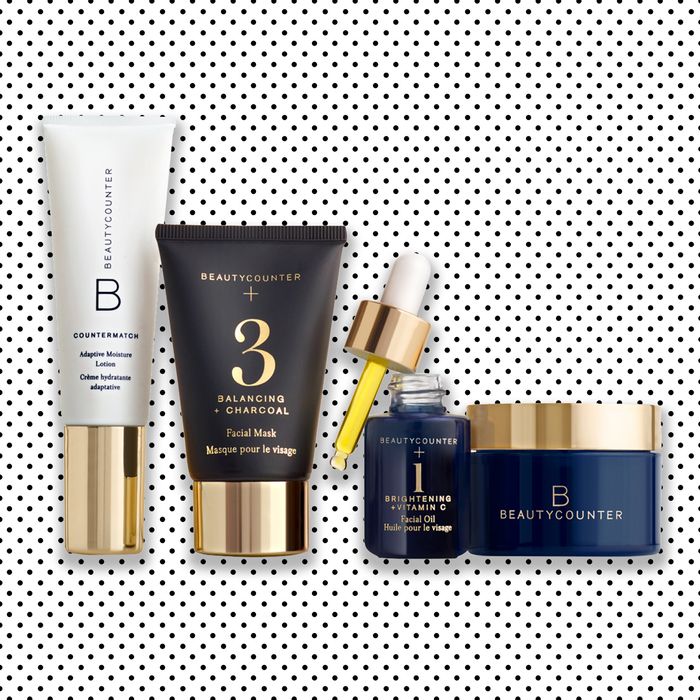 Photo: Courtesy of Beautycounter
Apart from office-mandated white-elephant exchanges, the point of gift-giving is generally to show that you care for the recipient. And one thing that's universally worth taking care of is our skin. If you're going down that route, then the best gesture is to first make sure the products you're passing on are actually nurturing — and unlikely to do harm. Upstart brand Beautycounter's whole operation is built around democratizing cleaner, safer skincare and beauty products. Their proprietary Never List™ bans 1,500 harmful or questionable chemicals from their formulas, which are still impressively high-performing and luxurious to use. See below for a few gift suggestions for everyone on your list, which also can be found at Beautycounter's new brick-and-mortar store in Nolita.
For the Routine Queen
Anyone with a sacred nightly ritual will love this fancy, multitasking cleanser — which also removes makeup and can be worn overnight as a mask. The melty balm texture feels super-nourishing, and it breaks down dirt and oil without over-drying.
Update: The special edition version pictured has sold out, so we've edited the link below to the same great product, just in classic packaging.
For the Sleep-Deprived Person
Whether their job keeps them out late, they're on the red-eye circuit, or they just have kids, your most caffeine-dependent loved one deserves some pampering tailored to their always-tired lifestyle. This reviving kit includes a peel for perking up dull skin, an illuminating lotion for instant glowiness, and (of course) cooling eye masks to combat puffiness.
For the Guy Who Can't Stay Put
Some would call him hyperactive; he calls himself "ambitious." No matter why this brother/boyfriend/best friend never stays still for long, at least you can help him put his best face forward on his next move. This travel set covers the best of Beautycounter's new Counterman collection, including skincare and shave necessities, all tucked into a grown-up Dopp kit.
For the Rabid Researcher
You either know this person, or you are this person: the one who sets multiple price alerts for the group trip a year out, who's prone to falling down online-review rabbit holes, and who's known for creating spreadsheets for fun. Appeal to their love of analytics by citing how this leave-on, AHA/BHA peel rises above the pack — with a uniquely gentle formula and 15 botanically-derived acids. It's also free from synthetic fragrances, PEGs, and formaldehyde-based preservatives often found in other peels.
For the Especially Deserving One
When you really want to show your appreciation, it's hard to choose just one gift that's good enough. Support their self-care with this sampler set, which lets them indulge in multiple ways. The lineup of best sellers includes the cleansing balm, a lightweight moisturizing lotion, a hydrating facial oil (with Vitamin C to help promote brightness), and a balancing clay facial mask.
All images courtesy of Beautycounter.
This is paid content produced for an advertiser by New York Stories. The editorial staff of The Cut did not play a role in its creation.