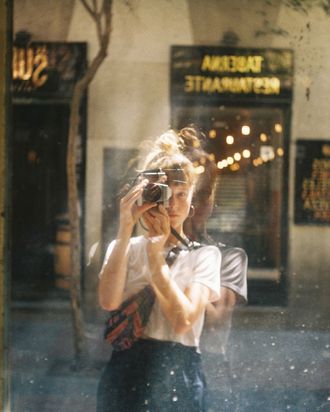 Photo: Courtesy of Sonia Perdeck
Weekend With is an ongoing Instagram series that features people we like photographing places we'd like to be. Follow @thecut on Instagram to join in, and tag your photos with #weekendwith when you travel somewhere new.
Even though Dutch photographer Sonia Perdeck (@soniaperdeck) used to travel to Spain every summer with her parents, she had never been back to Madrid, the city where she was born. She left her home in the Netherlands for a solo three-week trip of Spain and got to spend a week in Madrid. "I stayed in a really nice hostel where I met a lot of lovely people and some days walked almost 20 kilometers to see as much as possible." One of those lovely people she met was Nanami, a woman from Japan who posed for some photos.
"There was a big street party/festival called 'La Paloma' in the neighborhood La Latina. Even though I'm not a really a party person, I think my favorite moment in Madrid is dancing on the street with the locals, the vibe and music was so nice!"