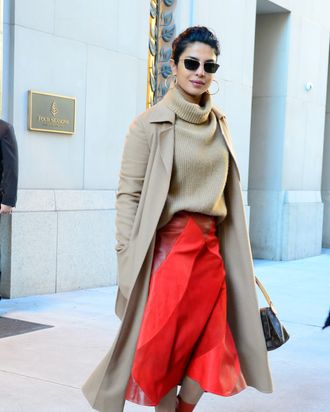 Priyanka Chopra.
Photo: Raymond Hall/GC Images
Priyanka Chopra and Sophie Turner are living the 2010 dream of marrying into the Jonas family. Sophie is engaged to be married to Joe Jonas, and Nick Jonas proposed to Priyanka Chopra three months ago. While Joe and Sophie don't seem to be rushing to the altar, things have been moving fast for Nick and Priyanka.
The couple traveled together to India to meet her family, they planned their wedding, and Chopra threw her bridal party at Tiffany's Blue Box Cafe in New York City.
Now, Priyanka's big day is getting closer, and she's is getting in the last of her pre-wedding celebrations. Gathering with a just a few ladies — including Sophie — she celebrated her bachelorette party very tastefully inAmsterdam over the weekend.
Posting photos of herself drinking mojitos and posing with friends, the party seemed pretty tame — no one got kicked out of a winery, at least — though her outfits were incredible. She wore a cream sweater sock combo with knee-high snakeskin boots for a boat tour of the city, and an orange sweater and mid-length plaid skirt on the second day of her bachelorette weekend.
Priyanka did wear a "bride to be" sash at one point, and posted a video of herself giving Sophie a piggyback ride on her Instagram story. "In heels! Ugh. This is what you have to do for sister in laws these days," Priyanka exclaims, as the camera pans down to their heeled feet. The video also includes the hashtag "#TheJSisters." That should definitely be monogrammed somewhere.