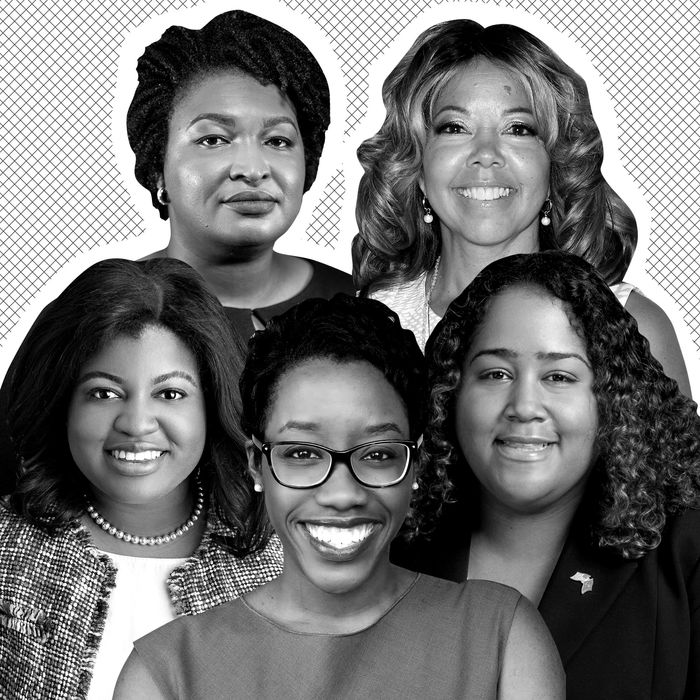 Photo: Getty Images, DeJear for Iowa, Lauren Underwood for Congress/Facebook, Rep. Raumesh Akbari for Senate District 29/Facebook
Growing up as a young woman who aspired to change the world, my political role models were few and far between. My mom was just 14 when Shirley Chisholm became the first black woman elected to Congress in 1968; since then, only 38 black women have had seats in the House of Representatives and only two have ever been U.S. Senators.
I always thought that when it comes to politics, black women can run for office but rarely win. That message was so emblazoned in my mind that decades later, when someone casually floated the idea that I run for Secretary of State in my home state of Missouri, my first thought was "I can't win statewide," and moved on to the plate of pasta in front of me, never to consider it again. Why would I? Despite the fact that I was already an activist, an executive director, and an Obama appointee, our country's current standing told me that a statewide office might not be in the cards for me just yet. In the 242 years of our history, no black woman has ever been governor. No matter how much you might like Michelle Obama and Auntie Oprah, never have we elected a statewide top executive who looks like them. This year, thanks to the more than 400 black women running for local, state, and federal seats, we might finally change that.
Black women have been qualified to lead since the founding of this country. Harriet led her people out of bondage and Rosa led a nation to integration. Black women are plenty qualified to be the left's most loyal bloc, vote on the right side of history and save Alabama from electing Roy Moore. And despite the bias we face, black women are now more educated than any other racial group of women in the U.S. This year, black women have the chance to be recognized as the leaders we've always been. Here are are five black women candidates poised to make history on Tuesday:
Stacey Abrams, Candidate for Governor of Georgia
Remember when I said we've never ever had a black woman governor? Sister Stacey will change that. Her opponent — who, get this, also controls all Georgia elections — has already attempted to suppress and silence the voices and votes of Georgians because he's worried about her strong polling. Not only would her win make history, her campaign is already making a difference: the Abrams campaign has defied typical political logic by engaging voters long ignored by political Establishments, listening to the needs and concerns of underrepresented and discounted people across the state of Georgia from all backgrounds. If that's how she campaigns, imagine how she'll govern. Support Stacey here.
Deidre DeJear, Candidate for Iowa Secretary of State
If there is anything Stacey Abrams's race is teaching us in Georgia, it's just how important the secretary of State role is across the country. While the role is often ignored by voters who don't know what it does and Democrats who think they can't win statewide office, the secretary of State sets regulations and oversees elections for everyone in their borders. Suffice it to say, this job matters, and DeJear wants to be an SoS for all Iowans. Yep, there are black women in Iowa, too. DeJear wants to increase early voting days and use the weight of her office to help end Voter ID laws to increase access to the polls. She's been endorsed by former president Obama, and I'm audacious enough to believe we can help a black woman — who wants to make Iowa more equal for everyone — win in Iowa, too. Support Deidre here.
Lucy McBath, Candidate to Represent Georgia's 6th Congressional District
Lucy McBath's dedication to serve as Georgia's Representative for the 6th district comes from all she's lost as a mother. Her 17-year-old son, Jordan Davis, was shot and killed by a white man who thought he and his friends were playing their music too loudly. Despite her grief, she became an outspoken advocate for gun control in an era when we desperately need it. Now, she's ready to go from advocating for change to creating it herself. She's running for the seat Jon Ossoff lost and could help progressives take back the House — a win for Georgians and for America. Through it all, she's a fighter — and she'll fight for children and all people fiercely. Support Lucy here.
Lauren Underwood, candidate to represent Illinois' 14th Congressional district
Lauren Underwood is the youngest black woman running for Congress this year and the first black woman nominated to run in the history of Illinois' 14th district. She's a former public-health nurse, so she not only understands that health care is voters' top issue this midterm, she actually has the on-the-ground-experience and capacity to help solve it. Fancy that. She wants to reign in the cost of prescription drugs and invest in mental-health care so that people are living their healthiest lives possible. Support Lauren here.
Raumesh Akbari, Candidate to Represent Tennessee State Senate District 29
When Raumesh Akbari became president of our college Association of Black Students twice, I knew she'd be one to watch. And if you watch her on the 2016 DNC stage, you'll have to agree. She is running to move from Tennessee's State House of Representatives to the State Senate, representing the 29th district, and, if elected, would become the youngest member of that chamber. Like, by far. And let me tell you — from public transportation to gerrymandering, getting young progressive voices on state legislatures matters. The native Memphian has protected schools from state takeovers and incarcerated people from the seriously inhumane practice of being offered sterilization in exchange for lighter sentences. She's a force of nature: you should join her bandwagon while there's still room. Support Raumesh here.