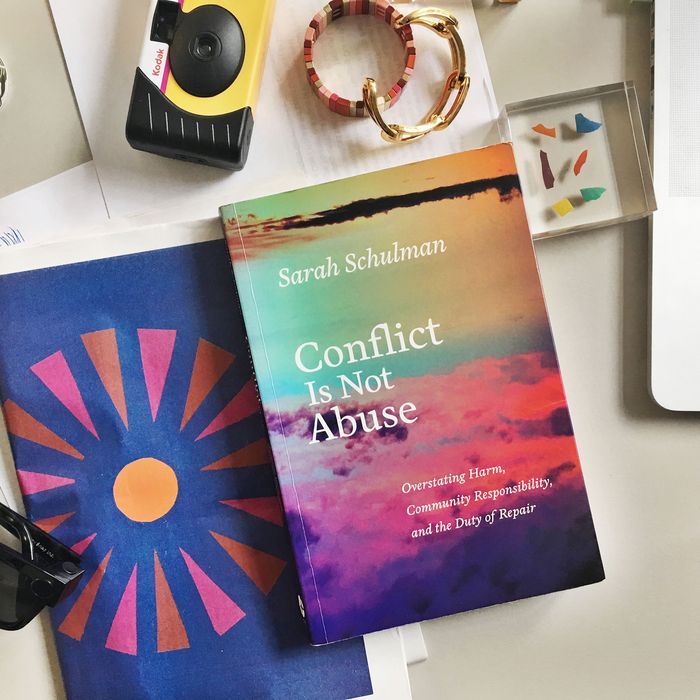 I didn't write an editor's letter last month because I felt like I had nothing to say. Or because I had too many things to say, and I couldn't articulate the churning mess of my thoughts. I want to be fun and happy and light, but I just didn't feel it. So I stayed quiet.
On the day I should have been writing an editor's letter, I was traveling for Fashion Week. I left for the airport after watching the Kavanaugh hearings, only to spend 36 hours trying to get to Paris, including an unplanned stop in Boston when my flight was canceled. Sitting on the floor of a domestic terminal, huddled by an outlet charging my phone, I slacked with people in the office and observed a janitor empty a garbage can nearby. The bag was hemorrhaging a milky liquid, and he left a long, wet stain across the blue carpet. At the "sports bar" just to my left, two young businessmen drank beer after beer. The one in the maroon fleece said, "It's fucked up how that woman came forward after 30 years." The one in the gray fleece agreed, "Yeah, shit's gone too far." I thought about how many sexual-assault cases we've covered since relaunching the Cut in 2012 and I had a terrible, queasy feeling that hasn't left me since — a combination of defeat, rage, and futility.
I'd felt this way last year, only more righteous and clear. It had been a year since the Shitty Media Men list, since Harvey Weinstein and Louis C.K. and Matt Lauer and Cosby and all of it. Kavanaugh reopened all the wounds we'd had a year to lick.
I tweeted about this overheard conversation in the airport, and someone I didn't know on Twitter replied that if I didn't confront them, then I was part of the problem. I deleted my tweet, contemplated deleting Twitter, and shut off my phone. I had nothing coherent to say. There was no reason to open my mouth, unless to let out a whooping howl followed by an unending hiss.
When I came back from fashion month, I found myself searching for clarity, and something to help me understand how to move forward. The Cut had been reporting on Stephen Elliott's case against Moira Donegan and we'd reached out to some of the men on the Shitty Media Men list to get their perspective. While some readers were interested in hearing from them, it was a controversial decision — many people feel we should never ever hear from these people again. My problem, if it can be classified as such, is that I do not want that. I want people to talk. I feel at odds with the way I think I'm "supposed" to feel in the moment and I want time to figure it out. I am finding myself drifting away from the kind of engagement that demands instant approval or disapproval. I can't reconcile the way that people have such strong, opposing experiences of the same events. It's part of my nausea.
In this spirit of confusion, I returned to the book Conflict Is Not Abuse, by Sarah Schulman. I'd bought it in the summer of 2017, before the year of scandals. Very few people that I mention this book to are familiar with it, but I wish more were. The premise, simultaneously intuitive and radical, is that communities have the capacity to heal themselves, but first must understand what is abuse and what is conflict. I won't do it justice if I try to summarize it, but I am going to buy a copy for everybody I love this Thanksgiving. Schulman's approach to creating environments of complexity, where people are not shunned but instead are brought into the fold to understand the nature of conflicts, really resonates with me. Right now it's the only thing that's been helping me work through my own thoughts. I hope maybe I'll have them in order by next month enough to share them.
In the meantime, the midterms are next week. Please vote, and if you are in an election where the outcome seems like a forgone conclusion, then consider going a step further: make donations to candidates in battleground races even if they are not your own. As Rebecca Traister wrote earlier this week, there's no time to lick our wounds. As she says, "Now is the season for progressives, the newly motivated and the old stalwarts, to get out of their own front doors and start knocking on others, to drive people to polls, to call local campaigns and ask how they can help those who never had the luxury of being able to catch their breath or turn away in the first place."
Love,
Stella