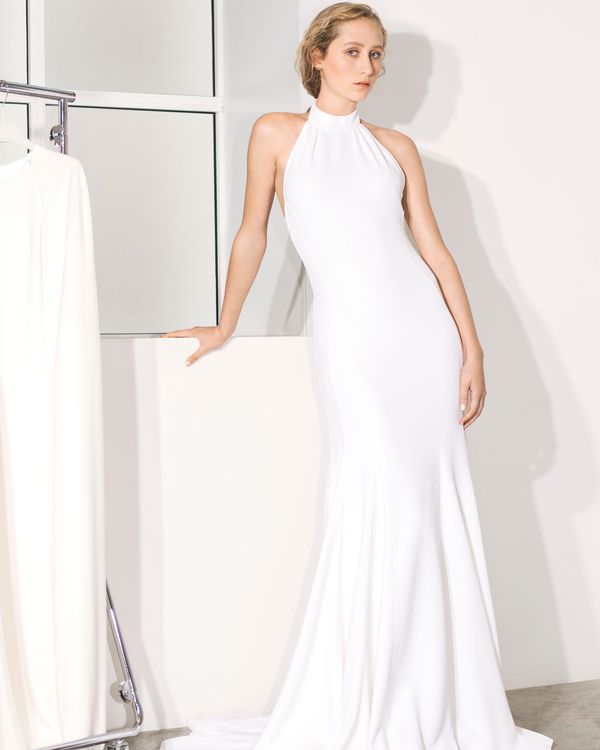 Photo: Courtesy of Stella McCartney
In June, Stella McCartney released an exclusive, limited-edition "Made With Love" dress for the opening of the new 23 Old Bond Street store. Inspired by the wedding-reception dress designed for the duchess of Sussex, the gown came in lily white and onyx black and featured a high neck and a deep low back.
Now, the brand is taking the replica dress down the aisle as part of its debut 17-piece bridal collection, Stella McCartney Made With Love.
"In this day and age, the wedding day is something very different to how it's traditionally perceived," McCartney said in a statement. "I think that the house of Stella McCartney really represents something a little more effortless, and that's incredibly reflecting of the bride and her personality and what she wants to wear even outside of that important day."
The new collection launches with seven elegant and sleek bridal dresses, as well as a lace embroidered jumpsuit (available in both pure white and rich scarlet red) and a tuxedo — for the bride, not the groom — in ivory. Staying true to the brand's commitment to sustainability, the fabrics include luxurious sustainable viscose along with modern versions of traditional couture fabrics including lace and chiffon. For a special touch, each style will come with a blue tag featuring a personal "Made With Love" message from Stella, acting as the bride's "something blue."
McCartney's bridal collection will be available by private appointment in select Stella McCartney stores globally as well as retail partners including: Nordstrom, Saks Fifth Avenue, Harrods, Net-a-Porter, and Selfridges from November 2018.