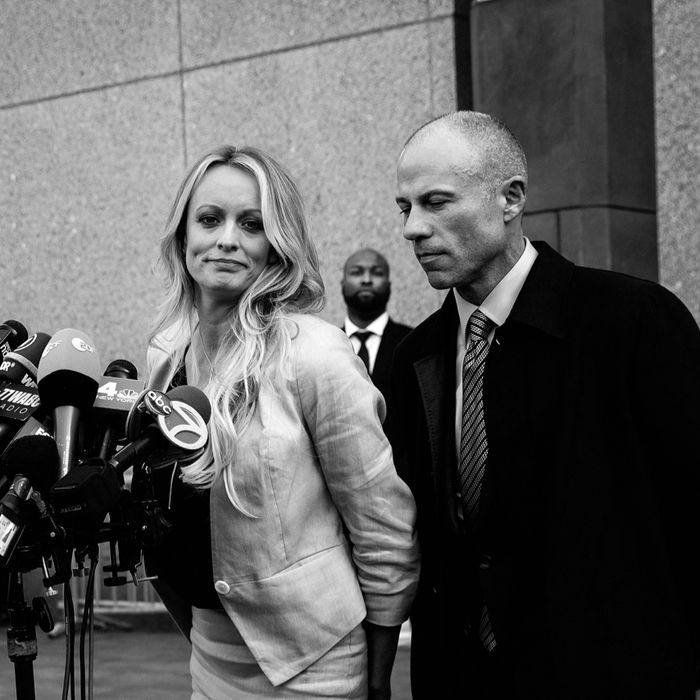 Stormy Daniels and Michael Avenatti.
Photo: Drew Angerer/Getty Images
On Wednesday, Stormy Daniels sent the Daily Beast a statement detailing her displeasure with her lawyer, Michael Avenatti. In it, she revealed that she never wanted to sue Donald Trump, claiming Avenatti did so "against her wishes." She also said he had launched a crowfunding campaign for her legal defense fund in her name without her knowledge or permission, attributing words to her that she never said. She is not sure if she wants to keep him as her lawyer.
"Michael has been a great advocate in many ways. I'm tremendously grateful to him for aggressively representing me in my fight to regain my voice. But in other ways Michael has not treated me with the respect and deference an attorney should show to a client," Daniels wrote. "He has spoken on my behalf without my approval. He filed a defamation case against Donald Trump against my wishes. He repeatedly refused to tell me how my legal defense fund was being spent. Now he has launched a new crowdfunding campaign using my face and name without my permission and attributing words to me that I never wrote or said."
On Tuesday, Avenatti tweeted out a link to a new crowdfunding campaign on CrowdJustice, but the link for the website no longer works, following the publication of Stormy's comments.
Avenatti told the Daily Beast he's been transparent with Daniels. "I am and have always been Stormy's biggest champion," he wrote in a statement. "I have personally sacrificed an enormous amount of money, time, and energy toward assisting her because I believe in her."
Avenatti has filed three suits against Trump and his personal lawyer Michael Cohen this year, according to the New York Times; one of them was the defamation suit Daniels says she didn't want, which centered on a tweet Trump sent in April. (It was dismissed last month, and a federal judge ordered Daniels to pay Trump's legal fees in full.) Another suit seeks to void a 2016 nondisclosure agreement that kept Daniels from discussing her alleged 2006 affair with Trump, and the third accuses Trump and Cohen of conspiring with Daniels' previous lawyer to keep her silent.
He also said that the money in question was spent on costs of litigation, and Daniels's security detail. "Stormy's security detail has cost hundreds of thousands of dollars, especially due to the high level of death threats," Avenatti wrote. "The other out-of-pocket costs of the litigation are also extraordinary."
Daniels's statement follows Avenatti's arrest on charges of domestic violence earlier in November. (Avenatti insists any allegations of violence against him are false). When news first broke of the arrest, Daniels called the allegations "serious and obviously very troubling" and said she would seek new representation if they were true. She remains unsure what her next move will be when it comes to legal representation, she told the Daily Beast. "My goal is the same as it has always been — to stand up for myself and take back my voice after being bullied and intimidated by President Trump and his minions," she said. "One way or another I'm going to continue in that fight."