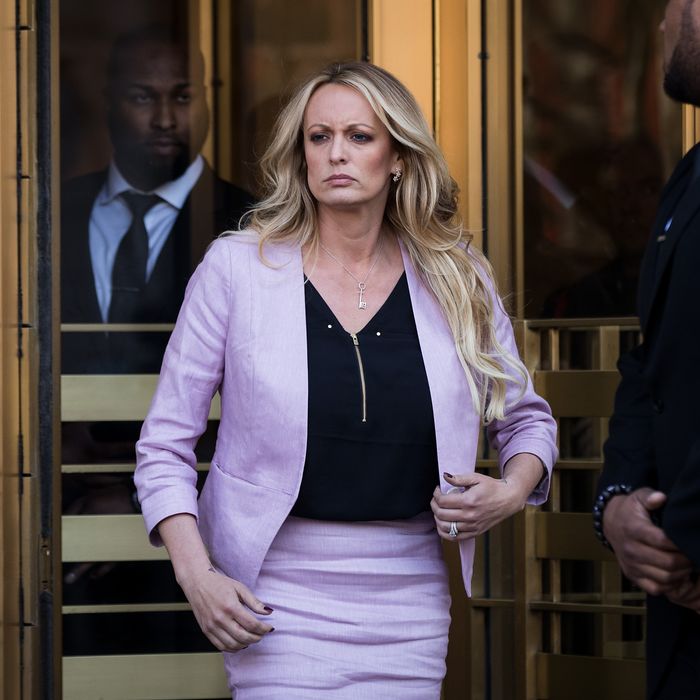 Photo: Drew Angerer/Getty Images
When news broke on Wednesday evening that Michael Avenatti had been arrested for domestic violence, the client who made him famous, Stormy Daniels, was traveling to the U.K. to give a lecture at the Oxford Union.
In many ways, the trip wouldn't go as planned.
After tweeting about how her luggage had been lost by Aer Lingus, forcing her to cancel her event, Daniels had to address the matter of her already-controversial attorney, whose antics have threatened to overshadow her case since the moment he first beamed into our consciousness on cable TV.
In a statement provided to New York on Thursday morning,  Daniels said the allegations against Avenatti are "serious and obviously very troubling." Still, she emphasized that they were "only allegations," and that she would be waiting to assess the situation until after an investigation.
She added that, if the allegations are true, "I will be seeking new representation."
TMZ first reported that Avenatti had been apprehended following a dispute with his estranged wife. But as other news outlets scrambled to confirm the story — politically explosive given Avenatti's posture as the savior of women harmed by Donald Trump and Donald Trump–adjacent men — TMZ was forced to correct itself: A source had been mistaken, they said, and the woman Avenatti allegedly harmed was someone else entirely.
After posting $50,000 bail Wednesday night, Avenatti was swarmed by reporters while leaving a Los Angeles police station. He said he had never hit a woman and believed he would be "fully exonerated."
A spokesperson for Daniels told New York that her show at the Oxford Union would go on, contrary to her tweets. Just before 11 a.m. ET, her luggage arrived. The speech she planned to deliver is titled Sex, Guns & Other Fluff: How Porn Can Set You Free. Below, read Daniels's full statement to New York:
These are serious and obviously very troubling allegations, but right now that is all they are: allegations. We should all reserve judgement until the investigation—an investigation Michael has said he welcomes—is complete, and that's what I'm going to do. But of course I do not condone violence against women and if these allegations prove true I will be seeking new representation.