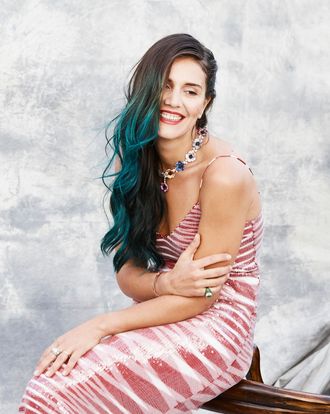 Margherita Maccapani Missoni.
Photo: Gorka Postigo
Margherita Maccapani Missoni has lived a colorful life. Not only is she a part of a famously color-obsessed fashion family, but she's the muse to her mother Angela Missoni and one-time face for the brand. After a few years away from the company launching a children's brand, Margherita is rejoining the family business as the creative director of M Missoni. We spoke with her about normcore, Uggs, and mom jeans.
How do you thank someone for a gift? Often with a written note, but not as frequently as I used to … now I also write emails to express my gratitude or I post Instagram photos of the gift.
What would you never wear?
Uggs. They just don't do the trick for me.
What's your dream vacation?
Bhutan.
What's a good book on your coffee table right now?
Bruce Chatwin's Photographs and Notebooks.
Favorite piece of furniture in your apartment/office?
A bright blue coffee table.
Last show you binge-watched?
La Casa de Papel.
Secret to hosting a good party?
Timing. Guests should never be waiting to be seated, without drinks, or stuck in a boring conversation.
What is a trend that you like right now?
Normcore.
One you don't understand?
There is space for everything.
What's another decade you'd like to live in and why?
The roaring '20s. Seems like an exciting era, I think. A revolutionary moment in culture.
What's one piece of clothing you can't part with?
A YSL trench coat.
Favorite museum/gallery?
Museo Poldi Pezzoli in Milan.
Shoes you wear most often?
Bougeotte suede moccasins.
What's your favorite…
Flower? 
Daisies! In Italian, Margherita means "daisy." It's my namesake flower.
Pajamas?
Olatz.
Candle?
Baies by Diptyque.
Scent?
Maria Candiada Gentile's Hanbury.
Color?
Bluish greens.
Sheets/bedding?
Mismatched bedding by Society Limonta.
Restaurant? 
Masuelli in Milan. Order the tortelli di zucca mantovana with burro e salvia- it's fantastic.
Suitcase?
An Away carry-on.
Pair of Jeans?
Nineties 501 and current Levi's mom jeans.
T-shirt?
Uniqlo and Gap, men's.
Shop the Story
If you buy something through our links, New York may earn an affiliate commission.