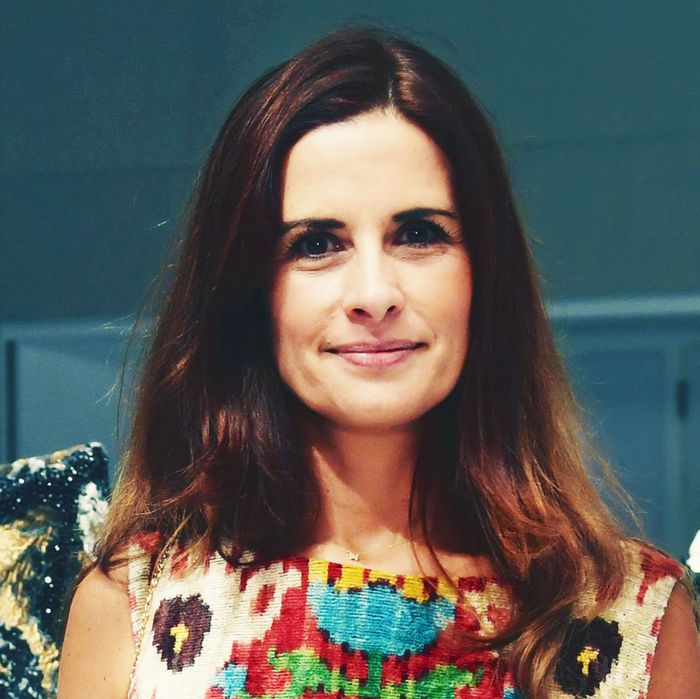 Livia Firth.
Photo: Ben Gabbe/Getty Images for Eco-Age
Within the fashion world, Livia Firth is heralded as the queen of sustainable fashion. "Queen" is a fancy title, but it's hard to deny that Livia Firth is one of the most recognizable people in the ethical fashion sphere, and has been since before it was cool. She is the founder and creative director of Eco-Age, one of the largest sustainability consultancy groups in the fashion industry. She is also a U.N. Leader of Change and the executive producer of a documentary about the destructive nature of fast fashion titled The True Cost, and she frequently appears on Vanity Fair's International Best Dressed List. And yes, she is also the wife of Colin "Love Actually" Firth. We spoke with her about kitsch, natural candles, and hemlines.
How do you thank someone for a gift?
If it's a friend, we usually give gifts in person and so I kiss them and hug them endlessly. If it's a present from someone I don't know or I only met a couple times, I send them a card.
What would you never wear?
Something super tight and super short — I am too old now, I would look like a tart.
What's your dream vacation?
By the sea doing nothing or in the countryside, at home, surrounded by family and nature.
What's a good book on your coffee table right now?
I just finished reading History of Wolves by Emily Fridlund. I love it. And I always have my Hafiz book The Gift. I like reading a poem each night before going to sleep.
Favorite piece of furniture in your apartment/office?
The chest of drawers that belonged to my grandma.
Last show you binge-watched?
Friday Night Lights. I started watching it only recently and I cried when it finished. Could they make another series?
What's your go-to dinner-party meal?
Pasta.
Favorite place to shop for sustainable or ethical clothes?
In my wardrobe or in my mum's one.
What is a trend that you like right now?
I don't do trends — and by looking at every September issue in circulation, everything goes.
A trend you don't understand?
It would have to be shoulders pads, but I was a victim in the 80's too.
Favorite museum/gallery?
I love going to the Whitney every time I am in NY.
Shoes you wear most often?
In the summer, Birkenstocks; in the winter, boots. I can't do uncomfortable shoes.
What's your guilty pleasure?
Chocolate, dancing, and going to bed at 8:30 pm.
What's always in your bag?
My makeup bag.
What's one way your taste has changed since your teenage years and one way it stayed the same?
I became more adventurous in my older years, but more or less my taste hasn't changed much. Although it got quite kitsch in my home décor, I must admit.
What's the secret to throwing a good party?
Keeping it simple and having the best friends around, so you can be in pajamas and bare feet and have a laugh.
What's your favorite…
Flower?
Dahlias.
Pair of jeans?
My old ones. I haven't bought a new pair of jeans for years.
Lip balm?
Blistex.
Candle?
Right now I am testing lots of natural candles.
Scent?
Basil from the vegetable garden.
Sheets/bedding?
Designers Guild.
Restaurant?
Too many around the world I love and too many cuisines I adore — impossible to pick one.
Suitcase?
Tumi.
Socks?
My boys' ones.
Shop the Story
If you buy something through our links, New York may earn an affiliate commission.