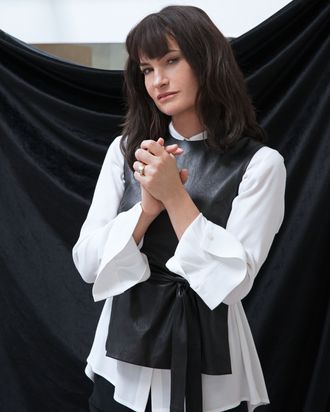 Rosetta Getty.
Photo: Paul Mpagi Sepuya
For her latest collection, Rosetta Getty described her look as "complex simplicity." Her hallmarks are monochrome outfits, simple prints, and exaggerated silhouettes. Getty started her eponymous line in 2014, decades after she stopped modeling at age 18. But she's always been a tastemaker and quite the perfectionist, as evidenced by the fact that she spent seven years redecorating and collecting art for her home in Hollywood. It all comes together to make a modern, refined sense of style — the most revered in 2018. She has an eye for details that elevate a basic piece like a blouse or a sweater into an item that you can imagine a gallery girl on either coast being drawn to. We spoke with Getty about white boots, throwing a good party, and Alaïa.
How do you thank someone for a gift?
I keep it simple and classic and I send a personal handwritten note.
What would you never wear?
You will never see me wearing a tight miniskirt. My style is all about casual elegance.
What's your dream vacation?
At the moment, I have Japan at the top of my list. My kids have been asking to visit for a while now. It has this incredibly rich culture — a mix of old-world traditions and innovative technologies that I am very interested in. Not to mention, the art, design, and architecture that it has to offer.
What's a good book on your coffee table right now?
One of my favorites is Azzedine Alaïa's first book. It includes some of my favorite photos from when I was modeling.
Favorite piece of furniture in your apartment/office?
My favorite piece of furniture is my daybed by Jean Prouvé and Charlotte Perriand. It's in the library and I love to sit there for hours reading.
Last show you binge-watched?
Killing Eve, it was so good!
Secret to hosting a good party?
My secret is in planning and preparation. If you have a well-curated guest list — the ratio of men and women is key — and good drinks, food, and music, your work is pretty much done so you can enjoy the party as well.
What is a trend that you like right now?
Female empowerment and inclusion.
One you don't understand?
That most of the world still thinks that global warming is not a real issue.
Shoes you wear most often?
White patent-leather boots.
What's your favorite …
Flower?
I love wild seasonal flowers.
Pajamas?
Stella McCartney for combining design, function, and sustainability.
Candle?
Santa Maria Novella "Angels of Florence" Candle.
Scent?
Cucumber.
Sheets/bedding? 
Tenfold New York.
Restaurant?
Spago in Beverly Hills.
Suitcase?
Tumi.
Socks?
Loro Piana and Brunello Cucinelli.
T-shirt? 
From my own line.
Shop the Story
Photo: Copyright GSI Commerce
If you buy something through our links, New York may earn an affiliate commission.