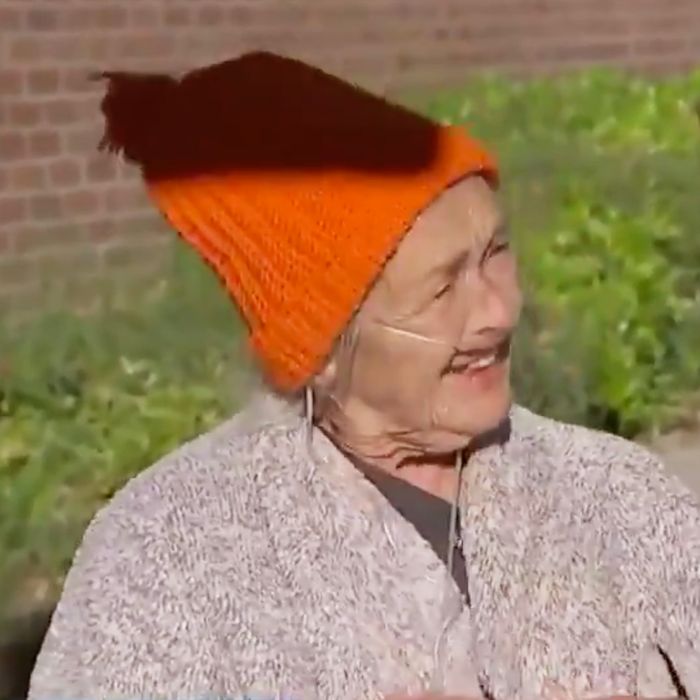 Pamela Aguirre.
Photo: MSNBC/Twitter
On Tuesday morning, a 77-year-old Texas woman named Pamela Aguirre traveled to the polls in El Paso, wheeling her oxygen tank and wearing a BETO FOR SENATE T-shirt, to cast her ballot for Democratic Senate candidate Beto O'Rourke. While she was there, she spotted another voter from the district: Representative O'Rourke himself. Recounting the encounter in an incredibly heartwarming interview, Aguirre broke down into tears of pride.
In an emotional video that circulated on Twitter this morning, NBC correspondent Garrett Haake asked Aguirre, "You told me this is very emotional for you — why?"
"Because I wasn't expecting it," Aguirre responded, her eyes welling up with tears. "And because we think he's pretty important. And we're honored that he was here."
When asked to elaborate on why O'Rourke's run is so important to her, Pamela said, "He represents everything that Donald Trump isn't," adding that she gives O'Rourke "a lot of credit for standing up and saying what he thinks and for being willing to represent so many people who are like minded."
She continued: "We want him to win. It will mean so much. It will mean that, by gosh, we all still have a chance to have a decent country and decent values with decent relationships with other people."
While Cruz leads O'Rourke in polls, and Texas has not elected a Democrat to a statewide office in a quarter-century in Texas, O'Rourke has posed a credible challenge, keeping this one of the country's most closely watched races.