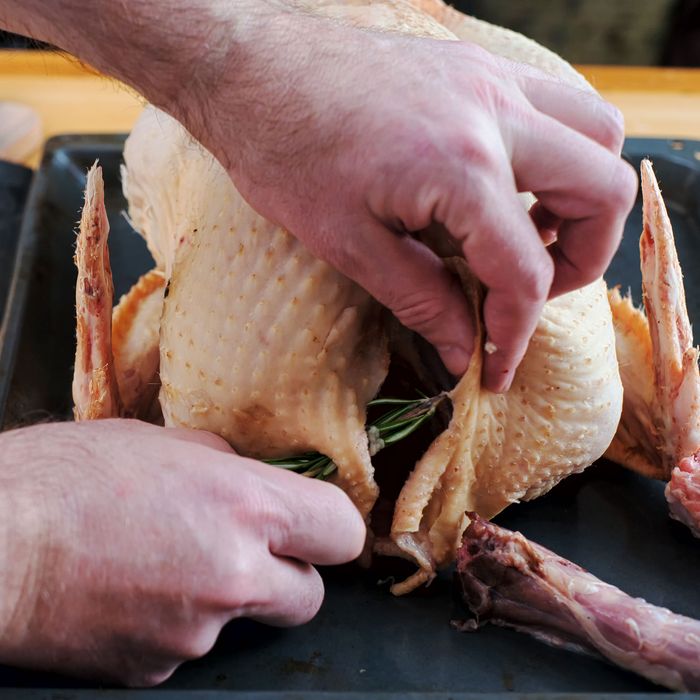 Someone's grubby hands touching disgusting raw meat.
Photo: Boris SV/Getty Images
There's been an alarming trend of videos that try to sexualize Thanksgiving, specifically the disgusting and objectively tedious act of preparing a turkey, which is why we must sternly remind: Thanksgiving is not one of the sexy holidays. In fact, it is objectively the least.
It was just this morning that we diagnosed our first case of deranged holiday libido when French soccer player Patrice Evra attempted to be sexy, which we generally commend, in an Instagram video of him with a raw turkey … that he kissed, licked, and spanked. We are all still experiencing phantom salmonella side effects. (Also will someone please check in on him?)
At first, we let this instance slide. We assumed it was an isolated case … incorrectly. Right around the same time that Evra forced us to look up the word for the derivation of sexual pleasure from a dead animal (it's necrozoophilia or necrobestiality), Netflix tweeted a video of Chilling Adventures of Sabrina star Gavin Leatherwood basting a turkey with its own juices while jazzy music plays in the background. As anyone who has ever prepared a Thanksgiving turkey could tell you, this specific act of cooking is boring at best, stressful and messy at worst. Is this how men envision women performing the manual labor of preparing a 20-pound bird, while also juggling one million sides that need to be cooked at different times and at different temperatures? If so, uh, okay.
Now this isn't the first time you horny monsters have tried to sensualize a holiday; we all remember Christmas of 2016. It's just that this recent attempt is the most criminal, as Thanksgiving is about gorging yourself on dry-ass turkey and gloopy green bean casserole, and getting inappropriately drunk around family members are just now learning about memes. If the thought of that makes your crotch all tingly, my friend, turn yourself into the horny jail.
Thanksgiving Eve, on the other hand, is a whole other story.