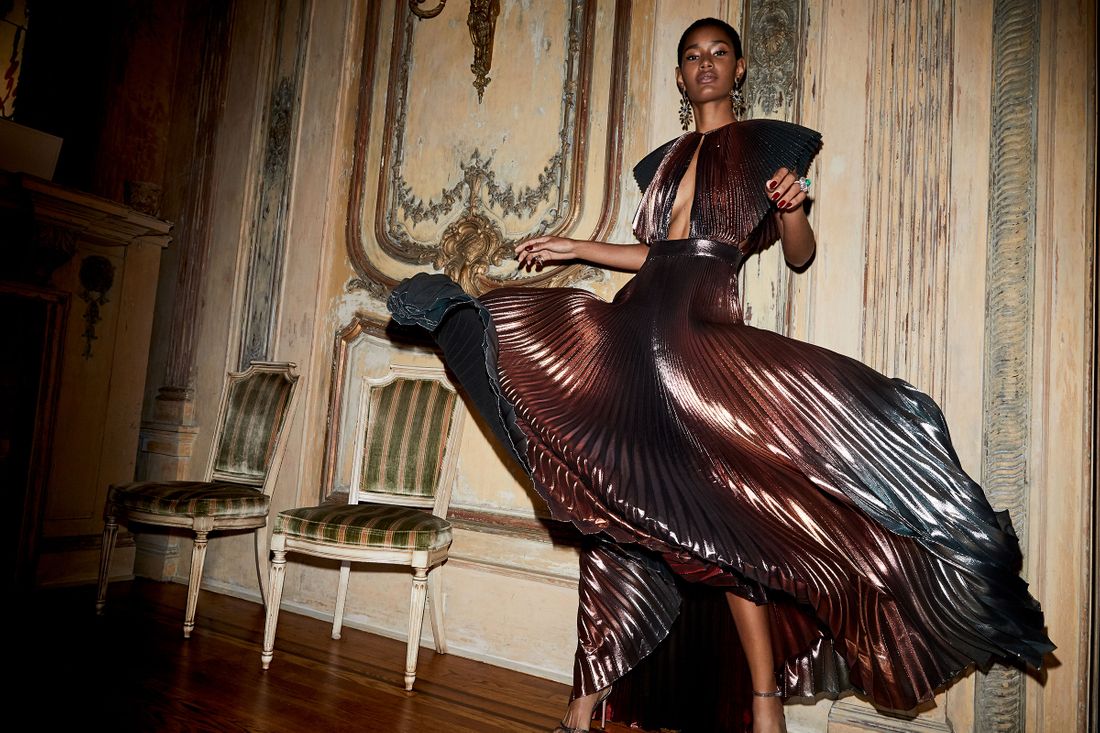 Photo: Courtesy of Moda Operandi
Here at the Cut, there's plenty of evidence that we're attracted to fashion that reflects a more is more mentality. Multiple bold prints? Extra voluminous shapes? Unapologetic statement trends? We're here for all of it. In today's casual culture, we believe in celebrating exuberant style and seizing every day as an opportunity to wear what you want. So with the holiday season fast approaching, we're making the case for dressing up all season long, regardless of the occasion's actual dress code. Scroll on for a lesson in shameless pageantry, featuring inspiration from Moda Operandi.
Double up on anything that catches the light.
Sparkle and shine are primary elements of a glitzy look. But to avoid looking like a homecoming-court hopeful, balance out a heavy dose of embellishment — like a decadent velvet floral print — with a silhouette that says you probably don't get carded as much as you'd like. As for accessorizing, you might think that adding a large pair of crystal-covered earrings on top would be "too much." Think bigger. Just make sure the materials nod back to what you're already wearing, and, again, go for a more refined shape, like these sophisticated yet sweet bows.
Treat your feet like the life of the party.
Shoes are one of the best — and easiest — ways to have fun with your look. They're also a sneaky way to bring your personality to the table when the occasion is on the drier side. (Of course, you'd love to have dinner with your in-laws.) Invest in ones that you'll enjoy admiring and showing off, even when you're wondering how much longer you have to stay.
Be brazen with metallics.
Two big trends right now are disco glamour and '80s excess, and they pretty much sum up what to look for in a big-night-out look. Channel the former with a dress in a shimmery, lamé-like fabric, and with a flowy skirt you can dance in. The length on this one ups the drama, but the keyhole cutout keeps it sexy — so no one will be confused that you're here to party. Again, go ahead and go big with your earrings, making sure to pick up some color from your hero piece.
Combine bold color and opulent texture. 
If there's one sure way to turn up the volume on a quiet outfit, it's adding bright, saturated color. And while dousing yourself in a rainbow will definitely get attention, the effect can easily read as kitschy or garish. The fashion-math solution is to add an upscale, yet equally as daring texture, such as snakeskin or croc. Along with serious hardware and respectable structure, these bags are spirited without being silly. (Sorry, super-mini feathered bag that only fits a stick of gum.)
Channel a very rich older lady.
Feeling sheepish or unsure about pulling out all the stops? A good way to get over second-guessing your most aggressive style moments is to ask: "What would the disgustingly wealthy future version of myself do?" Like any veteran uptown dame, you'd probably wear what made you feel good, without giving a damn what anyone else thinks. To that end, pile on the prints and the jewels next time a dressy invite strikes. And, because fancy caftans are practically the uniform of stylish living legends, always have one at the ready.
Wear white from head to toe. 
In this over-the-top fashion dream, red wine stains aren't a thing, so you're free to wear white fearlessly all winter long. A simple way to turn up its style wattage is to piece together a monochromatic look. To keeps things interesting (and not too literally tuxedo-like), layer a variety of luxe, snowy materials, like a satin pajama shirt, feather accent, and dripping diamonds.
All images courtesy of Moda Operandi.
This is paid content produced for an advertiser by New York Stories. The editorial staff of The Cut did not play a role in its creation.