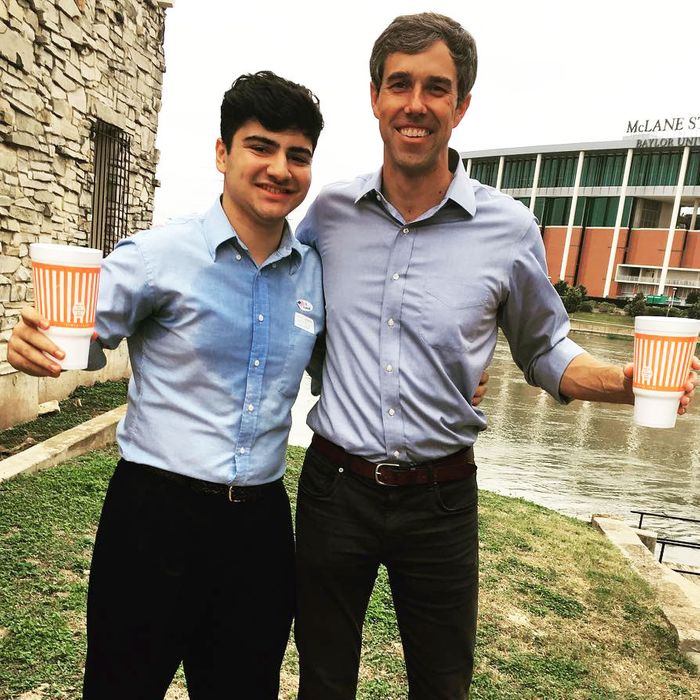 Beto O'Rourke, sweaty.
Photo: @betoorourke/Instagram
While Ted Cruz perpetuates the conspiracy theory that he's the Zodiac Killer on Twitter for Halloween, his opponent is being decidedly more chill, as usual. Beto O'Rourke celebrated on the campaign trail by posing with the people wearing the best Halloween costumes: Sweaty Beto.
Supporters young and old wore the signature light-blue button-down that Beto has worn throughout the midterm campaign season, making sure to drench the front and back of the collar area. Each costume featured different iconic Beto accessories: a large Whataburger to-go cup, a skateboard, and a Beto for Texas sign. No one brought a bunny along to pet, but the logistics of that are probably a bit unreasonable.
Below are some of the best and cutest Sweaty Beto costumes.
Beto posing with Sweaty Beto
Sweaty Beto with spray-painted gray hair and the "Beto for Senate" sign
Sweaty Beto and Willy Nelson
Sweaty Beto and a puppy
A very young Sweaty Beto and a skateboard
Sweaty Beto and a bucket full of candy
The tiniest, skating Sweaty Beto
Sweaty Beto and a gray wig
Congrats to all the Sweaty Betos on wearing the best Halloween costume of 2018. May you all embody the chill, the sweat, and the passion of the real Beto O'Rourke.