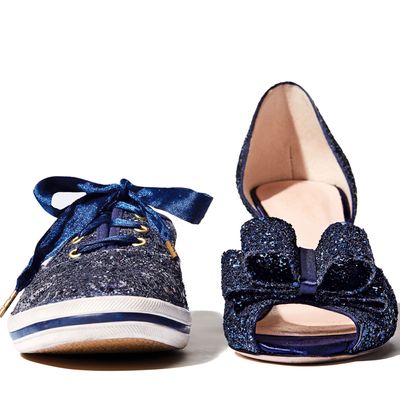 The bride's Kate Spade shoes.
Photo: Mackenzie Stroh
With what I do every day — I've been in the Army for the past five years — I don't get a chance to feel feminine. But it's always been my thing that as soon as the weekend comes, I put in my pearl earrings and get out my Kate Spade purse. People say, "Oh, there goes Octavia in her civilians." My attraction to Kate Spade started in my senior year of college: the bright colors of the bags, the texture of the leather. The purses my mother carried were always black and subdued; these were something different — like, you can be an adult but still have personality. I could still shine through. When I graduated, I saved up to buy my first grown-up wallet, in kelly-green ostrich leather by Kate Spade.
I knew I wanted to wear Kate Spade on my wedding day. The designs have always made me feel pretty and classy. Six months into my engagement, I saw the shimmery navy Sela shoes online and I was like, Oh my gosh, these are me in a shoe. I loved that they weren't a crazy four-inch heel. I loved how the bow and the glitter just kind of peeked out from under my simple ivory lace dress. Then a few months later, I just happened to be browsing mindlessly on the Kate Spade website; I clicked through the brand's collaboration with Keds, and I saw these sneakers in the exact same navy glitter tone. It was meant to be. I had already spent $298 on the heels, but I decided it was worth it to pay another $85 for the Keds. I had to have both pairs.
I wore the heels all day, from when the pictures started at 11 a.m. to when the DJ played Mumford & Sons for our first song at 6 p.m. Then I changed into the sneakers and danced until 1 a.m. I felt so comfortable the whole time. (And I smelled good, too: I wore Kate Spade's Live Colorfully perfume.)
It was actually one of my bridesmaids who texted me ten days after my wedding and told me Kate Spade had died. I'm stationed in Alaska now, so it was early in the morning my time when I saw the message. I was so incredibly sad. I thought about all of her pieces that I've owned over the years, and I thought, God, I didn't know this woman personally, but she impacted my life. And on my wedding day in particular — she made me feel special.
I haven't worn the heels again — they're stowed away individually in protective bags in my closet. But I do break out the sneakers; I dress them down with jeans and a cute shirt and always get compliments. People will say, "Those are so great. Who makes them?"
*This article appears in the winter 2019 issue of New York Weddings.
More From New York Weddings
See All