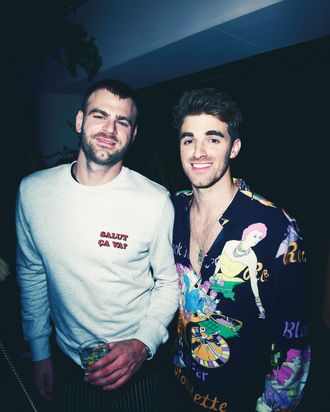 The Chainsmokers.
Photo: Vivien Killilea/Getty Images for Dick Clark Prod
EDM duo and sentient vape pens the Chainsmokers (Drew Taggart and Alex Pall) are making a movie.
Taggart and Pall will serve as producers on the film, which will be based on their hit song "Paris." The screenplay will be written by author Mickey Rapkin, who wrote the book that inspired the Pitch Perfect franchise.
"The age of being only a musician is over," said the pair, who are described on Wikipedia not as musicians but as a "DJ and production duo."
"Drew and Alex have a deep connection to their fans, not only through their music, but through what they stand for and represent: transcending preconceived limitations, pursuing one's passion, entrepreneurialism, and a commitment to living an authentic life," Dan Marcus, the COO and president of the newly formed Kick the Habit Productions, who will oversee the film's development, said in a statement to The Hollywood Reporter.
"They don't just sing about these themes in their hit songs — it's who they are."
Indeed, it was probably this innate passion, entrepreneurialism, and authenticity that led them to list their combined penis size on their website ("17.34 combined inches"), and tell Billboard, "Even before success, pussy was number one."
So what will these young entrepreneurs' feature film be about? According to Genius.com, the song "follows the metaphorical and literal journey of a millennial relationship; through youth and naïvety, heartbreak and mistakes, the two remain together, determined to endure the 'ride' and the hardships that come with it."
Hm. That doesn't tell us much. What about the lyrics?
We were staying in Paris

To get away from your parents

And I thought, "Wow

If I could take this in a shot right now

I don't think that we could work this out

Out on the terrace

I don't know if it's fair but I thought "How

Could I let you fall by yourself

While I'm wasted with someone else
So the movie will be about young lovers in Paris. But also maybe not, because the music video for "Paris" is Taggart and Pall strolling around desolate lots in southern California, and a beautiful model dreaming she's in an abandoned mansion floating in the sky. And then lyric video for "Paris" is clips of a beautiful model in various tiny bikinis and lingerie, running on a beach, and lying on a bed, and biking down a little tropical road. At one point she holds up a coconut and smiles. Neither of them appear to have anything to do with Paris.
So it will either be set in Paris, or in southern California, or the tropics, or the sky. It will probably feature a plethora of scantily clad women because "even before success, pussy was number one." There will, unquestionably, be at least one club scene where people dance in slow motion to EDM.
Do you think it will get an Oscar nod?
This post has been updated to reflect that Dan Marcus is the president and COO of Kick the Habit Productions.