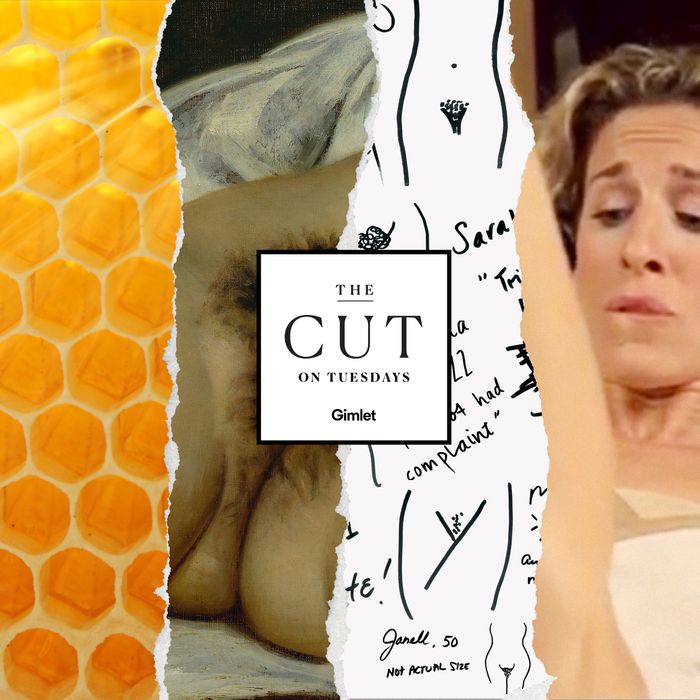 Photo: Getty Images, Gustave Courbet/Wikimedia Commons, HBO
On this week's show, Maddie Aggeler discusses something she Thinks About a Lot. It's a photo that Amber Rose posted on Instagram last year (and which Instagram almost immediately took down):
MADDIE: She's reclined on the staircase and she's wearing a black string bikini top and this diamond choker and these cool sunglasses and she's in a black fur coat. And then no bottoms. And I was just like, "Damn, looking good, that's a real nice situation you got there." To me, what just blew me away is that she had the most beautifully groomed pubes I've ever seen in my life. It was a like a fuller cut, definitely. You could tell there had been grooming around the edges. It was very circular. It was definitely very shaped, but it was very flattering–and still definitely thicker. It wasn't like a landing strip or anything. It's the natural make-up look—




MOLLY: Yeah, it's the no-makeup makeup of pubes.




MADDIE: Exactly. Where it's like, Oh, maybe I was just born like this. But no you weren't. I came of age in the late '90s, early 2000s, where it was like — you had to be bald. Pubes were so gross. It was like Paris Hilton with the low, low jeans, where there's no way on Earth she could have had anything down there. And then, as I got older, there was more of the conversation of women embracing body hair and stuff, and the conversation was always, should you have pubes or shouldn't you?




MOLLY: The late '90s and early aughts were, I feel like, a weird time to come of age pube-wise. Because you potentially had this awareness that you should be getting rid of your pubes before you were in a position to have anyone see your pubes. That was a very, very stressful thing. For me, I recall.




MADDIE: And just the fashion. Trying to wear those really, really low cut jeans, and being like, how does anyone have body hair and wear these clothes? As crazy as it is, I kind of think that's my base: I just assume everyone else is just like a barbie doll underneath.




MOLLY: Is like a dolphin, yeah.




MADDIE: Yes, it's just like a balloon that squeaks when you touch it. I think that's one of the reasons I think about this photo a lot — because I feel like we have this conversation all the time about how women are grooming themselves and it's always presented as this political thing. But for how much we talk about it, there's not a lot of conversation of just, Hmm, what if I just wanna make it nice? Unlike almost anything else. You can tell what other people are wearing, how they're doing their hair, how they're doing their makeup. But this is just a daily thing that everyone else does but you have no idea how they're doing it. I would love way more information.
We've done our best to provide Maddie — and listeners — with way more information. In an audio companion to the Cut's Beat Around the Bush series, we hear from experts as well as lots of ordinary women about their pube-related anxieties, memories, routines, and misadventures. Click above to listen, and subscribe wherever you get your podcasts.