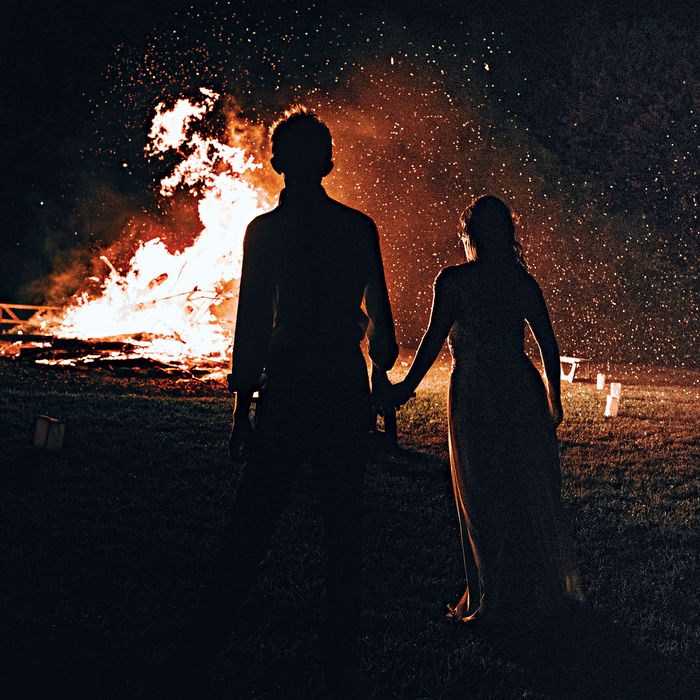 Bonfire at the Roxbury Barn & Estate.
Photo: Lauren Scotti
Whether those flames come with a cozy new hearth in Red Hook,
a pyrotechnic dance troupe, or some Michelin-caliber s'mores.
Outsource a Blazing Hula-Hoop
And other fire entertainment for hire.
Pyrotechnic Dancers
Enchanted
A typical prop torch burns only for two to five minutes, just about enough time for one song. But performances by the troupe Enchanted can keep the fire going for an entire playlist. Eight synchronized dancers alternate stunts like fire breathing and Hula-Hooping to stretch the spectacle for as long as the newlyweds would like (they can even add stilts for the full nouveau-cirque experience). Or if you just want one guy walking around doing fire tricks periodically throughout the reception, they can make that happen, too. Enchanted works with the Fire Department and the venue, but if for some reason your fire permits are denied, the troupe offers LED props that give off the same dancing light effects without any of the flames. From $750 at enchantedtroupe.com.
An Ignited Wedding Logo
Flambeaux Fire
Chris Flambeaux has been working in fire for 28 years, a journey that has taken him from his hometown in Scotland to New Orleans to New York City. Meanwhile, his fire production company, Flambeaux Fire, has designed events for Karl Lagerfeld's Fendi and P. Diddy. At local performances, Flambeaux and his team specialize in assembling models to pose in blazing headpieces. He'll also build custom fire sculptures and logos to ignite—and once even designed flaming swans to float in a client's pool. From $1,200 for a 12-minute duet performance at flambeauxfire.com.
Calligraphic Fireworks
Fireworks by Grucci
The sixth-generation family business Fireworks by Grucci once held the Guinness World Record for the largest fireworks display. When it comes to weddings, though, most spectacles top off at about five to six minutes and happen around the time of the cake cutting as a signal that the real party is about to begin. Christopher Grucci and his team work with couples to score a sound­track and choose firework patterns—options include interlocking hearts, happy faces, initials, initials inside hearts, and kissing doves—and they'll even let a guest of your choice push the go button. They're based in New York, are active all year long, and will coordinate with fire departments on logistics and permits whether your wedding's in Central Park or at Long Island's Oheka ­Castle. From $10,000 at grucci.com.
… And One Flaming Bachelorette Party
The Floasis
If a group class at ((305)) Fitness isn't quite your ideal bridal-party group activity, try the Floasis, a Bushwick commercial space and community center dedicated to raising awareness of (and safety around) the fire arts. Its creative director and co-founder, Tara Mc Manus, a.k.a. the Girl on Fire, hosts private "Beginners' Guide to Fire" events that have become beloved team-building activities. The three hours include a show, a tour of the space, and a class in which attendees play with flame props and learn the three planes of movement that are foundational to any good fire performance. So passionate are the teachers, in fact, that one (pictured below) even included a fire breather at her wedding. $125 per person at thefloasis.com.
The Top "Fire" Songs
According to wedding DJ Dina Regine.
50s: "Great Balls of Fire" by Jerry Lee Lewis
60s: "Ring of Fire" by Johnny Cash
70s:"Fire" by the Pointer Sisters
80s: "I'm On Fire" by Bruce Springsteen
90s: "Fired Up" by Funky Green Dogs
2010s: "Firework" by Katy Perry
–As told to Katherine Barner
Four of the Newest Venues for Fire Lovers
Hamptons Fireplace
Gurney's Montauk Yacht Club and Resort
$: From $205 per person
➽ 32 Star Island Rd., Montauk, N.Y.; 631-668-3100
Inside the Farmhouse Ballroom — with its exposed beams and sliding glass doors overlooking Lake Montauk — is a massive working fireplace, nine feet wide by five feet tall. A second one, six feet across and four feet high, adorns the nearby Fireside Room.
Both spaces (and fireplaces) can be used for weddings, making this grand resort — which reopens in the spring after a big revamp — feel cozy despite its 1,000-guest capacity.
City Fireplace
The Castle by Marlow Events
$: From $285 per person
➽ 177 Dwight St., Red Hook; 917-909-0277
The nearly seven-foot-wide fireplace at The Castle, a new Red Hook venue from the prolific Marlow Events, is nestled near a corner of the skylit space's back room, right across from the open kitchen. (The smaller front room is best for cocktail hour.) The back room can accommodate up to 80 guests for a seated dinner — menus include braised beef with charred tomatoes or poached fish with peperonata — before they cozy up against the raised hearth to enjoy their cake.
Firepit
Crested Hen Farms
$: From $12,000
➽ 607 County Rt. 6, High Falls, N.Y.; 845-6887-2050
At this barn two hours upstate, a bonfire is included in the basic rental fee, along with the 32 acres of land and the valet parking out front. Housed in a custom-built firepit using extra-large logs, the blaze generally lasts about three hours as guests (the barn's capacity is 150) wind down, toast s'mores, and finish their drinks. For smaller weddings, the Crested Hen team can set up petite firepits around the grounds, with just two or three logs each, for more intimate huddles of partygoers.
Fire Dancer
House of Yes
$: Pricing upon request
➽ 2 Wyckoff Ave., Bushwick; 646-838-4937
In the way that some venues provide a preferred list of caterers, this 500-person-capacity performance-art space, which began hosting weddings two years ago, has a Rolodex full of fire-dance performers (with all the requisite safety certificates and FDNY relationships). On-site planners will help you organize the entertainment.
According to Section 113 of the New York City Fire Code …
Fire performers require a certificate of fitness, which is issued by the Fire Department. That certification is also required for the fire producer or whoever is coordinating the performances. The FDNY will work with certificate-of-fitness holders to inspect the venue and implement any safety measures.
And According to Section 104.8 …
Although most open fires are illegal in the city, the Fire Department will typically authorize open fires for religious ceremonies and other occasions, like weddings. Interested parties can apply for a "modification," and requests are decided case by case. So if you're getting married in a backyard or in a Bushwick warehouse, best to give yourself a few months for this process.
What to Bring to the Bonfire
Three brides share the fireside provisions (besides alcohol) that turned out to be very necessary.
Very Big Sticks
"I'm glad I bought extra-long sticks — the ones that are like four feet. The fire was so hot that people didn't really want to get too close; my friend Katie was the only one who was brave enough. But it was the perfect thing to do after we cut the cake. The on-site planner set it all up the day before and lit it at 9 p.m. The older people came to look at it, then left, and the younger people stayed and had a drink."
—Christie Franklin, married at the Roxbury Barn & Estate in the Catskills

A Basket of Blankets
"Rather than spending money on blankets — we knew it might get cold out there right after sunset in October — we collected a bunch from friends and provided a whole big basket of them near the kegs. And we actually got most of the blankets back — only one or two went missing."
—Natalie Renganeschi, married at Crested Hen Farms in High Falls, N.Y.
A Basket of Flip-Flops
"We chose the venue because it offered a bonfire on the beach as an after-party, including all the setup plus two lifeguards on duty. We had stacks of Old Navy flip-flops waiting on the boardwalk, which was lit with lanterns to steer people there. Guests were sitting on lounge chairs in front of the fire in tuxedos and flip-flops. It led to some really cool pictures."
—Pamela Siler, married at Oceanbléu in Westhampton Beach
For a more aromatic fireside experience, fragrance-maker David Moltz suggests throwing in some incense, copal, or palo-santo wood — "It's like a giant altar to your love."
How to Do S'mores Indoors
At least this is how chef Greg Baxtrom does them all year long at his Michelin-recommended restaurant Olmsted in Prospect Heights.
1. Cut a No. 10 can in half.
2. Drop in a piece of charcoal (look for a brand with as few chemical additives as possible) and ignite it with a long-reach butane lighter.
3. Once the charcoal starts glowing, use metal tongs to transfer it to a cast-iron pot.
4. Place the pot on the table in front of your guests (consider confining the s'mores roasting to just a few tables to keep the venue from getting too smoky), along with piles of bamboo skewers, Hershey's bars, graham crackers, and marshmallows.
Chef Baxtrom's Marshmallow Recipe
2 cups cold water
3 cups sugar
2 cups light corn syrup
6 packages gelatin powder
2 tsp. vanilla extract
2 vanilla beans, seeds scraped and reserved
1/2 tsp. salt
1  cup powdered sugar
1  cup cornstarch
1. In a saucepan, mix 1 cup water with the sugar and corn syrup, and heat until it hits 240° F on a candy thermometer.
2. Into the bowl of a mixer, pour 1 cup water and add the gelatin, vanilla extract, and vanilla seeds.
3. Whisk on low speed, drizzling the hot sugar syrup into the bowl.
4. Once all the sugar has been added, run the mixer on high for 10 more minutes. The marshmallow mixture will increase in volume, and the whipping will cool the sugar.
5. Sift a 50-50 mix of powdered sugar and cornstarch over a baking tray lined with parchment paper.
6. Scoop the marshmallow mixture onto the tray and dust any extra powder mix over the top.
7. Wrap in plastic and let sit for 4 hours or overnight.
8. Cut into pieces in desired size.
*This article appears in the winter 2019 issue of New York Weddings.
More From New York Weddings
See All