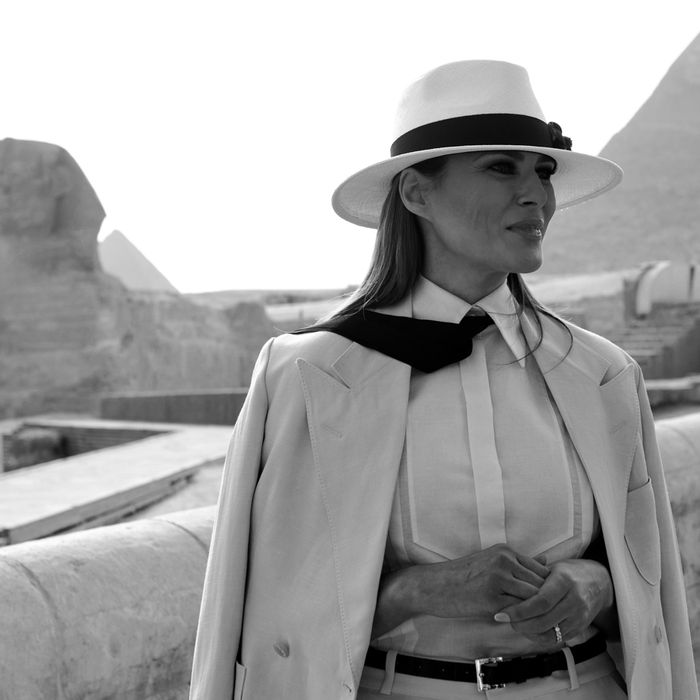 Melania Trump.
Photo: SAUL LOEB/AFP/Getty Images
The United States Department of State paid a hotel in Cairo nearly a $100,000 for a single day of services during Melania Trump's trip to Egypt, part of her tour of the African continent, according to a government spending report. According to Quartz, the Semiramis Intercontinental Cairo received $95,050 for "FLOTUS Visit Hotel Rooms" on September 30 from the U.S. Embassy in Cairo.
The hotel features fine dining and "stunning views of the sunset over the Nile" with rooms starting at just $164 per night, and the presidential suite going for $699 per night. But according to a spokesperson for the First Lady, Melania only spent six hours in Cairo, and didn't spend the night at the Intercontinental.
There's no itemized breakdown of the spending, but it's difficult to imagine spending that kind of money in a fourth of a day.
How much fine dining does it take get into the five-digit range? Is Melania's security personnel very very hungry? The Intercontinental offers free Wi-Fi, so it's not like that was added to the overall price. This administration has established themselves as erratic spenders and weird hotel guests, so there's really no telling how the money was actually spent.