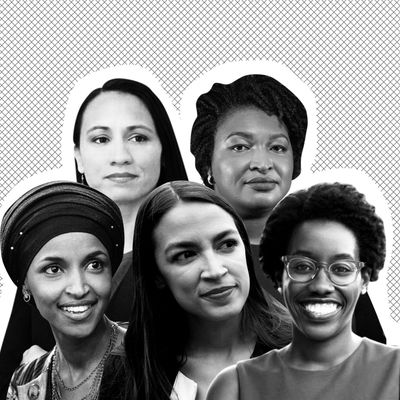 From left to right: Ilhan Omar, Sharice Davids, Alexandria Ocasio-Cortez, Stacey Abrams, Lauren Underwood.
Photo: Getty Images, Sharice for Congress, Lauren Underwood for Congress
For many progressives, Tuesday's midterm election results felt muddy, perplexing. Were they to feel relief or stabbing defeat? The Democratic Party took the House, and with it some crucial oversight over the Trump administration; it flipped seven state chambers and won gubernatorial races in Michigan, Kansas, Maine, and Wisconsin. Yet its biggest-ticket, sky-high-hope candidates — Texas's Beto O'Rourke and Florida's Andrew Gillum, and perhaps Georgia's Stacey Abrams — failed to win their hotly watched races, and the defeats of Claire McCaskill, Joe Donnelly, and Heidi Heitkamp contributed to a grievously bad showing in the Senate.
But as confusing as it may have felt for those watching Steve Kornacki frantically banging on his big screen on MSNBC, Tuesday's results were in fact perfectly coherent, very much in line with the fight we have long been immersed in. That fight is — as it has been since this nation's founding — a fight over two concepts central to our nation's origins, its progress, and its future: the promises of and restrictions on political representation and political enfranchisement.  
Progressives yearned for a clean wave last night, the swift correction of what many liked to imagine as a fluky clerical error two years ago. After all, there were so many factors — Comey, Russia, the Clintonness of it all, Jill Stein — that could have explained away our descent into openly bigoted authoritarianism. The harder thing to absorb has been the fact that Donald Trump, and the party that created and sticks with him, is not a fluke. He and they are the living, powerful embodiment of an old American theory about who should get to participate, who should get to have power, whose voices should be heard, whose votes count. This is not a fluke. This is the civic, legal, political, and social American argument — the one that at its core circles around the question of who among us is counted as fully human.
When Trump won in 2016, his campaign was powered in part at fury over the historic presidency of Barack Obama and presumed inevitable presidency of Hillary Clinton. In turn, his victory provoked a wave of furious political engagement from women, thousands of whom ran for office, many of them for the first time. And it was their participation — their reaction at not having been represented, at not having been heard, and thus deciding to run and work for other women running — that powered last night's Democratic victories.
A historic number of women on the Democratic side won their primaries in House, Senate, gubernatorial, and state legislative races. On Tuesday, more than 100 women won seats in Congress and governors' races. A record number of them are women of color, who have long been the reliable — yet terribly underserved, under-recognized, and underrepresented — base of the party. Once again, on Tuesday, black women were the Democrats' most reliable voting block, while white women voted in chillingly high majorities for white patriarchs and the party they represent; in Georgia, according to exit polls, 76 percent of white women — shockingly, a higher percentage than white men — voted for Stacey Abrams's opponent Brian Kemp.
But when it comes to representation, Democratic Party leaders are finally starting to look like its voters.
Of the 29 districts flipped, so far, from Republican to Democratic control, 17 of them were flipped by women candidates, including Lauren Underwood of Illinois, a first-time candidate and African-American woman who'd beat six white men to win her primary race and defeated Randy Hultgren in the general; in Kansas, Sharice Davids, a lesbian former MMA fighter who unseated Republican Kevin Yoder, will become — along with New Mexico's Deb Haaland — one of the first two Native American women elected to Congress. Ayanna Pressley will become the first black woman to serve in Congress from Massachusetts; Ilhan Omar of Minnesota and Rashida Tlaib of Michigan will become the first two Muslim women to head to the House, Veronica Escobar and Sylvia Garcia will become the first Latinas to represent Texas in Congress. 
In Georgia's Sixth District, where Jon Ossoff failed to win special election in 2017, Democrat Lucy McBath (an African-American gun-control advocate whom the political media did not treat seriously going into this election season) appears poised to pull out a victory. In Michigan, every statewide office up for grabs went to Democratic women: attorney general, secretary of State, senator, governor. It's not just the women who are altering our models for who might run, win, and lead this country: In upstate New York, Antonio Delgado beat John Faso, becoming his district's first nonwhite representative, after a race in which Republicans portrayed Delgado as a "big-city rapper"; and Texas Republican Pete Sessions, a long-serving member of Congress (and a key mastermind of the GOP's 2010 takeover of the House), was defeated by former NFL player turned civil-rights attorney Colin Allred. In Colorado, home of the baker whose refusal to make cakes for gay weddings was the basis of a Supreme Court case, Jared Polis was elected the nation's first openly gay governor.
Moreover, even though they lost their Tuesday races by tight margins, Gillum and O'Rourke — along with incoming New York congresswoman Alexandria Ocasio-Cortez, and Abrams, who appears poised to challenge the Georgia results for a runoff — became national stars this season; these are the candidates of the Democratic Party's future. They are young, they are progressive, and they do not look like candidates of America's past. This is part of the story of Tuesday: explosively successful — and in some cases, just short of successful, in districts and states that have long been inhospitable to Democrats — efforts by new kinds of candidates to forge new kinds of paths toward political power.
But all of those paths wind around the often determinative question of who gets to vote for these candidates — a question that has plagued America from its start, when the franchise was denied to all but white men. The expansion of voting rights — for African-Americans, for women — has been a project that has stretched over centuries, and happened in painful pieces, and has always been met with backlash and reversals.
And perhaps the most crucial project of a contemporary right-wing has been the push to re-restrict who can vote in this country, targeting specifically black and brown and poor populations. Over the past decade, with Republicans in power in so many state legislatures and in the Supreme Court, that project has been very successful. Gerrymandering, voter purges and suppression, all enabled by the 2013 gutting of the Voting Rights Act, all surely contributed to — perhaps determined — the losses of Gillum in Florida, where 500,000 African Americans were ineligible to vote because of the state's felon disenfranchisement law, and Heitkamp in North Dakota, where Native-American voters were effectively suppressed by a provision that barred those with P.O. boxes from registering. Around the country on Tuesday and during early voting came stories of Jim Crow–style suppression tactics: poll workers telling voters their registrations were void because of spelling mistakes, machines that did not work, long lines in which the elderly, infirm, and pregnant — along with those who could not afford the time away from jobs — could not stand.
There was perhaps no greater showdown than in Georgia: Abrams, who for years has worked to reach out to and register African-American voters, was running against Secretary of State Brian Kemp, a cartoon-style villain who — while presiding over the fairness of the same election he was competing in — has made it his gleeful, punitive mission to purge black voters from the rolls and to keep them from casting votes for his opponents.
And the results on Tuesday — the ones that were in the hands of the voters — fell very much on the side of expansion of the franchise. That felon disenfranchisement law was overturned with the passage of Amendment 4 in Florida, an election result that could renfranchise 1.5 million voters and effectively turn Florida from an ever-swinging purple state to solidly blue the next time round. It represents the largest single enfranchisement event since the Voting Rights Act. Kansas governor Kris Kobach, the nation's head Vote Suppressor, was defeated by Democrat Laura Kelly in a huge upset. Redistricting reform passed in Colorado, Missouri, and Michigan, where voter registration was made automatic, as it also was in Nevada. In Maryland, same-day voter registration passed by a huge margin, which scientist Sam Wang tweeted could bring 7 percent of the state's voting-age population onto the rolls. The next part of the left's project is more of the arduous, ceaseless work of rebuilding, brick by brick, what was torn down with the Voting Rights Act's rollback. This is the struggle going forward: between expansion and restriction, liberation and containment, the push and pull between the small number of those at the top to control the mechanisms, and of the masses to resist and buck against them. The right to vote — fully realized — is the most important tool in the progressive arsenal in future elections, and so the weapon that has since the start been most hotly contested.
After all, Democrats led the popular vote for the Senate by 12 million, a 57 percent majority, but lost three seats anyway, just as they won the 2016 presidential election by 3 million votes yet still are governed by a small-thumbed autocrat. And with the Senate, the party that knows how to use the courts to enact further suppression and manipulation of the electorate will retain federal judicial control. There could be no more stark example of the stakes, and the brokenness of the existing system.
But in fighting and challenging — in marshaling the energy of candidates and volunteers and protesters, the investment in left politics and new leaders and approaches — progressives not only scored big wins on Tuesday, toppling men — Kris Kobach! Pete Sessions! Scott Walker! — who've long lived on the wrong side of history, but they laid a path for the future. Had Democrats won bigger, or smaller, there would have been danger that that fight would ebb, either out of satisfaction or defeat. Instead the results made ever clearer what should by now be sinking in: that this will be our lives, this fight.
And so there is an aptness to the speech Stacey Abrams gave in Georgia in the early morning hours of Wednesday, which was not a victory speech, but a refusal to concede, and a call to present, daily, unflinching action.
"We still have a few more miles to go," she said, in reference to what she was promising would be a recount, perhaps a runoff. "But that too is an opportunity to show the world who we are. Because in Georgia civil rights has always been an act of will and a battle for our souls." Democracy, Abrams said, "only works when we work for it. When we fight for it. When we demand it. And apparently, today, when we stand in lines for hours to meet it at the ballot box." Ayanna Pressley echoed this sense of an ongoing contest in what she insisted was not a victory speech, despite her clear victory. "When we realize equity, justice, and equality, these rights for everyone, then and only then will I deliver a victory speech."
After all, the notion that we could have corrected course so quickly is akin to the fantasies that we could put our racism behind us with the election of a single president, our misogyny in the rearview mirror with the nomination of a single woman. Those were pernicious lies, fed to us so that we would stop being angry, stop fighting, resisting, challenging.
And so in a few days — for some, a few hours — after there has been some sleep and some tallying of wins and losses, we will be back at it, this project of will and work and demands; we will return to our efforts, more than two centuries long, to fulfill the democratic promises made at our start, not yet met in our present.