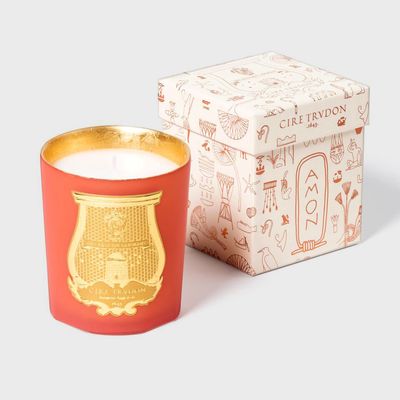 Photo: Courtesy of Cire Trudon
Night now falls around 4:30 p.m. While there are some negative aspects to this (day lasts for 36 minutes; life now lived in a constant state of despair; apartment always dark even though all of the lights are on, plus lamps), there are some positive aspects, too. Nights seem to last longer, which is good if you like nights. Plus, it's easier to convince yourself that it's okay to just stay in for the evening, get in your comfy clothes, and reflect.
"How much time have I wasted overall in my life?" Hmmm. "Should I have made different decisions?" Huh. "Is it too late?" Ahh, it's so nice to just be alone with one's mind on a cozy winter night. "Is the amount of money I have something I should be worried about or something I should be very worried about?" Hm, hm. Perhaps you can supplement your evening of peace with one of the candles from Cire Trudon's very beautiful holiday collection, like the "Amon" candle, which they describe like this:
Wrapped in woody notes, Amon re-enacts mythological secrets: a 'hidden' God that no one could set eyes on, Amon was revered as one of the key divinities of the Egyptian Pantheon. Creative and solar, Amon is the master of eternity: naturally, the Amon candle is scented with traditional incense and the voluptuousness of cedar wood in order for timelessness to prevail.




Head Notes: Aldehydes, Rose. Heart Notes: Patchouli, Tonka Beans. Base Notes: Cedarwood, Sandalwood.
Traditional incense scented with the voluptuousness of cedar wood in order for its timelessness to prevail? Of course that sounds good as hell!
… But is it?
Is the candle good?
Yes! Of course it is. It's a Cire Trudon candle and, like all Cire Trudon candles, it is very good. The scent is at once smooth and prickly, an interesting sandalwood-y incense that fills your whole apartment and makes you forget for a second that your life isn't, in general, calm and reflective and lived with an ease that comes with being very wealthy.
It is, as I mentioned, part of Cire Trudon's holiday collection. The scent and design are suitable for the holidays, but they're not cloying, like holiday candles tend to be. The vanilla-tinged rounded edges of the cedarwood make it festive but not sweet, and the vessel is pinker than it is red, which makes you think less of Santa than you might normally upon seeing something red during the holidays. It's gold on the inside, too, which I think is quite nice.
How much does it cost, and how long will it last?
It costs $105 and will last 50–60 hours.
When should you burn this candle?
When it's dark outside and you're thinking about how, just a few months ago, you'd still have, like, four hours of daylight left. It's a good scent to offset the sadness and replace it with something soothing. Also you can burn it during a holiday party where you want everyone to think you're very fancy.
Who should buy this candle?
Someone who enjoys the holidays in a measured way, or anyone looking to spend too much money on themselves in order to feel joy.