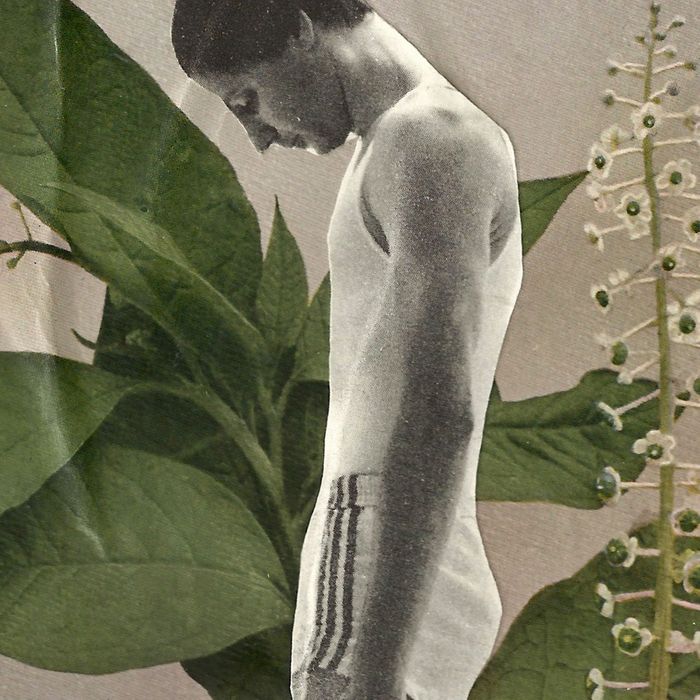 Photo-Illustration: James Gallagher
This week, a single guy crushing on all the cute men he sees: 38, project leader, Bay Area.
DAY ONE
9 a.m. I wake up and text my teammates to see what time they'll get to the basketball tournament. I pick up new sports because I want to meet new people … and basketball players are some of the cutest athletes around.
9:34 a.m. I text Greg and tell him I won't have time to meet up with him tonight. He's nice, but I'm just not feeling it. I first met him when he was visiting from the Midwest on a work trip two years ago and since then he's wanted to meet again. I think it has something to do with the fact that I come a lot. The first and only time we hooked up, I gave him a facial and he was so shocked with the amount that he wanted me to take a photo.
9:45 a.m. I'm out the door and ready for whatever comes my way today. I hope I don't make a fool of myself.
11 a.m. The other guys aren't as hot as I thought they would be …
1:30 p.m. Break time. It's been fun getting to know my teammates though I am not sure I would want to hook up with any of them. If a guy's good-looking, then I fall for him very easily … I've been trying to focus on personality first.
6:38 p.m. And we win a medal! I'm happy because people told me that I played well for a beginner.
8:41 p.m. I get a text from a friend asking me where I was. I totally forget she was throwing a housewarming party. I secretly hope that there are some cute guys for me there, but it's a straight party.
11:30 p.m. I get home from the party. No such luck on the guy front. I've been trying to level my expectations whenever I go out. Instead of hoping to meet a guy whenever I go out anywhere, I just want to have fun with my friends and if I meet a guy, so be it.
DAY TWO
9:25 a.m. I tentatively made plans with a teammate to have lunch before heading over to the Folsom Street Festival and text him when I wake up. We make plans.
2:25 p.m. Along with my new teammate friend, I head over to Folsom to meet some other friends. I'm also trying to meet up with my best friend Aaron. He was my first boyfriend and broke my heart into a million pieces after five years … but somehow we remained best friends. My other ex-boyfriend, Teddy, initially had a real problem with my friendship with Aaron. Eventually Teddy came to realize he had nothing to be threatened over. These days I wouldn't touch Aaron with a ten-foot pole. It's kind of a been-there, done-that situation.
I see Aaron at Folsom for a few minutes and I'm bummed that we don't spend more time together (he lives in Seattle). However, he's with his friends, I'm with mine, and it's too hard to coordinate to meet longer than five minutes.
3:15 p.m. From a distance, I see Rutherford and he's grinning at me. We've hooked up twice, but I avoid his gaze. Definitely a DL hook-up. The last time we hooked up, I came on his face and convinced him to go running without wiping my cum off. He told me later that the cum hardened and turned white; so he ended up running five miles with white, crusty cum all over his cheeks and forehead. I quickly move past him and hope we don't cross paths again.
8:13 p.m. Two minutes before my BART train arrives and I see a cute guy at the platform. When the train comes and doors open, I follow him to the same section of the car and sit down. I'm sort of excited because there is a possibility he plays for my team AND is into me. His name is Colin. There is some good dialogue and I muster up the courage to ask him out for coffee. He says yes!
8:54 p.m. I text Colin to see if he got home safely. I'm already thinking about how we met in a cool way … already planning out our relationship. This is a one-way ticket to crazy town. I tell myself to calm the fuck down.
10:31 p.m. Colin responds … and I realize he is not for me. First of all, he's bi. I've made it a policy to never date bisexual guys because they will always be attracted to something I don't have. Second of all, he confesses he is depressed, has been using sex as a way to survive, and has low self-esteem. He is still really cute so I consider a best-case scenario: he could be a good fuck buddy. I have empathy for people with low self-esteem because it's something we all deal with and I've worked hard on my own issues. But one thing is clear, he's got some things to work out before any type of relationship is going to happen.
11:45 p.m. I log onto Bumble, Grindr, and Scruff. I match with a guy named Noah on Bumble and I'm excited. He's ambitious, age appropriate, 6'2", and Jewish. I hope he responds.
DAY THREE
10 a.m. Just got out of a meeting. I'm the project leader for one of our company's products. I love my role because interacting with people is my jam — I know how to get people to do what I want with a smile on their face. If only I always had that effect on boys that I date …
12:14 p.m. My phone is blowing up, but I can't read it because I'm at a team lunch. I'm hoping it's a message from Noah.
1:25 p.m. Finally able to check my phone and yes! Noah did respond. But I have a lot of work to do so I'll read and respond later.
5:15 p.m. I am meeting Benjamin, my high-school BFF, for drinks. We catch up and I tell him about the last guy I hooked up with, which was two Saturdays ago. Deacon was visiting from NYC and I met him on Grindr. It was late when we met up — I didn't get to his hotel until midnight. Rather than go to a bar, I suggested visiting Twin Peaks or Bernal Heights to get an amazing view of San Francisco and just talk. I didn't feel a spark to make it anything more than a hook-up. We ended up going to Bernal Heights, where I got a great blow job overlooking the pretty San Francisco skyline.
Benjamin notes that I have a thing for public sex. As I start to protest, he reminds me of all the recent times I blew my load in public: at Yerba Buena Park, in the bathroom of The Dirty Habit, on the beaches of San Diego. I shut up and drink my beer.
9:40 p.m. I spot a ginger walking down the street and start getting dirty thoughts just like that. I love me a cute ginger.
DAY FOUR
7:30 a.m. I wake up to see if I got a message from Noah … nope. Sigh.
8:46 a.m. Noah hasn't responded yet. I wonder if I should reach out to him again. But I think I need to be patient.
10:05 a.m. In a meeting and my co-worker is looking really cute. Kind of nerdy with a hint of scruff and a goofy smile. Definitely a bro-grammer, though. Nothing's going to happen.
6:39 p.m. I walk past a bunch of basketball players and one guy in particular restores my faith that basketball players are the hottest guys around. He's shorter than I would have liked, but he has great hair and a killer smile.
9:03 p.m. Another hobby I've picked up to make some new friends is volleyball. Tonight after I'm done playing a volleyball game, I stop by a juice bar. I chat with this super cute guy that I could have sworn was gay. The way he dresses would fit in very well in the Castro. When he tells me a story about this girl he used to date, I'm thinking, "How the fuck are you straight?"After I'm done playing volleyball, I chat with this super cute guy that I could have sworn was gay. The way he dresses would fit in very well in the Castro. When he tells me a story about this girl he used to date, I'm thinking, "How the fuck are you straight?"
DAY FIVE
7:23 a.m. Still no message from Noah. I'm starting to lose hope that he'll respond again. Another one bites the dust.
1:05 p.m. Mitch texts me to see how I am doing. We met on Grindr and have had some great chats. He's in an open relationship, though — I'm not sure I actually want to hook up with him. He keeps hinting at meeting up, but I think I've changed my mind. I put him off. This is why I can't complain when people are being flakey when it comes to dating or hooking up. I change my mind constantly. I just need to remember that the next time someone flakes on me.
9:54 p.m. On my way home, I see a green Volvo and it reminds me of Teddy, since that was what he drove. It pisses me off that I'm still thinking about him after all these years. It's not that I miss him or that I want to get back together with him; I just miss coming home to someone and cuddling. I start to feel bad about being single (despite the fact that I am indeed happier now than I was when I was with Teddy) and have thoughts that I will die alone. Listening to Adele doesn't help.
DAY SIX
8:25 a.m. Just got off the phone with my mom. I would call myself a momma's boy. I'm close to her but not really. I talk to her at least two to three times a week, but it's about superficial stuff, like day-to-day stuff; rarely is it about deep or heavy topics. I am still amused that she was in shock when I came out to her at age 24 — she caught me printing out gay porn when I was 12.
10:01 a.m.  A 21-year-old contacts me on Grindr. So young. The first thought that goes through my head is, "What daddy issues do you have?"
8:09 p.m. It's my gay tennis league and while I vowed never to date a tennis player again, I am considering breaking that vow for Adam. Adam is cute (even though he is a horrible tennis player and I am typically not attracted to guys who are terrible at the sports I play) and seems like a nice guy. Maybe I'll ask him out after the league is done, but we'll see.
11:04 p.m. Grindr goes off and I get a message from a picture-less, stats-less guy who proclaims he has a big cock in the About Me section. I play along and chat with him. I find out he's visiting from Santa Barbara, he's a redhead (promising!), and he's ambitious (score!). He's starting to sound like my type of guy and the picture he sends of himself only confirms this. Then he drops the hammer: He's straight. Come again? What?
DAY SEVEN
8:06 a.m. I take my daily Truvada. Ever since I went on PrEP, it's given me the piece of mind that I don't have AIDS every time I get a cold or the flu.
8:46 a.m. I decide that I am done with online apps. No more Grindr. Sayonara, Scruff. I hardly knew you, The League. Adios, Jack'd and countless other apps. I want to meet more people in person, organically.
9:25 p.m. Instead of going out with friends, I go for a run. It's a great way to clear my head; plus, there are a lot of hot guys that run the same route. I finally see a cute guy, but he's not shirtless and I'm slightly disappointed.
9:51 p.m. I'm done with my run and head to Safeway for my usual post-run chocolate milk. I put my shirt back on because I feel self-conscious. I actually am very self-conscious about my body because some guy I was chatting on Jack'd called me fat, despite my lean body frame. Ever since I've had a bit of a complex about that. The gay community can be unnecessarily cruel at times.
10:21 p.m. Aaaaand I'm back on Grindr. I'm watching a movie and just sending a bunch of messages to shirtless, headless torsos. I start a conversation with a guy named John — it's playful, witty, and sarcastic, which is right up my alley. He sends a few pics of himself and hey! He's actually cute! Who knows where this will go …
Want to submit a sex diary? Email sexdiaries@nymag.com and tell us a little about yourself.