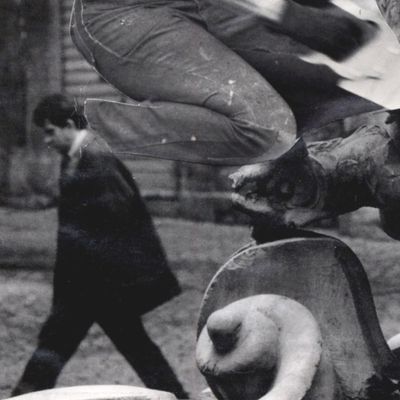 Photo-Illustration: James Gallagher
This week, a woman dealing with relationship insecurities: 30, resident, straight, in a relationship, Upper East Side.
DAY ONE
8 a.m. Wake up next to E. I'm in a weird situation, in that I have a serious boyfriend, but I really don't trust him. He has a past that involves drugs and cheating — though as far as I know, he's been ten years clean, living his best life. We've been together for three years. Besides his past, I have no real reason not to trust him other than … female intuition.
8:30 a.m. E makes us coffee while I make the bed. We met at a bar near his hotel! I was there for someone's birthday party and he was getting a drink, alone, after work to decompress. We got drunk and made out that night and started dating properly a few days later.
E and I have the same pre-work routine every week day. He gets breakfast on the table, I pull the apartment together. And then that's when I get wacko.
8:50 a.m. This is when E usually showers and when I go through his phone, his bag and his computer. I'm very good at this — it helps that I'm in medical school to be a surgeon because I'm very precise with my hands. I never find anything too incriminating. Sometimes there are texts from female colleagues or friends but they are always innocuous. Being paranoid, I often wonder if they are in code. For example, when I was in college, we would call our cocaine dealer and ask for "tickets to the show." That always mean a vial of coke. Yes … I did coke in college. But I haven't touched it for ten years. I haven't touched anything for ten years. I am sober. I don't go to meetings but I don't touch drugs or alcohol. They never worked well for me and when I got serious about medicine, I dropped it all together. Today I find nothing exciting on E's gadgets and just as he comes out of the bathroom, I go in. My turn.
9 a.m. I'm like a guy, I masturbate in the shower almost daily. It makes me feel calm, especially after the wave of uneasiness that usually hits me first thing in the morning. Here's the most important information to know: E is very, very good looking. You know how wise women say YOU need to be the hotter one? Well, I'm not wise. And I'm not hot. Short-ish, chubby-ish, I'm very smart and I can be very funny, but I've never identified as a pretty girl. I've had about four relationships just like this one. Two to three-year life span, always with a "hottie" and always my insecurities getting the best of me and eventually ruining everything.
12:30 p.m. I have a week of residency this week, so I'm doing a lot of things I never have time for like getting a haircut and getting a massage. My massage therapist is gorgeous. I would very much like him to move his hand up my thigh, which is what I think about during the entire massage.
3 p.m. I stop by Eataly to buy some nice ingredients to cook for E tonight. We live at my apartment — I bought it a few years ago when I inherited $300,000 from my grandmother. It's a tiny one bedroom on the UES. E pays me about $1800/month to stay there, which is about half of what rent would be. I think it's pretty fair, but of course when I have mental flair ups about him, I worry he's a mooch and just using me.
6:30 p.m. Cooking a great pasta dinner. I might hate being chubby but not as much as I love pasta. I sip Pellegrino with lemon and wait for E to come home. Did I mention E works as a concierge at a trendy hotel in Soho? More fuel for my crazy imagination!
8 p.m. Great dinner together and then we do what we do best: we fuck! We fuck a lot. Almost every night or every other night, unless I'm on some crazy rotation at work. We're both very sexual. I will confess here though: I'm not quite as sexual as I pretend to be, but my mother raised me to think you gotta feed and fuck your man properly.
11 p.m. We are fed and fucked and sleepy.
DAY TWO
9:30 a.m. Did my usual stalking and peeping. Today something unsettling was on his iPhone. A text from a guest at the hotel saying just saying, "By the way, thank you!" And then a heart emoji. Now, what do I know? This could have been an 80-year old grandma thanking him for sending her to a nice tea house. Or a local chef, thanking him for sending over a big party. The number wasn't stored under any name. All I have are my crazy thoughts. I can never ask about these things because it's just asking for a huge fight, so all my findings live within my head, haunting me … and probably for no good reason at all.
10:30 a.m. I see my trainer at Equinox. Hate every second of it. Hate everyone at the gym. Blah.
2:30 p.m. I'm home in my bed and masturbating to a really weird lesbian ass-licking session. I have no interest in assplay. Could these pornstars really enjoy it so? Every now and then I'll lick E's ass and he definitely likes it; I don't want to make it a habit though. No, thanks!
8 p.m. E comes home with flowers. Baby's Breath are flowers right? Are they cheaper than other flowers? I can't help but ask myself. I am really my own worst enemy.
9 p.m. We order in ramen, which is never as good as having it in a restaurant. E ends up going down on me on the couch while I watch a very funny Netflix show called I'm Sorry. I was literally coming and laughing at the same time. In moments like that, I guess I can see why a man would love me. I know how to have a good time.
DAY THREE
10:30 a.m. This is interesting. I'm going with E to his job since I'm normally always working and never have time to engage in his world. I'm a little bit nervous to go. I've met some of these people throughout the years but I used to be skinnier. I go with the expensive kaftan look with combat boots. I find sometimes if you look very stylish it doesn't matter what's going on underneath. E holds my hand as we walk into the lobby. Sometimes I think we are a great couple and this is one of those moments. I also took a Xanax on the subway ride over.
(Yes, I am sober but I take pills sometimes)
12:30 p.m. I'm still at the hotel. E is working and I'm hanging around, reading my book, catching up on emails, etc. He says he loves me being here. I like being here too — and it helps my spying intel! Most people who work here seem to be gay men or very, very young girls. I'm not threatened by any of them; they seem very stupid, no offense, and I know E is not into stupid.
3 p.m. I've left the hotel to go shopping. I buy some sexy bras at Bloomingdales. My tits look good, despite the rest of my bod. I'll give myself that.
4:30 p.m. I call my mom in New Jersey. We don't have a great relationship. She is also a doctor as is my dad. They were great at pushing me to go far in life but not so great at actually teaching my anything about life. We have always had a polite relationship and a certain closeness on paper, but I don't think they really know me. The only people who really know me are my best friends from high school and they are both married and living in the 'burbs, so I often feel quite alone and misunderstood.
7 p.m. E comes home in a really good mood. He says he loved having me at work. That means a lot to me. We are going away tomorrow to see his family in Boston — taking advantage of my week off again — so we pack and then order dinner and then fuck on the couch.
DAY FOUR
8 a.m. Nightmare. I get my period. I have fibroids and get super heavy periods. It's like I bleed out on day one and day two. I hate traveling with my period. If it were any other trip, I'd delay it a day or two but E is so excited for Boston and I don't want to be a loser about it. We're driving so I tell him we have to line the seat with a towel. That's how much I bleed …
9:30 a.m. I'm doing the driving. The towel is under me. My bleeding gets us talking about my least favorite topic ever — having kids. Because of my fibroids I might have trouble conceiving one day. I might not have trouble either. But it's always a concern. Knowing this, E has suggested we start trying for kids sooner than later. The topic always leads to weirdness between us. Because what E doesn't know is that I have all these voices in my head questioning our relationship all the time. He doesn't know my secret life where I worry he's cheating on me based on nothing but my vicious insecurities. E doesn't know that one of the reasons I love surgery so much is that it literally forces me to think only about what's in front of me and therefore to push out all the other negative thoughts. Surgery is the only time I'm not anxious or upset about my own sheer existence. So, no, I'm not interested in talking about kids yet. And I might never be …
5 p.m. Travel day from hell including a flat tire, all the traffic in the world, and a vagina gushing with blood nonstop. What a great mood I'm in by the time we pull into his sister's driveway — in a Boston suburb. I've met his two sisters and parents a few times before but I can't say I know them well. Certainly not well enough to say, "Hi! I want to give you a hug but I'm drenched in blood! Be right back!!" Instead I say: Hiiiii, I'm going to change my clothes because I feel gross and I'll come down in two minutes! And even that is awkward.
8:30 p.m. E's family is loud and working class and very different from mine. He has nieces and nephews and it's very chaotic and fun. I would enjoy myself better had I not lost a lifetime of blood today, but it's nice to be there. E has his arm around me and is telling everyone about his work, which he loves and is very good at. I'm pretty quiet at dinner. Not feeling great and also not used to this home-for-the-holidays-movie family dynamic.
10 p.m. I take a long shower in his sister's bathroom and put a huge maxi pad on and fall asleep.
DAY FIVE
8:30 a.m. Two kids, his nieces, are jumping on our bed. E is loving all of this. Me, not so much. I don't love-love kids — have I mentioned?
11:30 a.m. We're all going to see his sister's new house, which she's building with her husband a few towns away. Because I'm insane, I know that E's ex-girlfriend lives in this town where they're building. I have pins and needles about either running into her or her name coming up. He dated her for like eight years, she got him sober, they went to hell and back together, then broke up for good — and I came right after her. I mean, someone needs to mention her, right? I know from my stalking that she's married now … I both desperately want and desperately dread hearing her name come up. It's all I can think about.
2 p.m. We're eating at some local diner. Finally, her name comes up! E knows the owner of the diner because they're all from this one area. The owner looks at me and says, "Wait a minute, that's not Melanie!?"  Okay — I am gutted. For a lot of reasons. No, I am not Melanie. In many, many, many ways. Namely that Melanie is a size zero and also Melanie was the love of E's life, not his rebound — which I think I might be, even though three years together is a long time for a rebound. There's some awkward giggling and a proper introduction of me, but I want to cry and go home. What is wrong with me that I wanted to feel that sting so bad?
5:30 p.m. When it's just the two of us at the house, I ask E if he ever talks to Melanie. He says — completely honestly — yes, he does. I feel sick. I never found any texts from her. I look like I'm about to cry and E says, "Would  you have rather I lied to you?" I ask him for some alone time. I haven't had a second to myself and really need it.
6:30 p.m. I've been lying in the dark room for almost an hour. I feel a little calmer, less upset, and yes I took a Xanax. I get dressed for dinner. His sister is cooking.
9:30 p.m. We're all on the couch watching that I'm Sorry show that I told everyone about. It's so funny. Feels good to laugh. I'm feeling a bit better.
DAY SIX
10:30 a.m. We're driving home from Boston. It was not the best trip for me — between my period and the Melanie shit — but E had a good time. He's really such a good person; I don't know why I doubt everything so much.
3:30 p.m. We make decent time and get home to both of our last days off before back to the grind. We decide to do our favorite thing tonight: go to Flushing! We love dim sum crawls and discovering new places. It's cold out and we bundle up and get on the train. But first …
4 p.m. Because I was a little bit of a bitter pill in Boston I decide to blow E at our doorway, just before we leave. Coats on and everything. I get on my knees and suck until he comes. I swallow. I go and brush me teeth and we leave.
DAY SEVEN
9 a.m. I'm walking into the hospital. This is my safe place. It's where I'm good at what I do, maybe even the best. I'm still a resident but there are high hopes for me. Like I said, being at work keeps me focused on the productive things, not the garbage that is my own insecurity.  I don't take any pills when I work either — I'm no Nurse Jackie.
9 p.m. Home now — 12-hour days are typical. E is waiting with a little homemade dinner. He really only makes one thing, a chicken teriyaki stir-fry. I still have my period and work was a grind so I tell him I have to shower before we eat.
9:30 p.m. I walk out of the shower in just my bra and underwear, lie down a towel on our couch and tell him I want to come before I eat. He is inside me before I know it. We have sex, and it feels so good because I'm on my period. The blood is not bad at all by day four. We both come pretty hard, and then I'm ready to eat and chill and try to be the happy, normal couple that I hope we are.
Want to submit a sex diary? Email sexdiaries@nymag.com and tell us a little about yourself.