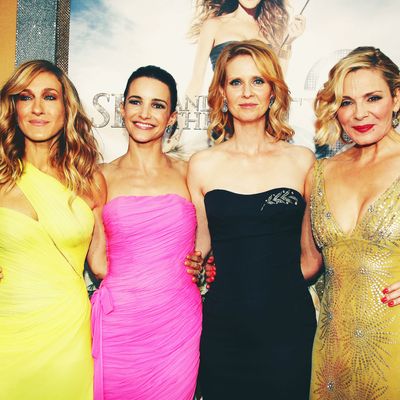 Sarah Jessica Parker, Kristin Davis, Cynthia Nixon and Kim Cattrall.
Photo: Dave Allocca/Starpix/REX/Shutterstock
Kim Cattrall's unwillingness to be further involved with the Sex and the City franchise seems more and more reasonable as details emerge about the third film's script. Not only the was movie reportedly going to center around Big's death and Carrie dealing with the loss of her husband, but Samantha was going to be subjected to an incredibly … unusual plot line.
According to E! News, Miranda's son Brady (baby Brady!) would get caught masturbating early on in the film, and then later, the 14-year-old child was going to send Samantha dick pics.
"Kim never wanted to really do the movie to begin with," an unnamed source told E! about the third installment. "It was a combination of not-great money and a bad storyline for Samantha. It was a bad script."
Cattrall and her former co-star Sarah Jessica Parker have been rumored to be feuding since 2004, and in 2016, the cast of Sex and the City participated in an extremely public discussion about the cancellation of the third movie.
"We had this beautiful, funny, heartbreaking, joyful, very relatable script and story," Parker said at the time, when she announced the movie wasn't happening. On Instagram, Kristin Davis called the script from Michael Patrick Smith "beautifully written" and expressed frustration about the news. Did Parker and Davis read the part about Brady sexting??
At the time, Cattrall reaffirmed that she had no interest in being involved. "This isn't about more money, this is not about more scenes, it's not about any of those things," said Cattrall. "This is about a clear decision, an empowered decision in my life to end one chapter and start another. I'm 61. It's now."