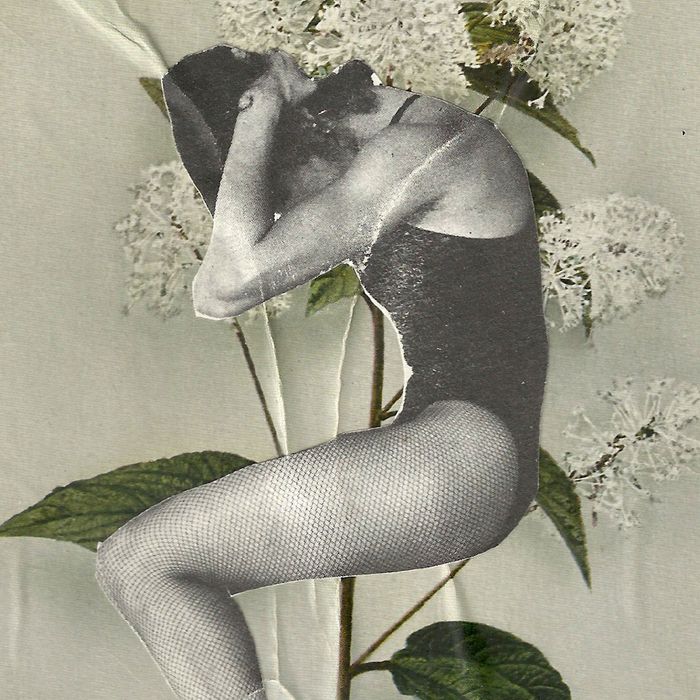 Photo-Illustration: James Gallagher
This week, a mom of two who cheated once and might again: Thirty-eight, straight, married, Upstate New York.
DAY ONE

5:45 a.m. My husband's alarm went off 20 minutes ago. By the time I open my eyes he's already in the bathroom doing his morning routine of pooping and showering. What I'd really like is a good romp before the kids wake up, but that hasn't been happening lately.
Still, our sex life is good — it's actually what brought us together in the first place. We went to the same college but didn't really meet until a few years after graduation. We were at a mutual friend's party and the chemistry was instantaneous. That very first night ended with us sleeping together, even though both of us were in relationships at the time. Then there were a tumultuous couple years of long-distance dating before coming to the conclusion that we couldn't live without each other. Now we are (mostly) happily married with two kids and a dog in a New York State suburb. He's a financial analyst and I stay home with the kids, something I used to think would be fun until I actually did it.
8 a.m. I show up for my first physical therapy appointment. I'm supposed to run a marathon this weekend, but I'm having a plantar fasciitis flare-up. Last week I saw a sports doctor who recommended a cortisone shot and no running until the race. The doctor's assistant was a hot, 25-year-old guy with thick, wavy hair and great shoes. Good taste in shoes and lustrous hair are important to me, probably because my husband has neither. PT goes well, but the hot assistant is nowhere to be found. Bummer.
1:30 p.m. Quick session with the vibrator before the kids get home from school. I can't stop thinking about the 25-year-old. If you're wondering how I know his age, it's because I did some internet stalking immediately following my appointment. His name is Tyler, he plays and coaches ice-hockey, and he has two sisters and a brother. It's not like I'm interested in him in any serious way — I just want to fuck someone new.
We've been married for ten years and I'm feeling the itch. Sometimes I wonder if I could do an open marriage. I've tried to drop hints to my husband about this, but he doesn't take the bait. I honestly think it wouldn't bother me to learn he's been having one-night stands when he's away on business.
8 p.m. Kids are in bed and we're on the couch watching football. I'm on my phone mostly. I'm not in the mood for sex tonight and when I feel that way, I act standoffish. I avoid cuddling and head up to bed early, by myself. Our sex life goes in spurts. Sometimes we have a week where we do it ten times. Then we'll have a stretch where we have no sex for two weeks. We both like having sex, though, and we're good at it. I always say, marry the person you have the best sex with. That's what I did.
DAY TWO

7:15 a.m. I am exhausted. I took a sleeping pill last night and it's still affecting me. I have anxiety; it's always been hard for me to fall asleep. Today is not going to be fun. It's my turn to host playgroup for my kid and two other four-year-olds from the neighborhood.
We live in an amazing community with lots of like-minded couples and tons of little kids. Everyone likes to drink, too, which is good because the social scene here centers on taking the whole family to wineries and breweries on the weekends.
12 p.m. Getting ready to feed the kids lunch. I text my husband that I'm having major anxiety about the marathon approaching. Usually I'm lucky if he even answers at all, but this is a rare occasion — I get a timely, appropriate response: "Relax. What's the worst that can happen?"
5 p.m. I'm attempting to cook a healthy dinner for my family but my heart isn't in it. Ever since my psychiatrist put me on Ritalin, I have zero appetite. I'm not gonna lie, I did enjoy losing ten pounds effortlessly, but I don't actually love this drug. It makes me feel like I'm back in college doing lines of coke. Still, it was my idea to try Ritalin out in the first place. I didn't like the anti-anxiety meds I was on — they made me gain weight and feel tired all the time. I wondered if my lack of motivation and focus during the day could actually be ADD. My therapist agreed with me and we decided to try a stimulant.
I'm just not inspired at all, so I throw together chicken, rice, and broccoli and call it a night.
DAY THREE

8 a.m. Back to physical therapy. I shaved my legs and wore shorts because I'm getting dry needling done today. I'm not quite sure what it is, but I think it's like acupuncture. It's supposed to make my muscles less tight.
10:30 a.m. Well, dry needling hurt a ton and now I'm hobbling around Target. I debate buying my husband some Rogaine. Would that be mean of me? I decide not to. I'm feeling horny, though, so I decide to pick up some beer and get the ingredients to make one of my husband's favorite dinners tonight.
Just to clarify: It's not like my husband isn't hot. He is. He is tall, handsome, and in pretty good shape.
8:15 p.m. I'm trying really hard not to drink much anymore, but I do let myself indulge in pot. I just need something to take the edge off. My anxiety is off the hook with the race in only a few days. I get stoned and am instantly feeling cuddly and loving toward my husband while we watch Schitt's Creek on Netflix.
I move his hand into my panties, and then we have some heavy petting for several minutes, all while still cracking up at the show. I suggest we go upstairs. There, I grab my vibrator and pleasure myself while he enters me from behind. His dick is really big — did I mention that? — which is one of the main reasons why I married him. We both come.
DAY FOUR

6:30 a.m. My husband looks really hot as he's leaving to go to work. He's wearing a shirt that I like. I have an urge to pull him upstairs and give him a blow job, but obviously I can't and don't.
7:30 a.m. It's crazy time in our house: I'm trying to get everyone ready for the bus. With a 4- and 2-year-old, it's hard to actually enjoy motherhood. I keep waiting for it to get easier. Maybe I just need my parenting skills to get better.
8:45 a.m. I'm talking with my friend about the hot sports-doctor guy. She tells me there's nothing wrong with wanting to sleep with someone new; it's whether or not I act on it. She is one of the few people who knows that I cheated on my husband when we were first married. This was back when we lived in New Jersey. I was a new mom, feeling neglected and underappreciated, and what started out as a friendship turned into a hot and heavy affair that lasted an entire summer. It was definitely fun, but I couldn't handle the guilt and ended things. As far as I know, my husband has no clue.
7 p.m. Spent the whole day in a blur, thinking: Could I pull that off again? Do I really want to?
DAY FIVE

7 a.m. Missing my last PT session because my 4-year-old was up with diarrhea all night. It's times like this that make me want to run away to an island and leave my husband and kids behind. How did I end up in this life? I should be traveling the world with a hot, wealthy boyfriend. Instead I'm here disinfecting a bathroom before falling asleep on the floor.
11 a.m. More diarrhea, more cleaning. I hem and haw over whether I should still go to the marathon. It's a six-hour-plus drive each way. There's no way we can leave my son behind without one of us, so we decide that I'll go to the city alone. I feel a little relieved. Sometimes my husband makes my anxiety worse. He just doesn't know how to handle me. And I know, I am a lot to handle. I get away with it because I'm a hot, skinny redhead who likes to have sex a lot.
9 p.m. My husband and I are finally alone together, but all I want is sleep. He pinching my nipples as we're lying side by side in bed. I try to ignore it. He moves down to my pants and once he feels how wet I am (what can I say, I'm always horny), I'm a goner. He pulls his dick out and slowly guides it into me. I prefer to be on top, so I roll him over and do my thing. He loves when I ride him and he comes quickly. I don't, but I'm okay with that. I get off on providing him with an orgasm. It's a power trip for me.
DAY SIX

9 a.m. I've been on the road for an hour now, so I should get to the city by noon-ish. I am NOT looking forward to the marathon, but at least I'm getting away from the kids for the weekend.
1 p.m. Oh God. Being in New York is not helping my desire to cheat on my husband. As I walk through the streets to my friend's apartment, I remember the feeling of being young, single, and free in my 20s. I was living on Long Island at the time, but we would come to the city on the weekends to score drugs and hook up. Ahh, youth. At the time, I was working as an editor for a local newspaper. I had dreams of working in the publishing world in the city, but that obviously didn't pan out.
3 p.m. Despite my protests, my friend has dragged me to a block party at the next apartment complex over. There's lots of kids running around, live music, and candy apples. I was promised alcohol, but the wine pours are the size of a thimble. It takes me four trips to the bartender to get a full glass' worth. I shouldn't be drinking, but I'm just so damn nervous. My friend tells me about her college friend who's been cheating on her husband. I'm relieved that it's not just me …
DAY SEVEN

5:15 a.m. I catch a cab to the ferry at this ungodly hour of the morning. Why they make the runners get to the Staten Island start hours and hours before the gun goes off is beyond me.
6 a.m. I make it to the "Blue Village," where I will remain until my 10:15 start time. I have a book, my headphones, and free Dunkin' Donuts coffee to keep me sane for the next several hours. As I sit by myself, I wonder if there's some lonely, attractive runner who'd be up for a little fun before the race. I feel totally anonymous here. Then I realize the only private place to get some action would be one of the porta-potties.
5 p.m. The marathon is over. I didn't do awful, but I didn't do amazing either. My friend tried to make me stay at her place another night, but I just want to get home. I hop in the car and don't stop until I'm home.
12:30 a.m. All I want is for someone to rub my body up and down. I lie in our bed naked after my shower and wait. Thankfully, my husband takes the hint. He strips down and crawls into bed with me. I can feel his dick, rock-hard, as it presses against my leg. His hands start at my shoulders and slowly make their way down my back, over my glutes, and into my inner thighs where they find the spot that makes me beg for more …
While it's nice to have these guys I fantasize about cheating with, I'm not totally sure I'd really go through with it. The last time I cheated, it took me years to get over it — Catholic guilt is no joke. Still, if I were away for a girls' trip and some hot guy were hitting on me in a bar, I seriously doubt I would say no.
Want to submit a sex diary? Email sexdiaries@nymag.com and tell us a little about yourself.