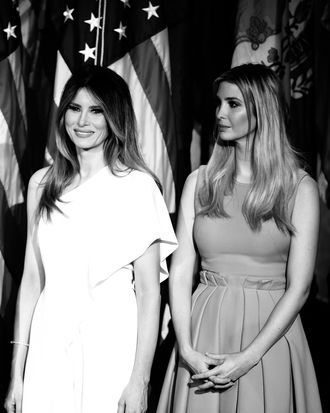 Melania and Ivanka Trump.
Photo: JIM WATSON/AFP/Getty Images
It is rumored that Ivanka Trump and Melania Trump don't have the warmest relationship. A 2017 Vanity Fair profile of Melania described her relationship with Ivanka as "fine." They have very different roles in the Trump administration: While Melania stays out of politics for the most part, and resides in the East Wing of the White House, Ivanka goes out campaigning with her father, and has her own office in the West Wing.
There's never been a first daughter quite like Ivanka. She is directly involved with policy- making, and strives to be considered as one of her father's advisers. Even though there's not much overlap between her and the first lady, her role in the White House is reportedly causing tension. According to the New York Times, her relationship with Melania is "complicated."
Chief of Staff John Kelly reportedly has to act as mediator between Ivanka's staff and Melania's staff when this sort of tension arises. Kelly has previously been quoted describing the Trump children's involvement in their father's administration as "playing government." Apparently Kelly, a former Marine Corps general, had to intervene when both women posed for photo ops with black children within days of each other.
According to the Times, while Melania was in Ghana as part of her tour of Africa, she held a baby in Accra, and the photo was distributed to the press, and video of the meeting was posted to the first lady's Instagram.
Just two days later, in a video posted to Ivanka's Instagram, she high-fived a young black girl in North Carolina, while she was visiting recovery sites following Hurricane Florence. The video was the closing scene of the video, where she talked with North Carolinians.
Apparently this caused tension. John Kelly was tasked with talking to the teams of both women about the … overlap of black children photographed in official White House press materials and Instagram posts?
Ivanka will also be making a trip to countries in Africa in January with Senator Lindsey Graham. She reportedly moved the dates of her trip so that it would not infringe on Melania's trip. According to the Times, Ivanka may also do a network special while she is traveling.