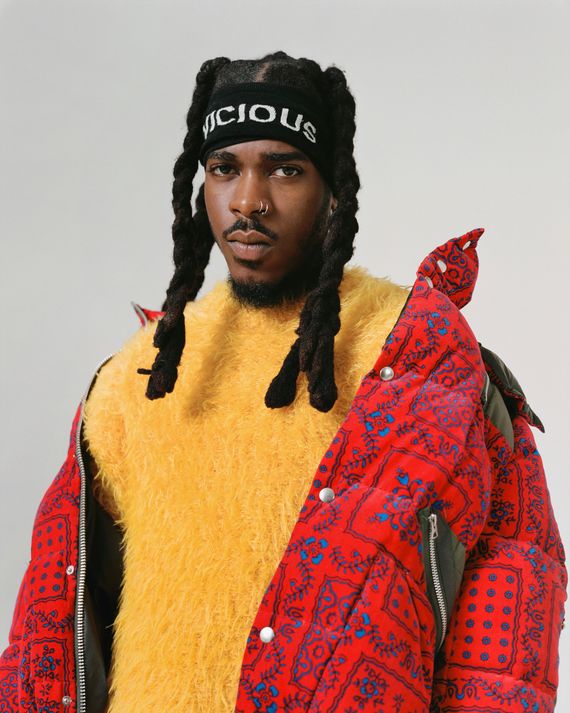 If you had to describe Allexander Julian — and he'd probably prefer you didn't — you could say he's a maker of things. By trade, he's a patternmaker who creates his own clothes and samples for other brands, but he dreams of designing everything from cars to interiors.
Julian studied footwear design at FIT and fell in love with patternmaking. He compares it to being an engineer for an architect — a problem-solver who rarely gets due credit. He calls himself an engineer of garments, but just don't call him a designer. "That's such an overused, nasty word. Everyone's a designer but nobody knows how to design." We spoke with him about Jay-Z, Japan, and sweatpants.
What's your most used emoji?
The most appropriate emoji is the side-eye. It fits every situation. Most of the time I'm usually seeing some annoying-ass text message.
What's your favorite holiday?
I don't have one. Holidays don't mean shit to me, but if I had to choose one, probably the Fourth of July. Anyone where people get wild.
If you could spend three months anywhere, where would it be?
Japan. I've never been but I'm in love with their culture and their fashion.
If you had a superpower, what would it be?
Invincibility, flying, or telekinesis.
What's the best album ever made?
Reasonable Doubt. It's not my favorite, but the groundwork Jay-Z laid with that album is super important.
What's your go-to karaoke song?
"Billie Jean" by Michael Jackson.
Who do you think is cool?
Jay-Z. He's like my favorite human being. Jay-Z is the perfect image of Hey, you can do it too. He gives black kids in the ghetto hope, and that's just him being a man, not like his accolades and lyrics. It gives me a lot of inspiration. Whenever I get sad I put on the first two Jay-Z albums.
What fictional character would you want to hang out with?
Otto from Rocket Power or Dough Boy from Boys in the Hood.
If you were a magazine, which one would you be?
New Yorker.
Jeans or sweats?
I've been wearing sweats for the last nine months. I put on some jeans the other day and my mom was like, What? Why are you wearing jeans?
If you could talk to animals which would you talk to?
Cheetahs and lions.
What is something your social-media followers don't know about you?That I'm a patternmaker and I paid my way through FIT out of my own pocket. I'm at a sewing machine for most of the day.
What's the last website you looked at?
Starz to watch Power.
If you could be outfitted by one designer for the rest of your life, who would it be?
Probably me, because I have the power to do what I want to do. I can't predict what other designers will do. That's actually one of the reasons I went to school to be a patternmaker.
What do you eat for breakfast?
If I eat breakfast, it can range from French toast with bacon and sausage to a grilled cheese with bacon and sausage. Whatever I feel and whatever is close to me.
If you could only eat three things for the rest of your life, what would they be?
Bacon, cereal, and mac and cheese.
If you were a color what color would you be?
Red. I don't even have to think about it.
Allexander wears a Sacai coat and pants with a Michael Kors sweater.