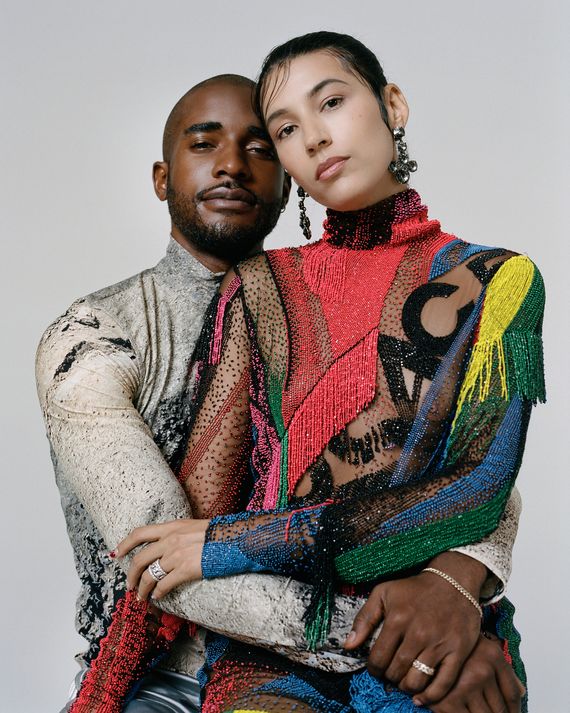 Cynthia Cervantes Gumbs and Travis Gumbs will make you wish you had a relationship like theirs. Their wedding was at once traditional, avant-garde, deeply personal, and featured in Vogue. Together, the pair run a creative studio and magazine called Maroon World which serves to promote communities of color and "show the similarities that exist between cultures," according to Cervantes Gumbs. We spoke to the pair about emojis, singing as a superpower, and arugula.
What is your most-used emoji?
TG: I use the sparkly thing, the stars.
CCG: That's mine too! It's a magical thing.
TG: Just like, as a burst.
CCG: Even if you're saying something that's not pleasant —
TG: It's a nice little accent.
What is your favorite holiday?
CCG: Dia de los Muertos.
TG: Christmas.
If you could spend three months anywhere, where would it be?
TG: I'm gonna go with Mexico, everywhere in Mexico.
CCG: Hawaii.
What superpower would you have and why?
CCG: I'd want to be able to sing like Whitney Houston. Singing is a superpower.
TG: Teleport anywhere and bring people with me.
What's the best album ever made? 
TG: Jay-Z's Blueprint. I would say a Kanye album, but can't do that anymore.
CCG: A mix CD.
Who do you think is cool?
CCG: Oprah. I idealize her. She's beyond cool though, it's a whole level.
TG: Obama.
Go-to karaoke song?
TG: We do "I'm Still in Love With You" by Sean Paul.
What fictional character would you want to hang out with?
TG: Martin, from The Martin Show. Any '90s sitcoms, because I grew up with them. Like Will from Fresh Prince.
CCG: I would want to spend time with the little boy from Coco. I'm tearing up thinking about it.
If you could speak to animals, which animals would you want to talk to?
TG: Cat. We have a cat.
CCG: She already kind of tells us what she's thinking. I want to talk to her and be like Are you happy?
If you were a magazine, which magazine would you be?
CCG: The World of Interiors.
TG: Source magazine in the '90s.
Jeans or sweats?
TG: Depends. But sweats in a perfect world.
CCG: Same. Sweats and a crop top.
What's something your social-media followers don't know about you?
TG: I don't think people know we do yoga, like, six times a week. Hot yoga, even in the summer.
CCG: It feels like self-care to me. I think partially I don't post about it because it's a retreat, it's a sanctuary.
What was the last website you looked at?
TG: Gmail.
CCG: E-bay. I'm addicted.
If you could be outfitted by one designer for the rest of your life, who would it be?
TG: Dries van Noten.
CCG: Miuccia Prada.
What do you eat for breakfast?
TG: Oatmeal with bananas on top.
CCG: Chia seeds in coconut water with bananas.
If you could only eat three things for the rest of your life, what would they be?
TG: Wild-caught salmon, avocado, and arugula.
CCG: Arugula, avocado, and lime.
If you were a color, what would it be?
TG: I'd be like a mustard gold.
CCG: I'd be green.
Cynthia wears a Versace dress, Dolce & Gabbana earrings; Travis wears Louis Vuitton.