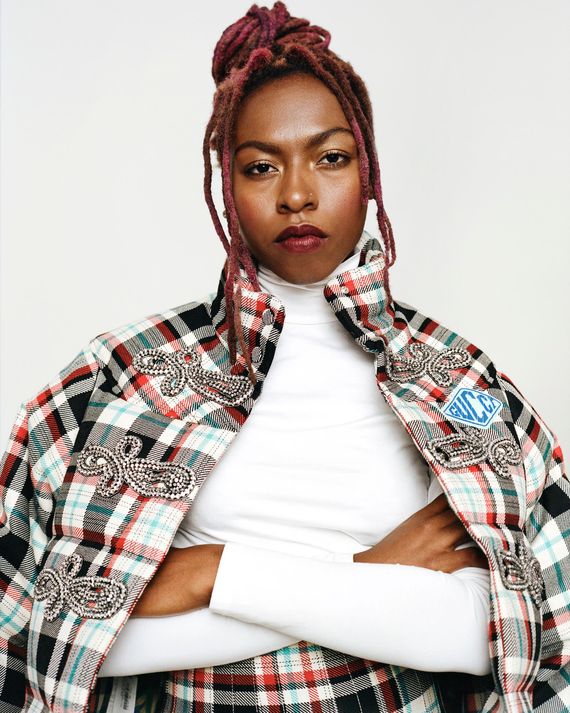 Yasmeen Wilkerson got into skateboarding through her now–ex-boyfriend. "I got my board, then we broke up and I kept my board." That's something to be grateful for, as now skating is Wilkerson's life. She's part of this growing group of cool skaters/influencers who are popular on social media and with brands. But don't be intimidated by her skating talent or fooled by her Instagram handle, @yaz.so.mean. She's secretly a softy with a penchant for My Little Pony and inspiring other women. Her next adventure is heading to Palestine to teach young girls how to skate. We spoke with her about that, Gemini emoji habits and Sza.
What is your most-used emoji?
The angel emoji and the devil emoji. I'm a Gemini so I like to use both.
What is your favorite holiday?
Thanksgiving for the food.
If you could spend three months anywhere, where would it be?
I'm trying to plan a skate trip to Palestine to teach kids how to skate, with SkatePal. I have to raise up a bit of money for it, so that's on my mind. If I can raise the money, I can do that and talk about women's empowerment and reach people less fortunate. It was a whole essay application process to see if I would be accepted. SkatePal will go to a country and teach kids.
What superpower would you have and why?
Teleportation.
What's the best album ever made? 
Amy Winehouse, Lioness Hidden Treasures.
Who do you think is cool?
I think of Sza. She used to be friends with my friends so I would see her a bit but we never had dialogue. I've seen her go from just a girl on the block to becoming Sza. She's really cool and really humble.
Go-to karaoke song?
[sings] Don't you want me baby, don't you want me, ohhh. I forget what that's called.
What fictional character would you want to hang out with?
Probably Ms. Marvel.
If you could speak to animals, which animals would you want to talk to?
Birds.
If you were a magazine, which magazine would you be? 
I'd be Vogue, cause I'm that bitch.
Jeans or sweats?
Jeans, they're more durable.
What's something your social-media followers don't know about you?
That I love My Little Pony. It makes my heart warm. My happy place is watching My Little Pony and eating ice cream.
What was the last website you looked at?
I was looking up the weather.
If you could be outfitted by one designer for the rest of your life, who would it be?
Her name is Tia Adeola and she's the designer and creator behind Slashed by Tia.
What do you eat for breakfast?
An egg omelette with spinach and cheese, and maybe some mushrooms.
If you could only eat three things for the rest of your life, what would they be?
Probably a quinoa bowl, french fries, and a mango smoothie.
If you were a color, what would it be?
Purple.
Yasmeen wears a Gucci coat and skirt, and a Jil Sander turtleneck.