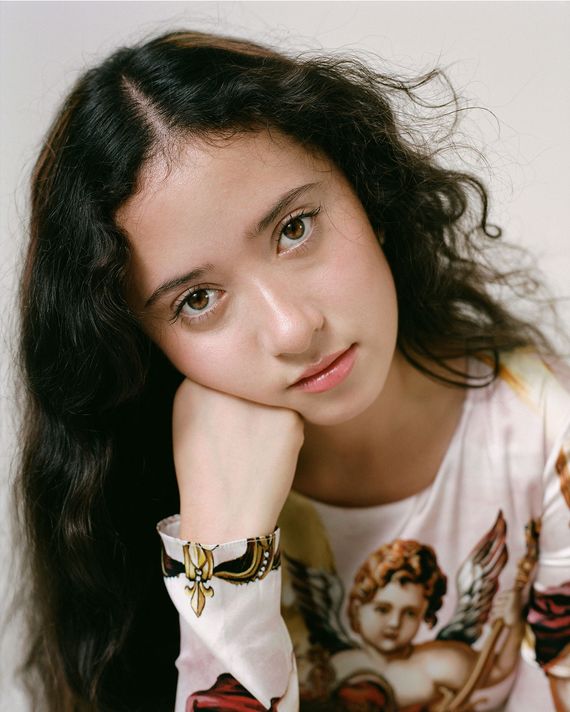 Manon Macasaet is a contracted photographer with Stussy and XGirl, the author of a photography book published by Dizzy magazine, and the designer of a high-concept dollhouse. She's also a high-school student. Recently, at a group show at Procell, a vintage store in the Lower East Side, she celebrated the launch of both the book and the dollhouse. The book chronicles the life of her two best friends over two years, and the dollhouse is filled with mini paintings displayed in frames she had picked up in Japan. It's fair to say she's a cool teen. "A lot of my inspiration comes from childhood," she told the Cut. "Although it doesn't last forever, it's a place we can all access if we let it. I hope by looking at my art, people feel closer to that." We spoke with her about her love for Japan, s'mores, and teleportation.
What is your most-used emoji?
Maybe the love letter one.
What is your favorite holiday?
Christmas or Halloween.
If you could spend three months anywhere, where would it be?
Japan. It's my favorite place on Earth. They have everything I love and need. The people are nice, the subway is clean, the food is amazing, and I love to collect toys. It's a condensed country of everything I like.
What superpower would you have and why?
Teleportation. So I could go to Japan.
What's the best album ever made? 
That's a hard question but my favorite band is Pretty Sick.
Who do you think is cool?
My friends who run Dizzy magazine. They're such hard workers and so creative.
Go-to karaoke song?
"Me and You" by Cassie. Or "I Miss You" by Blink 182.
What fictional character would you want to hang out with?
Totoro.
If you could speak to animals, which animals would you want to talk to?
Bunnies or birds.
If you were a magazine, which magazine would you be? 
Drop Magazine.
Jeans or sweats?
Jeans.
What's something your social-media followers don't know about you?
I'm not a model; what I like to do more is photography. A lot of them don't know that I speak French, too.
What was the last website you looked at?
My school website, honestly.
If you could be outfitted by one designer for the rest of your life, who would it be?
Walter Van Beirendonck and Miuccia Prada.
What do you eat for breakfast?
A lot of waffles with syrup and orange juice. Sometimes bananas with peanut butter. But I really really like Cocoa Puffs.
If you could only eat three things for the rest of your life, what would they be?
My mom's lasagna, sashimi from Nobu, and s'mores.
If you were a color, what would it be?
Bubblegum pink.
Manon wears a Dolce & Gabbana dress.