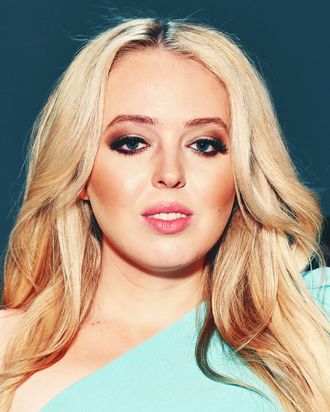 Tiffany Trump.
Photo: Dia Dipasupil/Getty Images
It's been relatively quiet on the Tiffany Trump front since her vacation Instagram drama with Lindsay Lohan over the summer. Today, though, "Page Six" has a new Tiffany Update: She's apparently been busy spending time with her new boyfriend, and is serious enough about him to have made him her Thanksgiving date.
A source told the tabloid that Tiffany has been quietly dating "wealthy scion" Michael Boulos of Boulos Enterprises, a Nigeria-based distribution and trading company for motorcycles and power bikes. The news comes after reports that she split up with her previous boyfriend, Ross Mechanic (who is, disappointingly, not a mechanic) earlier this year.
Boulos, now London-based, also grew up in Nigeria, one of the African countries that Donald Trump allegedly once referred to as a "shithole," though the "Page Six" source claimed that this didn't come up when she brought him to Thanksgiving at Mar-a-Lago.
"Tiffany is happy she has so far been able to keep things with Michael under the radar," the source said. "But she introduced him to her family at Thanksgiving, and he comes across as a very intelligent young man from a great family. There was no mention of the president's unfortunate comment about African nations."
It probably doesn't hurt that Tiffany is apparently already used to feeling awkward around her dad.
Another interesting tidbit? The "Page Six" source claims that Tiffany met Boulos during her Mykonos vacation — a trip that, of course, has been well-documented. Did she meet him at the Lohan Beach House Mykonos? Either way, at least she got something out of that trip.