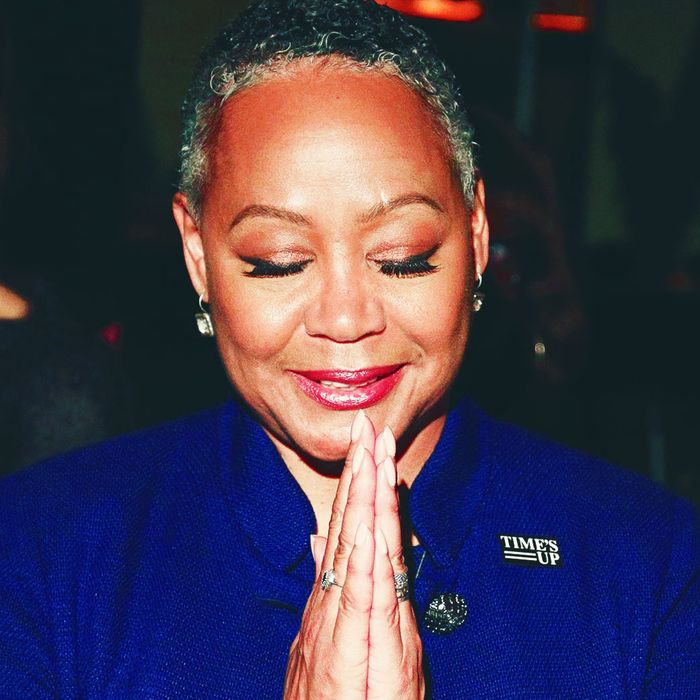 Lisa Borders.
Photo: Matteo Prandoni/BFA/REX/Shutterstock
Activists and celebrities gathered Tuesday evening in New York to honor Lisa Borders, the new president and CEO of Time's Up, the initiative and legal defense fund fighting sexual harassment and inequality. Cindi Leive, Padma Lakshmi, Charlotte Gainsbourg, Inez van Lamsweerde and more were the evening's hosts.
Borders started the job on November 1 after serving as president of the Women's National Basketball Association. She was inspired to join Time's Up while listening to Oprah Winfrey's Golden Globes speech about gender inequality earlier this year.
Since Time's Up was started on January 1, more than 3,500 women and men across the U.S. have accessed legal resources through its legal defense fund. Borders's hiring came shortly after Time's Up's recent success helping McDonald's and Walmart workers file sexual-harassment claims against their employers. In the coming months, she plans to amplify the organization's message outside the entertainment industry.
At the dinner on Tuesday, an event hosted by The Glenlivet in honor of Time's Up called "Conversations for Change" hosted at Indochine, Borders gave a moving speech that touched on her childhood growing up in the South during the civil-rights movement, and what she now refuses to tolerate: the mistreatment of women. Below, read an excerpt of her speech followed by photos from the event.
This journey began a year ago for Time's Up but my personal journey began almost 50 years ago, when I helped integrate an independent school for Atlanta, Georgia. So I'm a daughter of the deep South, and when I was born in 1957 in Washington D.C., my grandfather was marching for civil rights in Atlanta. … My paternal grandfather was a minister for over 50 years … and Dr. King trained at my grandfather's church. He would come and sit in the pulpit and in the pews so that he could listen to my grandfather preach. …

 

In 1969, which was a very difficult time not only for the city of Atlanta but all across the country, we were incredibly segregated in the South but the same was true in cities like Boston. I was called the n word every day, from seventh grade to twelfth grade.

 

What I decided was if they were going to call me that name, I was going to redefine the definition of that name. The overachiever that I am today was really etched in stone at that school by people who discriminated against me and underestimated me, every day. That experience is part of what's seared in my mind that people should be treated equally. It wasn't that my grandfather was marching, because I didn't get it, that was just grandpapa doing his thing. But as soon as something happened to me personally, I understood what empathy was.

 

When you can relate and something is not only relevant but resonant for you is when you can really embrace it and internalize what has happened to others. So, I tell you that story today because it really crystallizes who I am as a person. I see adversity as an opportunity.

 

…




When women are treated inequitably, we all suffer. Women are community assets. We are not afterthoughts. And when I think about the value women add to every equation, women of all kinds of all kinds, I recognize that our country, our community our continent, our globe deserves to have women at the table, so this is not us asking permission. This is us volunteering to sit in our rightful place, at the table. To add value, to each and every thing that we touch. Period. Full stop.




Time's Up is really about the environment in which we live. We call it a patriarchy because there are institutions where there is a tremendous imbalance of power and those areas — those environments, which are really all around us — when we look at the institutions we recognize that there have been severe abuses of power. We have only to look to the Harvey Weinstein display a year ago, that made all of us recoil and say, "What the hell?"




Now I'm here to remember in tenth grade, telling my mother about a breakup with my boyfriend and she said, "You deserve what you tolerate." And I was like, "Damn." That advice … can be applied here as well. We as a nation deserve what we tolerate, we as a community deserve what we tolerate. So, the bad behavior, poor treatment, or the maltreatment of women is something I personally do not wish to tolerate.




Folks say to me why did you leave the WNBA, if you loved it so much. … And here's my response: the women of the WNBA are in the sports industry. They are entertaining people every single day. But it is one industry in one sector. Time's Up has the ability to reach across geographies, to reach across socioeconomic groups, to reach across countries and continents, which means we have the ability, the capacity, and the capability to change the world.




It is merely upon us to take this opportunity to do just that. So for those who have already been involved, I say thank you. For those of you who will be involved, I say welcome and thank you for all that you're going to do. Someone asked earlier, is there a call to action tonight? So here's your call to action: each one, reach one. It is just that simple.