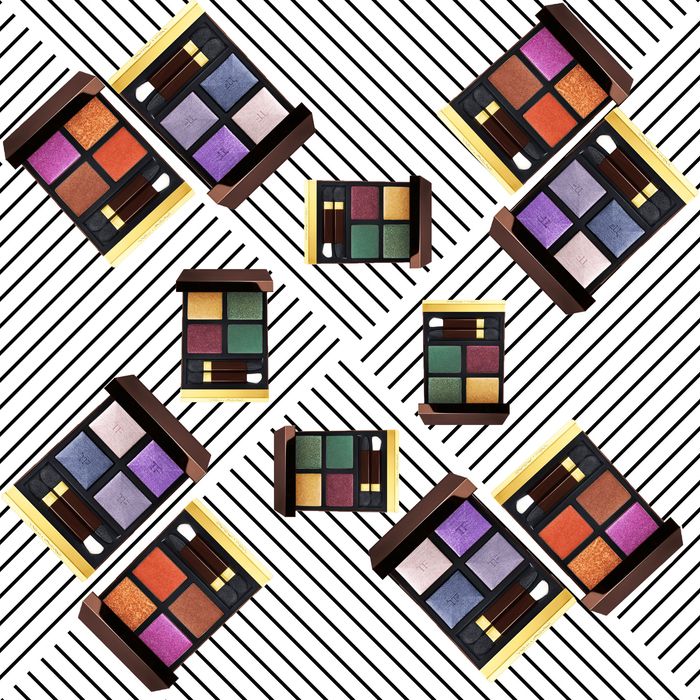 They're so beautiful.
Photo: Courtesy of Tom Ford
There is a really big problem in the beauty world that no one seems to be willing to address. It's widespread and consistent, and it can affect anyone. You've probably experienced it at different times in your life. It's certainly frustrating, and now Tom Ford Beauty is the latest to perpetuate this unique dilemma. They've released a series of new Eye Shadow Quads that are (almost) too pretty to use.
These quads are makeup, yes, but also glorious pieces of artwork: The geometric pattern! The sleek case! The bold, pigmented colors! Would they look good on your eyes? Most likely. Can you bring yourself to sweep a brush across that perfectly stamped "TF" time and time again? Debatable! Tom Ford, please, make your makeup slightly less beautiful so we don't have to compromise our inner aesthetic compass for the sake of wanting to try a new eye look.
In total, there are seven new quads. Each of the four shades has a slightly different finish: sheer, satin, shimmer, and matte, so you have a lot of different ways to play around with color and texture. You could decide that the shimmering gold-toned shade from the "Leopard Sun" quad is the only thing you have ever been destined to wear all day, every day. Or maybe the more muted, smoky tones offered in the "Supernouvea" quad is more your style. If you like purchasing makeup based on name alone, look no further than "Photosynthesex". Do you want to collect them all, line them up on your vanity, and gaze at them in all their glory? Beginning now, you can do just that.