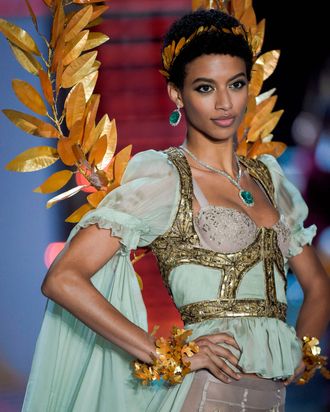 Photo: FRED DUFOUR/AFP/Getty Images
The Victoria's Secret Fashion Show doesn't air until December 2, when the world is in the proper, glittery state of mind to fully digest the shininess of the Fantasy Bra in all its glory. But the actual show takes place tomorrow, November 8, in New York City, which means the Angels are very much around and in full prep mode. One such Angel is Jourdana Phillips, who caught everyone's attention in 2016 when she walked her very first VS runway with her buzzed, natural hair (that also happened to be bleach-blonde at the time) — a far and refreshing cry from the "beachy waves" and blowouts that often show up every year.
Tomorrow, Phillips and her pixie cut will be walking in their third VS Fashion Show. The Cut caught up with her during the final countdown to talk cheek push-ups, lukewarm water, and completely freaking out before stepping onto the world's most-watched runway.
I'm glad we're talking today because I really need to ask a real life Victoria's Secret Angel: How did it feel to see the Kardashians dressed up as Victoria's Secret Angels?
[Laughs] It was cool! It brought back old Victoria's Secret vibes, you know? When they used to have all the Angels in all-white wings, strutting down, super fierce. I remember the commercials from when I was younger and so it brought those vibes back. It was funny to see.
Ok, moving on. We're coming up on crunch time before the show. Does anything in your beauty or wellness routine drastically change in the weeks leading up to it?
There's … a whole lot of extra stuff happening. I'm just panicking the whole time. I'm literally trying every beauty technique I can think of. It's not going to do much difference in the end, but you just hope it does.
Mainly, I take a lot more time with my skin, and I immediately start the day after I'm confirmed to be in the show. At night I'll do an exfoliator scrub, a mask, and then moisturize really, really well before bed. In the mornings, I'll moisturize again and use a NuFace to tone and tighten and all that. I'll also go get a lot of facials — there's a place called FaceGym that I go to a lot because you can get them often. The biggest change is my skin care becomes more a daily ritual that is consistent. In regular life, I'm like Whatever, I'm going to sleep.
A lot of people with good skin cite drinking water as a "secret" beauty tip. Is this one of your "secrets," too? If so, how do you take your water? Tepid?
It is definitely one. I actually love lukewarm water. Cold water, I can't drink it.
It's too much.
It is too much! And they're like, with ice? And I'm like Are you crazy!? You're trying to kill me. But one of my favorite tips is facial exercises. Those are actually really amazing. I do facial exercises before jobs and I feel like they bring out your features a lot more and get rid of a lot of the puffiness and sleepiness from the night before.
Are you massaging your face? Or using face rollers?
No, no — like doing stuff with your mouth, like saying all the vowel sounds. Or there's one where you stick out your tongue really, really far for like five seconds, or smile so hard that your cheeks hit your eyeballs, and you keep flexing your cheeks up. It's like doing cheek push-ups.
How long do you that? What is one session?
I'll only do a couple minutes of it. Or I'll do it all throughout makeup and hair and they're like what's wrong with you. There's a ton online and I'm always looking for new ones. I'm also really, really obsessed with all of Karuna's face masks. My favorite is the renewal eye one, but they're all amazing — I just, don't know why they work so well.
Is prepping for the VS show drastically different than prepping for Fashion Week?
Prep for Fashion Week is almost impossible because of the time schedule. There's so much traveling and it's so last minute and you're beyond exhausted. If you're able to get a good routine during NYFW or any of them, you're amazing and I want to be your best friend. By Paris — I don't care who it is — all the girls look crazy, and we all have to laugh about it.
Can you walk me through the 24 hours before the show? Any rituals or superstitions? Do you do anything specific to get in the zone?
Twenty-four hours before each VS show, I have a complete existential crisis. I'm just like, What is the meaning of my life, am I gonna completely embarrass my whole family? Are they gonna love me? Am I gonna fall?! Will my whole career be ruined? You just go through a roller coaster of emotions and fear and excitement and your mind goes crazy.
I always make sure to have a family member or friend with me the night before. They're always calming me down and reminding me of everything I did to get where I am and to relax, enjoy it and be in the moment.
What are you thinking as you walk down the runway? Are you counting time? Reminding yourself to smile at whatever performer is singing near you?
I'm thinking of every curse word possible in my head. You're walking around and seeing Adriana Lima, Candice [Swanepoel] and Lais [Ribeiro] and just trying to breathe normally. I see those girls and I literally forget English. So in my head, I'm also reminding myself, You belong here too. You worked hard, you're beautiful, you're a powerful woman, this experience is special, and you belong here.
You got a lot of coverage for wearing your natural hair in past shows, which I love. Can you walk me through your current hair routine?
Right now I'm in this weird transition because I straighten my hair and wear it curly, too. I wanted to explore that because that's what's so fun about our hair — the flexibility.
My curly routine is a lot of deep conditioning, since I added the heat damage that comes with straightening. I have to give my curls as much love as possible. I'll deep condition once a week so the curls keep their shape. Shea Moisture has a daily hydration conditioner that is fire. I'll use serums too, but I try not to do too much because I think less is more when it comes to hair. I'll also use jojoba oil all over to seal in the moisture.
For my straight hair routine, a heat protectant is a must. Even when I do shows, I'm like Before you touch me, I need to put on a heat protectant. Right now I'm using Bumble and Bumble Hairdresser's Invisible Oil. And at night, I wear my du-rag! I wear that to keep my hair protected, smooth, and soft when I wake up in the morning.
In your first show, you were blonde. What made you go blonde and did you feel any different as one? Did you really have more fun?
I went blonde because I was the exclusive for Anthony Vaccarello's first YSL show; so I was with him every day. On his mood-board, he had a picture of one of David Bowie's ex-girlfriends [Ava Cherry], and she was this black girl with shaved, blonde hair. He looked at me and said "I want to do this to you." I gasped because I had long hair at that time; it was past my shoulder. But I enjoyed it a lot.
Being blonde definitely brought out a different side of me. It brought out the more fun, adventurous, I-don't-care type side that just wants to have a good time. When I went curly, it brought out the more sensitive and relaxed and girly-girl side. Not too girly, but a little more soft and feminine than the blonde. The blonde girl was a little more I'm gonna kick your butt if you say anything crazy to me.
You've been outspoken about the need for hairstylists and makeup artists who know how to work on different hair types and textures backstage. I saw some uncomfortable flat-ironing interactions between stylists and black models backstage at NYFW in September. Do you feel like things have improved?
Unfortunately, I didn't see any difference after this most recent fashion month. At all. And that is so disappointing to me because a lot of media outlets have pushed for the importance of that issue. I still experience issues with people not knowing my hair and I'm still getting into a lot of arguments backstage!
There are really great people that do models of color hair extremely well, but I don't know why we're not making it a priority to make sure they're backstage. It's so important for models of color to feel confident when we go on stage, and I've seen firsthand how much it kills your confidence because two seconds before we step on the runway, we were fighting with the hairdresser. We still need to push and make sure that it's addressed.
On a lighter note, what's currently on your workout playlist?
Well, I'm Jamaican so we've got to put dancehall on there. I like the song "So Mi Like It" by Spice, and I also really love Afrobeat, so I'm also loving a song called "Iskaba" by Wande Cole. It's all dancehall and Afrobeat in the gym, for sure.
And how is your goal of sprinting (running while pushing a weighted sleigh) your body weight by the show going?
Actually, I just completed the challenge, but when you tune into the Victoria's Secret Show, you'll see if I actually reached my goal or not. It was … hard. I don't have that much upper body strength, so it's been a little bit difficult for me, but my trainer Rhys is amazing, and he's been helping me so much to strengthen my body and not look silly. So yes, you'll see if actually did it or not …
Lastly, let's jump ahead in time. It's the day after the show. What are you doing? What's your ideal post-show day?
After the show, I am so out of it. It is next-level how out of it I am. It's a really long day. We start early in the morning around 10 a.m. and we do two shows and go straight into the after-party. It takes everything out of me, so as soon as I'm done, I don't want to talk to anybody. My mom knows to not say anything to me. We're usually at a hotel the whole day after, so I just lay in bed and order room service and get whatever I want and as much as I want and I just watch TV in complete vegetation mode.
I try not to look at my phone either, so I don't see all the pictures that pop up right after so I can truly decompress which I think is important after such a high-energy event.