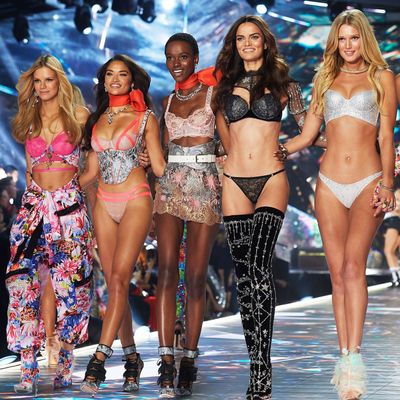 Photo: Timur Emek/FilmMagic/Getty Images
On Wednesday morning, the Financial Times reported that Victoria's Secret chief executive, Jan Singer, has stepped down from her role at L Brands Inc., which is the lingerie brand's parent company. Singer joined Victoria's Secret in September 2016, after leaving her role as CEO of Spanx.
This new comes just a week after the Victoria's Secret annual runway show, which was largely overshadowed by a controversial interview between Vogue magazine and Ed Razek, chief marketing officer at L Brands.
In the interview, Razek was quoted saying that he didn't think "transsexuals" should walk the runway "because the show is a fantasy." He also said that people didn't want a television special for plus-sized women in 2000, and that they "still don't." Finally, Razek concluded that people are critical of Victoria's Secret because it's so successful.
Razek later apologized in a statement on Twitter for his "insensitive remarks," adding that Victoria's Secret "absolutely" would cast a transgender model in its show. "We've had transgender models come to castings," he said. "And like many others they didn't make it."
Meanwhile, there was an outpouring of dissatisfaction with Victoria's Secret from the fashion community at large. Kendall Jenner, a VS Angel, shared a blurry image on Instagram after the show of a button that read "Celebrate Trans Women." Meanwhile, Rihanna allegedly "liked" a photo that spoke negatively of Razek and positively of Fenty x Savage. (In the same Vogue interview, Razek also dismissed Rihanna's lingerie line.)
Victoria's Secret has reportedly had a decline in sales with the rise of competitors like American Eagle's Aerie. We'll know more on Monday, though, when L Brands is scheduled to release its quarterly earnings, and reportedly make an official announcement regarding Singer's departure.