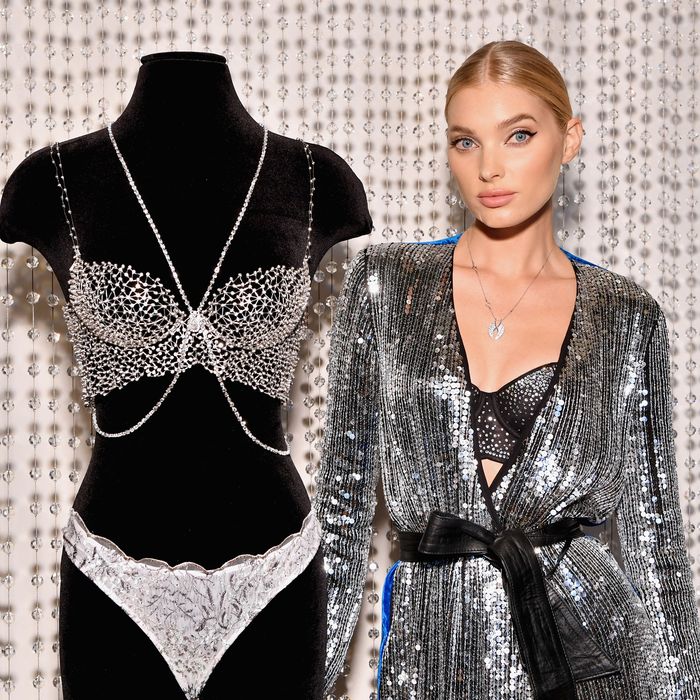 Elsa Hosk with this year's torturous Fantasy Bra.
Photo: Slaven Vlasic/Getty Images for Victoria's Secr
What does "fantasy" mean to you? Does it bring to mind images of a white sand beach and crystalline waters? The scent of a lover? Glamour and excess? Or does it evoke underwear made out of sharp rocks and the music of EDM duo the Chainsmokers?
If you answered the last of these, good news! Tonight is the 2018 Victoria's Secret Fashion Show, and though us plebes won't be able to watch it until it airs on December 2, the powers that be have granted us a peek at this year's main event: the Fantasy Bra.
What makes the Fantasy Bra so much more fantastical than all the other bras on the runway? It's more expensive, for one. Also, it usually looks far more uncomfortable than the Mundane Bras.
Here's model Elsa Hosk writhing in this year's Fantasy Bra — a cropped bodice and body chain made of 2,100 Swarovski Created Diamonds, and set in sterling silver that reportedly took 930 hours to make. Because there's truly nothing like the icy cold feel of metal and gems on your bare nipples to make you feel like you're living a dream.
This is just the latest in a long line of pricey and excruciating-seeming undergarments. Below, find our ranking of Fantasy Bras, from least-to-most torturous-looking.
Heidi Klum's 2001 Heavenly Star Fantasy Bra - $12.5 million
This device is clearly too small for Klum. She looks like a teenager whose boobs jumped a cup size over the summer but she still tries to squish them into her eighth grade bra. Still, it basically looks like a regular bra, and would probably be fine to wear.
Gisele Bundchen's 2000 Red Hot Fantasy Bra - $15 million
Another too-small bra, but that's to be expected from 2000, a year when the dominant Look was "ill-fitting." Or maybe they just couldn't afford to make it any bigger.
Alessandra Amsbrosio's 2012 Floral Fantasy Bra - $2.5 million
Apart from the heavy dangling flower smacking you in the diaphragm, it doesn't look too uncomfortable.
Gisele Bundchen's 2005 Sexy Splendor Fantasy Bra - $12.5 million
Have you ever seen a more 2005 photo in your life?? The low-rise bootcut jeans! The jeweled belt! The pose!! You can almost hear The O.C. playing in the background. Also the diamond strap looks like it will slice through Gisele's flesh at any moment.
Adriana Lima's 2010 Bombshell Fantasy Bra - $2 million
Lima's boobs look like they are trying desperately to stage an escape from their jewel prison so they can go start a new life in the country; somewhere they can enjoy the peace and quiet, and finally, blissfully experience the force of gravity. Maybe they'll raise chickens.
Karolina Kurkova's 2006 Hearts on Fire Diamond Fantasy Bra - $6.5 million
An iron maiden looks more breathable than this.
Jasmine Tookes 2016 Bright Night Fantasy Bra - $3 million
A bra that reminds you, with every slap of the heavy tassel on your stomach, that you have sinned.
Lais Ribeiro's 2017 Champagne Nights Fantasy Bra
The cold, heavy weight of anxiety and loneliness that crushes your chest at night, but make it a bra.
Candice Swanepoel's 2013 Royal Fantasy Bra and Belt - $10 million
"What is less comfortable than a tight bra covered in sharp gems?" they asked. "Ah yes, a tight belt covered in sharp gems."
Lily Aldridge's 2015 Fireworks Fantasy Bra - $2 million
As Lily bends down to pick up her phone, the jagged spikes of her bra's firework's dig into the soft flesh of her chest. "Baby, you're a firework," she whimpers.
Adriana Lima and Alessandra Ambrosio's 2014 Dream Angels Fantasy Bras - $2 million each
By the time the designers realized they were adorning a pair of human women and not a handsome and intricate pair of Victorian lamps, it was already too late.