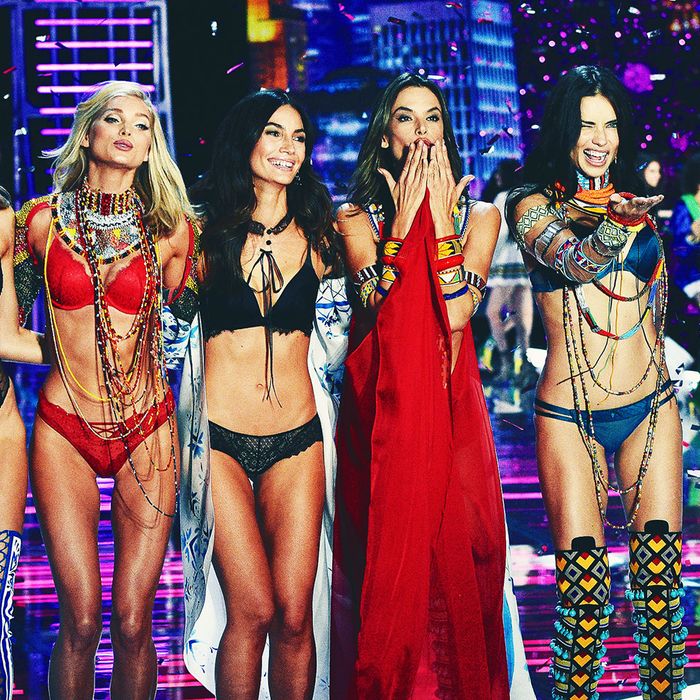 Photo: Victor VIRGILE/Gamma-Rapho via Getty Images
Hours before Victoria's Secret's annual runway extravaganza, which is scheduled to take place on Thursday night in New York City, Vogue published an online interview with two of the lingerie brand's "chief architects," Ed Razek and Monica Mitro. The resulting conversation, moderated by Vogue Runway director Nicole Phelps, covered topics such as representation, #MeToo, and the brand's competitors. Needless to say, it was a lot to take in.
"Victoria's Secret gets credit for being a conversation starter, but the brand is not part of the evolving discussion around size diversity now," wrote Phelps in her introduction, citing brands like Universal Standard, ThirdLove, and Rihanna's Savage x Fenty, which have become popular in part for promoting size, gender, racial, and ethnic diversity. "In many ways, the discussion around Victoria's Secret is not about who it's letting in," Phelps added. "But who it's still keeping out."
Despite the flaws Phelps describes, Victoria's Secret is still hugely popular around the world. Last year's show, which was filmed in Shanghai, China, attracted 1.6 billion eyeballs in 190 countries. Razek and Mitro go on to defend these numbers in the Vogue interview, as well as the brand's relevancy and purpose … Like a lot.
"I feel like our runways have been culturally diverse for a long time and that we've always celebrated our models' backgrounds," said Mitro.
Razek, meanwhile, seemed more intent on addressing the "haters," saying that competitors and writers "carp" on the company because it's so enormously successful.
In that spirit, here are some lines that stood out to us from the interview. We'll let them speak for themselves.
On Rihanna's Savage x Fenty Show:
Razek: Everybody keeps talking about Rihanna's show. If we had done Rihanna's show, we would be accused of pandering without question.
Vogue: Pandering why?
Razek: Because the brand has a specific image, has a point of view. It has a history. […] By the way, we've had three pregnant models walk the show. Everybody had the conversation about Savage [x Fenty] having the pregnant model in the show. We watch this, we're amused by it, but we don't milk it. And all of these things that they've "invented," we have done and continue to do.
On Plus-Size Inclusion:
Razek: If you're asking if we've considered putting a transgender model in the show or looked at putting a plus-size model in the show, we have. We invented the plus-size model show in what was our sister division, Lane Bryant. Lane Bryant still sells plus-size lingerie, but it sells a specific range, just like every specialty retailer in the world sells a range of clothing. As do we. We market to who we sell to, and we don't market to the whole world.
We attempted to do a television special for plus-sizes [in 2000]. No one had any interest in it, still don't.
On Expectations:
Razek: Do I think about diversity? Yes. Does the brand think about diversity? Yes. Do we offer larger sizes? Yes.
Mitro: 30A to 40DDD is our range.
Razek: So it's like, why don't you do 50? Why don't you do 60? Why don't you do 24? It's like, why doesn't your show do this? Shouldn't you have transsexuals in the show? No. No, I don't think we should. Well, why not? Because the show is a fantasy. It's a 42-minute entertainment special. That's what it is. It is the only one of it's kind in the world and any other fashion brand in the world would take it in a minute, including the competitors that are carping at us. And they carp at us because we're the leader. They don't talk about each other. I accept that. I actually respect it. Cool.
On Skinny-Shaming:
Mitro: […] When people say real women have curves and they call our models skinny …
Razek: They skinny shame them.
Mitro: So Jourdana [Phillips] said, "to all those kids I went to school with who called me Skinny Mini, look at me now."
Razek: Yes, they are aggressively physically fit, but the operative word is fit. Should they apologize for being fit? This is their profession, and this is the penultimate [sic] expression of their profession. And it can make models.
On #MeToo Stories:
Razek: The two stories that broke, let me be specific about them, one of them was about a photographer who had dated a woman, had nothing to do with us, who was offended by him. We stopped working with him and did a full investigation. The other one, I had a model complain to me that she felt uncomfortable with him and I fired him an hour later. I didn't investigate it, I didn't do due diligence. I fired him an hour later, because the models' comfort is important to me. Nothing matters more. Over 25 years, 7,500 photo shoots, we had one incident and handled it immediately, I'd take that record. I had a hairstylist on a shoot who was rude to one of the models and I fired him on the spot. He asked, "how do I go home?" I said, "swim."
On the Backstage Atmosphere Since #MeToo:
Razek: We didn't have changes to make. The show position has always been a very private place. And we've always respected that position.
On the "Haters":
Razek: Nonsense gets written about us; God bless, we understand, we're a big target, a very big target. We get it, we're enormously successful and have been for a very long time.