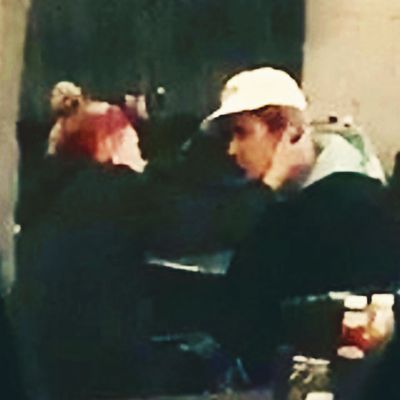 Haily Baldwin and Justin Bieber.
Photo: SWNS.com
Justin Bieber and Hailey Baldwin are like any typical couple; they wear sweats together, they make out, they wed spontaneously, they weep. For their latest lugubrious outing, the couple honored Dark Arts Month by crying at a Harry Potter-themed bar, Leaky Cauldron, at Universal Studios in Orlando last Sunday. A series of blurry photos published by the Daily Mail, in an article titled "Justin Bieber is seen WEEPING once again …" show what looks to be an emotional Bieber crying into his hands as Baldwin comforts him.
According to a source, the couple had their security team clear out the bar around 11 p.m. on Sunday, as they sat down and ordered a few Butterbeers to coax a "disheveled and distressed" Bieber. Could Bieber's emotional crisis be somehow connected to his recent buzz cut, as it is a truth universally acknowledged that haircuts (i.e. bangs) bear the brunt of our emotional tides? Or perhaps he was reacting to the public outcry after his (fake) burrito scandal, in which a Bieber lookalike was caught on camera maniacally eating a burrito sideways?
Or maybe Bieber was just contemplating the meaning of marriage, as was the case during his last good public weep on a Citi Bike. "You got good days and you got bad days," he said in August, commenting on those photos. "It's not real if it doesn't have any bad days."
So why not take the bad days in stride and kick back with a nice cold Butterbeer?