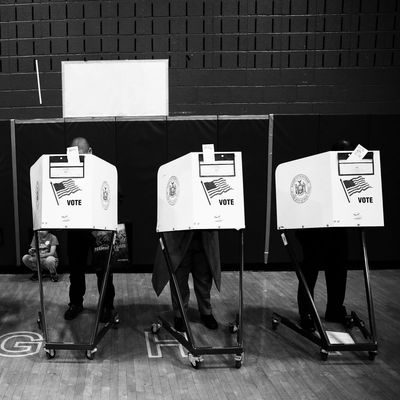 Photo: Anadolu Agency/Getty Images
Today, millions of Americans are turning out to vote in what is being called the most important election of our lifetime, which will hopefully turn out better than the last most important election of our lifetime. Across the country, however, many voters are reporting massive delays and scanner malfunctions at their polling places.
"There is only ONE scanning machine working for the entire polling place…" voter Nuri Weitzman told Gothamist this morning, when she went to cast her ballot at P.S. 22 in Crown Heights, Brooklyn. "Lines for scanning are sneaking around the whole building and there's no order to the line. They've run out of privacy folders and encouraging us to take our ballot, get on the scan line, and fill it out in line. Wait times are up to an hour and half or longer."
Michael J. Ryan, the executive director of the New York Board of Elections, told CBS News that the delays are the result of high turnout, two-page ballots, and rainy weather. "The drier, the crisper the ballot is, the less issues you're gonna have with the machine," he said.
And while some voters are inspired by the large turnout, they are still expressing their frustration at the long wait times.
"It's a shitshow which on one hand is amazing because the turnout but obviously they were not prepared for this. I have been on a massive line for 45 minutes and am not even halfway through to the scanners. Issue seems to be that 3/4 scanners are down. A man near us on the line called the Board of Elections multiple times to ask them to come fix the machines and they hung up on him," voter Anne Sullivan told Gothamist.
Voters are reporting problems in other states as well. In Georgia, where Democrat Stacey Abrams is running for governor against Republican Brian Kemp in one of the most hotly contested races of the election, voters are sharing similar experiences.
"So ballot machines are down. They are unable to print our ballots on the card. They've brought in new machines and now they're about to try to bring in new cards. I've been here since 7 a.m.," voter Ontaria Woods told CNN.
The long wait lines are a huge burden on workers whose jobs don't allow them the flexibility to take a large chunk of time off in the middle of the day, though it is important to remember, most states require employers allow workers time off to vote.
Also, if, for some reason, you are told you can't vote at the polls today, you do have options. For example, if a poll worker says you are not registered or your voting eligibility cannot be established, 46 states allow you to cast a provisional ballot. This is a written affadavit that swears you meet the state's voting requirements. Generally, provisional ballots are kept separate from other ballots, and then counted after the election, when a board of elections determines whether they are valid.
Updated, November 6, 2018, 5:10 p.m.:
Reports of serious voting delays continue to pour in.
In North Carolina:
Officials in Wake County said voting machines were malfunctioning because the high level of humidity in the area and the size of the ballots. Both of which should have been accounted for.
In Texas:
One voter told CNN reporter MJ Lee that many people left their voting place in Arlington, Texas, when the electronic voting machines stopped working and they ran out of paper ballots.
In Connecticut:
Voters have lined up at New Haven City Hall for over four hours, and were reportedly told that if they had not voted by 8 p.m., they cannot vote. This is a blatant violation of state voting laws, which stipulate that "Any elector standing in line at the polls at 8 p.m. will be allowed to cast a vote."
In Georgia:
Voters waited over four hours at one polling place in Snellville, ThinkProgress reporter Kira Lerner reports. Lerner tweeted that Georgia representative Hank Johnson said "this issue is happening in at least 4 precincts in Snellville. He blamed Brian Kemp and called it a 'last gasp' effort by Republicans to suppress voters of color."
And in New York:
State Senator Marty Golden is potentially engaging in electioneering by handing out cookies at a polling place that is not his own?