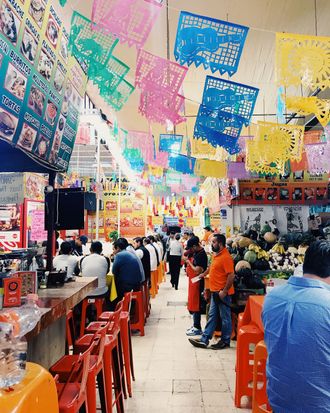 Mercado de Coyoacán.
Photo: Courtesy of Ali Labelle
Weekend With is an ongoing Instagram series that features people we like photographing places we'd like to be. Follow @thecut on Instagram to join in, and tag your photos with #WeekendWith when you travel somewhere new.
Chances are you've seen one or two photos of Mexico City on your Instagram feed recently. From Casa Gilardi to Ignacia Guest House, CDMX is brimming with restaurants, museums, mercados, and paleteros — almost to the point where it's impossible to discern the good ones from the truly great. And that is precisely why you need to see it from Ali Labelle's eyes.
As the creative director of art and design at ban.do, Labelle is constantly on the hunt for inspiration and new ideas, and she's especially attuned to all the small details that set apart Mexico City.
"Aside from the mezcal and the mole, which I haven't shut up about since I've been back in town, the part that struck the strongest chord with me were the hand-painted walls and signage everywhere we turned," she says. "I'm a huge typophile and couldn't get enough of the lettering painted above shop doors or on the walls of restaurants and the sun-drenched hot pinks, bright greens, warm yellows, and sharp blues that had faded over the years."
She told the Cut, "I came back to L.A. feeling really excited to challenge myself with color and pattern in a way I wasn't feeling before I left." From Casa Rosa Luis Barragán's works of art to Mercado De Coyoacán with its vibrant colors and striped bags, it's not difficult to see why.