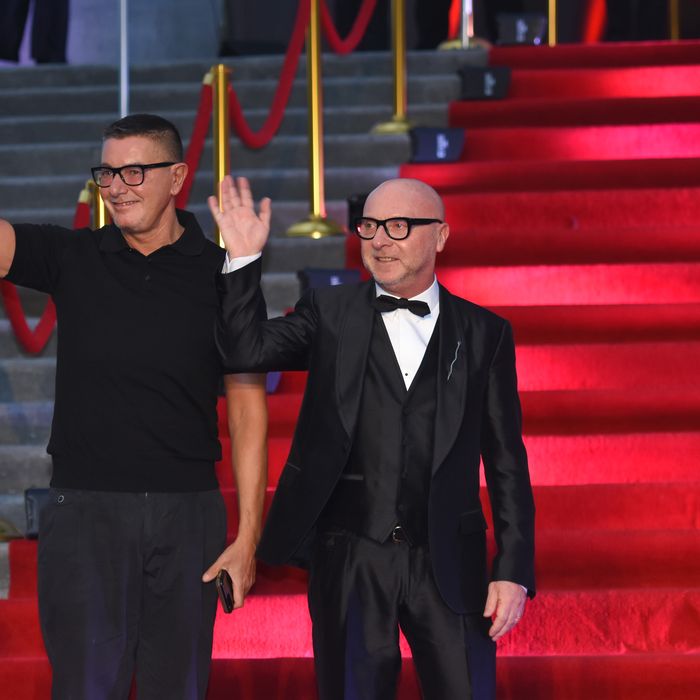 Domenico Dolce and Stefano Gabbana.
Photo: Carlos Tischler/Getty Images
Dolce & Gabbana canceled its Shanghai fashion show, called The Great Show, amid controversy after critics on Chinese social media accused the brand of racism in an ad released on Monday. According to Vogue, the show was supposed to an hour long tribute to China featuring over 300 looks, 140 performers, and 1,400 people in the audience. By Wednesday, it was announced the entire show was canceled, after the ad went viral and a series of bizarre messages sent from the Instagram account Stefano Gabbana's own account. Here's everything to know about what lead to the cancellation of the largest show in Dolce & Gabbana's history.
What was the ad?
The video, which was posted to the Chinese site Weibo, showed a Chinese woman attempting and failing to eat Italian food with chopsticks. According to Business of Fashion, the ad was taken down within 24 hours of it being posted, but that didn't stop it from circulating.
How widespread was the response to the ad?
Business of Fashion reported that the hashtag#DGTheGreatShowCancelled was read 540 million times on Weibo, and mentioned in 74,000 discussions. On Instagram, Dolce & Gabbana's comment section is filled with remarks like "shame on you, DG" and "I guess this means I will boycott now."
Models and performers quickly pulled out of the show. "Our mother country is more important than anything, we appreciate the vigour and beauty of our cultural heritage," singer Wang Junkai's management wrote, when they announced he would no longer be participating,
"Glad to see that most of the talents who were supposed to walk your show in Shanghai stood up for their country and said no to your stupid shit," Victoria's Secret Model Ellen Chen wrote in a note posted to Instagram. "You don't love China, you love money."
What was the hacking controversy?
After the video was taken down, screenshots of messages sent from Stefano Gabbana's Instagram account and from Dolce & Gabbana's account were posted to Diet Prada's Instagram account. The messages were defensive and offensive, calling those who asked about the racist advertisement "stupid."
"If the Chinese feel offended by a girl who spells pizza or pasta with chopsticks means that those Chinese feel inferior" read one message sent from Stefano Gabbana's account. " … and then it's a problem not ours !!! The whole world knows that the Chinese eat with chopsticks and that the Westerners with a fork and knife !!! Is this racism ??"
Stefano Gabbana denied that he sent the messages, saying that his account was hacked and posting a screenshot of the messages with the words "not me" emblazoned across them. He also wrote in the caption "My Instagram account has been hacked. My legal office is working on this. I love China and the Chinese Culture. I'm so sorry for what happened."
In a statement to the Cut, which is also posted to their Instagram, signed by Stefano Gabbana and Domenico Dolce, they expressed dismay about the canceled show.
Our dream was to bring to Shanghai a tribute event dedicated to China which tells our history and vision. It was not simply a fashion show, but something that we created especially with love and passion for China

and all the people around the world who loves Dolce&Gabbana. What happened today was very unfortunate not only for us, but also for all the people who worked day and night to bring this event to life.

From the bottom of our hearts, we would like to express our gratitude to our friends and guests.
What has the fallout been?
On Thursday, BoF reported that, according to Chinese media outlets, major Chinese e-commerce platforms such as Tmall, JD.com, NetEase, and VIPshop have all removed Dolce & Gabbana products from their online offerings. Sephora stores in China also pulled the brand's beauty products from shelves. And WWD reported that Yoox Net-A-Porter Group will stop selling Dolce & Gabbana products in the Greater China region, and that they would be "monitoring the situation closely and keep further decisions under review."
As a "precautionary measure," police and security guards have been posted at Dolce & Gabbana stores in Beijing and Shanghai.
On Friday, the designers uploaded an official apology video to the brand's YouTube channel. They spoke in Italian, but one video was uploaded with English subtitles, and another with Chinese subtitles, which was shared on Weibo as well.
"In the face of our cultural misunderstanding, we hope that we can earn your forgiveness," Dolce said.
Gabbana also asked for forgiveness, adding: "We will never forget this experience, and it will certainly never happen again."
The video concluded with the designers saying "Sorry" in Mandarin.
This post has been updated throughout.