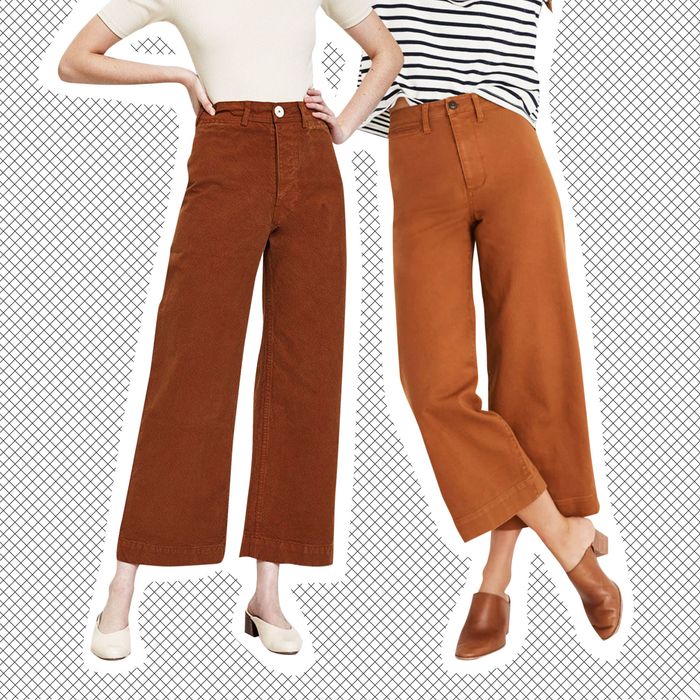 Left, Jesse Kamm sailor pants. Right, Madewell Emmett pants.
Photo: Jesse Kamm/Need Supply Co., Madewell
In the past two years, the high-waisted, wide-legged, sailor-pant style sometimes known as "ugly pants" has become all but ubiquitous among cool women who've moved on from skinny jeans. The look was arguably popularized by Jesse Kamm, a Los Angeles–based designer with an eye for the kind of '70s cool that influencers covet and major brands want to copy. Which is exactly what Kamm said happened yesterday when she accused Madewell of using her trademarked name to promote their own sailor pants.
On her Instagram, Kamm posted a screenshot of the Google Ads bar just under the search, "Jesse Kamm pants," which featured both her own pants ($395 at Need Supply) and two similar pairs from Madewell ($88 and $128, respectively). She wrote, "I am not sure why else you would need to use my name and my trademark. It feels very inauthentic. Please take my name out of your ads. I would appreciate it so very much. Thank You! xo JK."
Diet Prada shared the post on their stories, writing, "Dang … we haven't seen someone blatantly using their SEO keywords to sell knockoffs this bad since Ivanka's Chanel slingbacks."
It sucks for a smaller brand like Kamm's to see Madewell profit off of its name. But as many commenters noted, the Madewell ads don't include Kamm's name directly. Google has learned what a Jesse Kamm pant looks like, according to Cherilyn Cubeta, senior SEO strategist at Search Interactions (who also advises on SEO issues for the Cut's parent company, New York Media). Google then takes ads from Madewell and other brands — including American Eagle, Anthropologie, and Reformation — that have keywords similar to Kamm's sailor pants, and puts them in that ad space when people search "Jesse Kamm pants." That explains how a Reformation jumpsuit ends up in the mix — algorithms aren't perfect fashion critics. The ads could also include Kamm's name as a keyword for their ads.
The ads are paid for by the brands, who know that people like Kamm's pants but may not like the nearly $400 price or the limited sizing options (they only go up to size 12). In other words, everyone's doing it — which doesn't make it ethical, but does mean that it's not just a problem that's specific to just Madewell or just Jesse Kamm.
"If Jesse Kamm is going to be mad at anyone, it shouldn't be Madewell — it should be Google," Cubeta said.
Kamm, in an email to the Cut, said that she has had issues with many other brands using her actual name (which is trademarked) in ad. She also noted that when you just search "Jesse Kamm," ads for the pants show up, suggesting that they use her name as a keyword.
"We contacted Google and filed a complaint months ago, and they responded by saying that they do not restrict the use of brand names as keywords by other brands. This is why I have taken this up directly with the companies who are using my name as a keyword," Kamm said. "I feel very strongly about the fact that I don't think other companies should get to use my name as a keyword to improve their search results. They do not sell our pants, and therefore, should not use our name."
Among the many comments on Kamm's post, one stood out. Ethical fashion influencer Shannon Buckley wrote, "I'm not saying any of this is right or wrong, but for those of us who are excluded from Jesse Kamm's sizing range, Madewell does offer larger, more accommodating sizes, and for that I am very grateful." The comment got over 1000 likes and 150 replies, and she continued her thoughts on her own page.
Buckley said she decided to comment because she felt Madewell was being unfairly attacked for something many brands do. (It's fair to note that Buckley used to work for J. Crew, Madewell's parent company.) She also said that she doesn't mean to single out Kamm, since the fashion issue as a whole struggles with sizing — not to mention accessible pricing.
"A lot of people are feeling left out by her offerings, and I think that's why Madewell (and other brands, both slow fashion and fast fashion) serves such a necessary purpose, both for those who cannot fit into her sizes and also for those who cannot afford the steep price tag," she said. "Because Jesse Kamm has never, to my knowledge, publicly asked for feedback about her sizing, I took it upon myself to start the conversation on a relevant post, and things just took off from there."
On Wednesday afternoon, Kamm posted a response, addressing the SEO tactics used and clarifying that she never meant to imply that people shouldn't wear high-waisted pants from other brands. Finally, she addressed Buckley's comments (indirectly) and announced that her brand would be adding a size 14 to their offerings. "I don't know about you, but after yesterday, I needed a long walk, some deep breathing, and small glass of vodka! Wow. That was really something," Kamm wrote. She also — on Instagram and in an email to the Cut — emphasized that her company is a four-person operation and they intend to keep it that way. "I don't make that decision because I want to hurt people like Shannon. We do it because we value our time away from work, and I also believe it is a more sustainable way to run a company in this modern era of excess."
It's not often that you see so many different issues in the fashion industry — among them accessibility, inclusivity, and copy-catting — wrapped up in one pair of high-waisted, wide-legged, deliberately unflattering pants.
This post has been updated throughout with Kamm's statements.