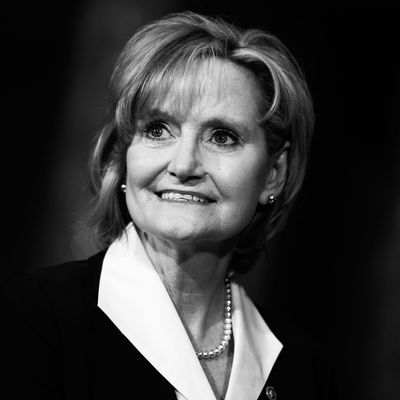 Mississippi senator Cindy Hyde-Smith.
Photo: Tom Williams/CQ-Roll Call,Inc.
On November 27, Democrat Mike Espy will go head-to-head in a Mississippi Senate runoff election with incumbent Cindy Hyde-Smith, a Trump-endorsed Republican whose recent racist remarks were so abhorrent that Walmart and Major League Baseball have recently asked the senator to refund the respective $2,000 and $5,000 they donated to her campaign. But will her comments about "public hangings" and photos with Confederate memorabilia actually impinge her likelihood of holding onto a Senate seat?
Below, here's what to know about the scandal-plagued race.
Who is this woman?
In April 2018, Mississippi governor Phil Bryant appointed Cindy Hyde-Smith, 59, to assume the Senate seat vacated by ailing senator Thad Cochran, christening her as the first woman to represent the state in the U.S. Senate. Before Hyde-Smith won this seat, she served in Mississippi's State Senate and worked as the state's agriculture commissioner. (She was the first woman to hold this position as well.)
Unbelievably, Hyde-Smith started off in politics as a Democrat, and later switched parties in 2010. Per her campaign website, Hyde-Smith is someone with a "strong social conservative voting record with a 100 percent pro-life rating [who is] a lifetime member of the NRA." According to FiveThirtyEight, Hyde-Smith has voted with Trump more than any other Republican, and she supports both the construction of a wall along the U.S.–Mexico border and the Trump administration's travel ban.
Who's her challenger?
Democrat Mike Espy, 64, has also had a lot of firsts as a politician. In 1987, he became the first black Mississippian to be elected to Congress since Reconstruction, and he became the first black secretary of agriculture under President Bill Clinton in 1993. He takes a relatively centrist approach to politics: He supports Roe v. Wade but is personally opposed to abortion, he's pro–Second Amendment, he wants to increase paid family leave and minimum wage, and he support the expansion of Medicaid funding.
So, what are these controversies?
The first time Hyde-Smith landed in hot water (on a national level) was around November 11 when a video of her joking about attending a "public hanging" went viral.
"If he invited me to a public hanging, I'd be on the front row," Hyde-Smith said at a campaign stop on November 2 in Tupelo after a supporter praised her. The public quickly condemned her comment, and Espy called it "reprehensible." Hyde-Smith, however, maintains that it wasn't racist.
"In a comment on Nov. 2, I referred to accepting an invitation to a speaking engagement," she said in a statement. "In referencing the one who invited me, I used an exaggerated expression of regard, and any attempt to turn this into a negative connotation is ridiculous."
Mere days after that controversy, Cindy Hyde-Smith once again faced backlash after she made a "joke" about voter suppression to a small crowd in Starkville. According to Lamar White Jr., the publisher of the nonprofit news site Bayou Brief who tweeted the video, the senator made the remark the day after her public-hanging comment.
"There's a lot of liberal folks in those other schools who that maybe we don't want to vote," she said. "Maybe we want to make it just a little more difficult. And I think that's a great idea."
Yet again, Hyde-Smith's campaign's said that the senator was simply "making a joke," and that the video was "selectively edited."
"The senator absolutely is not a racist and does not support voter suppression," spokesperson Melissa Scallan said in a statement. (Policies Republicans enact in order to suppress votes are typically racist.)
Politico unearthed a photo Hyde-Smith in 2014 that she posted to Facebook, in which she proudly dons a Confederate Army hat and hold a musket in former Confederate President Jefferson Davis's home.
"This is a must see," she captioned the photo. "Currently on display are artifacts connected to the daily life of the Confederate Soldier including weapons. Mississippi history at its best!"
The Jackson Free Press reported that in high school, Hyde-Smith went to a segregation academy called Lawrence County Academy, which was one of the schools set up to bypass desegregation. Not only did Hyde-Smith attend a segregation school, but she also sent her daughter to one: Brookhaven Academy, which has mostly been a segregated institution since its creation in 1970.
Just a day later, CNN reported that Hyde-Smith's support of the confederacy extended into policy. According to an investigation by CNN's KFile, while she was a state senator in 2007, Hyde-Smith co-sponsored a resolution to honor Effie Lucille Nicholson Pharr. Pharr was called "the last known living 'Real Daughter' of the Confederacy living in Mississippi," by Hyde-Smith. Pharr's father fought in Robert E. Lee's army against the United States.
Historians interviewed by CNN considered the resolution that Hyde-Smith pushed for to be odd, not only because it called for the glorification of the confederate army, but because the resolution referred to the civil war as "The War Between the States."
Who's expected to win?
Despite all the controversies around her, Hyde-Smith is still predicted to win. While she only won 32 percent of the vote during the general election on November 6, she split the state's Republican vote with Chris McDaniel, who ended up with nearly 25 percent of the vote. (Espy won 41.5 percent of the vote.) FiveThirtyEight only gives Espy a 25 percent chance of winning the Senate seat.
This post has been updated throughout.