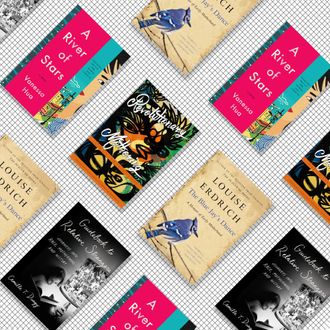 Motherhood books by women of color.
Photo: Courtesy of the Retailers
"Why All the Books About Motherhood?" a headline asks, and I click on it immediately, a moth to a flame. Over the last two years, it's a question that at least a dozen publications, including Harper's, the Los Angeles Review of Books, the New York Times, The Paris Review, and Slate, have addressed. Like the other Mom Book roundups I've read, this one happily lumps works from a range of genres — novel, memoir, criticism, personal essay, polemic, short fiction — together under the vast theme of motherhood. While the books they consider vary widely in style and approach, every one of these pieces, thankfully, arrives at roughly the same answer to the dominant question.
"There is no more relevant subject to every person in the world than motherhood," wrote Lauren Elkin in The Paris Review this past summer. In the publishing world, motherhood has officially been deemed a trend. As with any proper trend, along with the glut of pieces examining this one has come the requisite touch of fatigue over and pushback against a cultural inclination that has only recently been acknowledged. As Lynn Steger Strong wrote in her piece, "What Makes a Book a 'Mom Book'?" trends "often hold nothing inside them. They often say the same things again and again."
Still, it's significant. We've arrived at a cultural moment where people agree that motherhood is a rich topic, worthy of rich consideration, and many books to meet the task. I'm here for it. Motherhood is life, the beginning of every story.
But with each Mom Book piece I read — written almost entirely by white women, discussing mostly the same books, also written almost entirely by white women — a question began stirring inside me. It finally rose to the surface, bubbling like a hive on my skin, hot and irritating, impossible to ignore: "Why are so few of the Mom Books being written about by women of color?"
It's a question New York Times critic Parul Sehgal took up, at least in part: "[S]o many of these books (almost all of them are by white, middle-class women) seem wary of, if not outright disinterested in, more deeply engaging with how race and class inflect the experience of motherhood."
What Sehgal (a woman of color) wrote was true — because she was primarily considering books by white women. She was not alone. The Paris Review piece listed 21 authors of books about motherhood (including one man!). But conspicuously absent from the list was a single person of color.
I'll admit, as someone who recently wrote and published a book about pregnancy and motherhood, that all this clicking and reading was self-serving. As I was writing my book in 2016 and 2017, I was doing research, looking for inspiration. This past spring and summer, after my book was published, I clicked on every Mom Book article because I wanted to see if my book was included. Sometimes it was; more often, it wasn't. (Publishing a book, I've learned, requires constantly contextualizing your experience in an industry that often runs on luck, subjectivity, and connections, and not taking disappointment personally.)
My own interests aside, I still couldn't get away from the question: Why all the all-white Mom Book pieces?
Chroniclers of the Mom Book trend love to talk about Rachel Cusk's 1997 memoir A Life's Work, but hardly anyone mentions Louise Erdrich's The Blue Jay's Dance, the acclaimed Native American novelist's meditation on early motherhood, published in 1995. While Cusk offers wryness and an unflinching look at the isolating reality of modern motherhood, Erdrich offers tenderness and a quiet insistence that it is a natural, creative force. This past spring, before Sheila Heti's novel Motherhood — a nuanced interrogation of ambivalence about having children — was even published, it was crowned a Mom Book favorite. But more recent Mom Book roundups don't mention Vanessa Hua's widely (and positively) reviewed A River of Stars, an insightful and timely work of fiction that examines how having an uncertain immigration status in our country's fraught system infiltrates experiences of pregnancy and motherhood, affecting every decision that must be made. My queer and POC friends pass around copies of Revolutionary Mothering, a 2016 collection of essays and poems centering on women of color and other marginalized groups, but it hasn't shown up on any of the Mom Book lists I've read. And while I know marketing copy is its own genre of writing, my heart breaks a little when I see this book billed as "an anthology that gives access to the voices of mothers of color" — as though our voices weren't always out here, easily accessible, just waiting, hoping to be heard.
Books on motherhood by people of color certainly exist, but they are few and far between. Publishers simply don't buy as many books by mothers of color, and it's likely that many writers don't pursue writing about their journeys with pregnancy and motherhood because they don't believe they'll be given a chance. I know I was one of them.
Never in my life did I think that I would get to write a book about an experience as universal as motherhood. Even now, when my book is a generally well-received work that is a part of people's lives, it still feels like I have cheated the system, gotten away with something. Because even if a book receives critical attention, it can still be overlooked by the trend-spotting masses.
I'm astonished — and annoyed — that none of the pieces I've read discuss Guidebook to Relative Strangers, poet Camille T. Dungy's tremendous book of essays, which was published in 2017 and named a finalist for the National Book Critics Circle Award in Criticism. On motherhood — its daily tedium, its emotional swings, its life-altering sense of responsibility, and its social weight — Dungy is as good as they come.
Here she is describing a woman who offers to hold her infant daughter Callie as Dungy collects their things from an airport baggage claim carousel: "Immediately she plowed her nose into Callie's hair. 'If I could bottle that smell,' she said, because babies are simultaneously astounding and mundane and so are the things people do around them."
And here is her dispatch from a cramped airplane bathroom — Dungy, with Callie on her chest in a Babybjörn, unable to re-button her pants: "Like so much of motherhood, going to the bathroom while wearing a baby demands equal parts acrobatic prowess, fear management, and sublimation of shame."
But on the subject of race — and Dungy's book is explicitly subtitled Journeys Into Race, Motherhood, and History — she is even better.
After giving birth to Callie, Dungy kept up the busy schedule of a working writer, traveling to speaking engagements across the country, often bringing her daughter with her. While on a winter trip to Presque Isle, Maine (population 95.13 percent white), with Callie, the poet finds herself on the receiving end of a flurry of questions — about what she thinks of the cold, the snow, the hotel thermostat, the complimentary breakfast — and long looks from the locals.
"And so it was, as I moved through the Presque Isle Inn & Convention Center at a reduced speed due to all the questions I was fielding, that part of me wondered what the breakfast host, and desk clerk, and housekeepers wanted to know besides what I thought of the weather," she writes. "I stopped long enough to let the housekeepers get a good look at the baby. Callie does have marvelous hair."
Dungy is empathetic, generous, and often, at least on the surface, accommodating — which often makes her observations even more damning. Revisiting her book, it's where I find the answer to the question that continues to pester me. It's an answer I already know, one that lives in my bones, my melanin and keratin. It's one I've come to understand in different ways, at many times throughout my life and career. But when I read Dungy's words again, it's as though I'm hearing it for the first time: "When you belong, you can overlook the totality of otherness, the way that being other pervades every aspect of a person's life."
I sold a book exploring the emerging science of pregnancy and motherhood. But as I wrote it, I was mortified to realize that I couldn't do so without including more of my own life in it than I had anticipated. The subjects I was delving into — pregnancy loss, childbirth, postpartum trauma — are inherently personal and, without throwing my own skin into the game, the book felt less alive, less credible. Yet I found myself afraid to write anything approaching what could be called a motherhood memoir. Not because I didn't think my story was inherently valuable, but because I just didn't believe that anyone would care what I — a 40-year-old Filipina writer who had spent most of her career writing restaurant reviews — had to say. I read so many books in the newly minted Mom Book canon and, as far as I could tell, there wasn't one out there written by someone like me.
But I kept at it. (It helps that much of writing happens when you are alone, with no one looking, and no one but yourself to remind you of what's at risk.) As I wrote, I had the feeling that I was doing something surreptitious, embedding details of my own life amid scientific facts and data points, a trail of personal crumbs that would be the evidence that it was I who had written all of this. I snuck things in, trying not to overemphasize them, just letting them be: How, over the 40 years of my life, I'd never been seen by a doctor who looked like me. How every woman of color must contend, at some point during her pregnancy and the planning of her birth, with the fact that she is far more likely to die in this process than a white woman.
I left the facts there on the page, hoping they'd make it through the editing process; cataloging and anticipating which pieces of information I'd be willing to fight for, which I'd be willing to let go of as the manuscript was inevitably trimmed. If this seems like a defensive approach to writing and publishing a book, well, it was. But I saw it simply as being prepared. I've worked in the industry long enough to know better.
The opportunity to write my book came about because an article I wrote about breast milk for a Seattle alt-weekly, where I was the staff food writer, went viral. Though I wrote specifically about introducing my daughter to the Filipino food of my family, the artwork accompanying the piece depicted a white woman and child. While working with the all-white staff at my publisher, I went through a tense negotiation over the cover art, debating the value of using an image of a person with "ambiguous" skin color. When it was time to select from a list of possible narrators for the audiobook, I had to request that a new list of options be sent, one that included women of color. In the end, after hours spent carefully crafting emails so as not to come off as angry, my publisher and I were able to find common ground. They listened to me, which came as a relief, and I am grateful. But the process was exhausting — lesson after lesson in how this industry is not built for people like me, and routinely, even if inadvertently, excludes us.
Five months after my book was published, responses I never anticipated regularly trickle into the various inboxes in my life. Filipina women and other mothers of color write to me to thank me because, for the first time, they feel seen.
"I have looked at and skimmed many pregnancy memoirs and books, all written by white women, and while that isn't completely problematic, I loved even more that this book was written by you," read a recent email. "I wept when I realized that you were also Filipina," a woman — whom I now consider a friend — wrote when she first reached out via an Instagram direct message.
These women know exactly what I mean when I write about my Lola, what it's like to look for a health care provider with brown skin. They find my private trail of crumbs because they've been searching for it, waiting to find it. They follow it, look me up, and send me a stream of messages, not one of which ever fails to make me cry.
Late this summer, a week or so after getting worked up about the White Mom Book roundup in The Paris Review, I was startled and moved to read an appreciation of my book on the publication's blog, in a list of books its contributors were reading. It was sent to me by the person who crafted it, fiction writer Shruti Swamy: "Among the glut of motherhood books that have come out this year, one has sparkled for me like a jewel … As a woman of color, [Garbes's] vision of motherhood includes women who look like me — those who have been so assiduously ignored by the other motherhood texts, and, in many ways, society at large."
Pregnancy and motherhood are experiences as individual as they are universal. We need books that reflect this, and we lose so much — stories that go untold, readers left unreached — when we allow Mom Books, and the discussion surrounding them, to be the exclusive territory of white women. If we put in the work to expand our view, to grow our understanding of motherhood to include all of its shades and iterations, then we could have what we deserve: something real and substantial, more enduring than any trend.