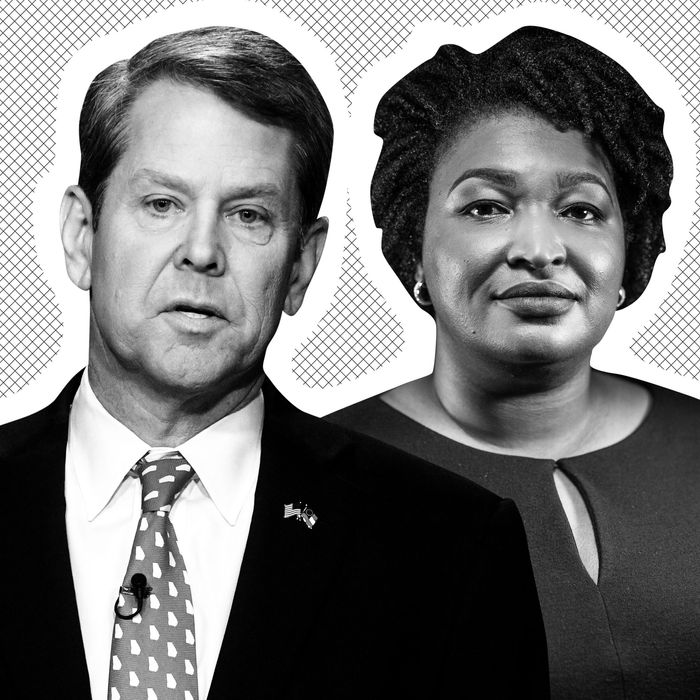 Stacey Abrams and Brian Kemp.
Photo: Shutterstock, Getty Images
Two days after the 2018 midterm elections, one high-profile race is still undecided: the Georgia governor race between Republican Brian Kemp and Democrat Stacey Abrams. Kemp is ever-so-slightly ahead with more than 50 percent of the vote, but Abrams refuses to concede, as not all absentee and provisional ballots have been counted. And over the past few days, she's been closing the gap. Under Georgia law, if no candidate gets a majority of the vote, the two top candidates must advance to a runoff election.
Meanwhile, Kemp has been acting as if he already won the race: On Thursday morning, he announced that he was setting up his transition team and stepping down as secretary of State, a position in which he faced accusations of racist voter suppression that civil-rights groups say helped him come out ahead in the gubernatorial race; in short, he oversaw the election as he ran in it. (On October 13, a coalition of advocacy groups sued Kemp after an AP report found that around 53,000 people, 70 percent of whom are black, had their voter registrations placed on hold in Kemp's office.)
To help sort through all the conflicting information coming out of Georgia, here's what we know.
Did Brian Kemp win?
Although Kemp is celebrating what he calls a "clear and convincing victory," he has not yet won the race. On Monday morning, Kemp had 50.2 percent of the vote to Abrams's 48.7 percent. However, the state is still counting absentee and provisional ballots, which Abrams believes will go toward her. And, if Kemp does not have 50 percent plus one vote, he cannot legally win the election.
(Ted Metz, the Libertarian candidate, has less than 1 percent.)
What is Abrams saying?
Abrams refuses to concede until every vote is counted. As she has repeatedly said, "This race is not over." Just days after her race, she set up a provisional ballot chase program, Voter Protection Hotline, and urged everyone who filed a provisional ballot to either make a call or visit their county election office.
Abrams's team is also accusing Kemp of disenfranchising voters in various ways by "prematurely" declaring himself the victor.
Will there be a runoff in Georgia?
Given the closeness of the race, it's possible; that's certainly what Abrams's team wants. Monday morning, the Washington Post reported that Abrams needs an additional 21,000 votes to force a runoff. The gubernatorial candidate is hopeful, as the campaign believes most of the uncounted ballots come from predominantly Democratic areas.
Kemp's office, however, says "the votes are not there for her," and that Kemp "won the race."
What's next?
On Sunday, Abrams' campaign and the Georgia Democratic Party filed a lawsuit in federal court challenging the rejection of at least 1,095 absentee ballots from "qualified electors" for missing or mismatching information in Democratic-leaning counties, Gwinnett and DeKalb. The suit is also requesting that the certification deadline of Tuesday be extended to Wednesday night so that counties have enough time to count every vote.
Monday night, Abrams' campaign celebrated a win. In response to a lawsuit filed by Common Cause Georgia on November 5, U.S. District Judge Amy Totenberg ruled that the secretary of state's office must create and publicize a voter registration hotline where voters can make sure their provisional ballots were counted. She also ruled that the secretary of state's office, previously led by Kemp, must review countries with 100 or more provisional ballots, to ensure their ballots weren't incorrectly rejected.
"Plaintiff has shown a substantial likelihood of proving that the Secretary's failure to properly maintain a reliable and secure voter registration system," Totenberg writes. Per this ruling, Georgia cannot certify the election results before Friday at 5 p.m.