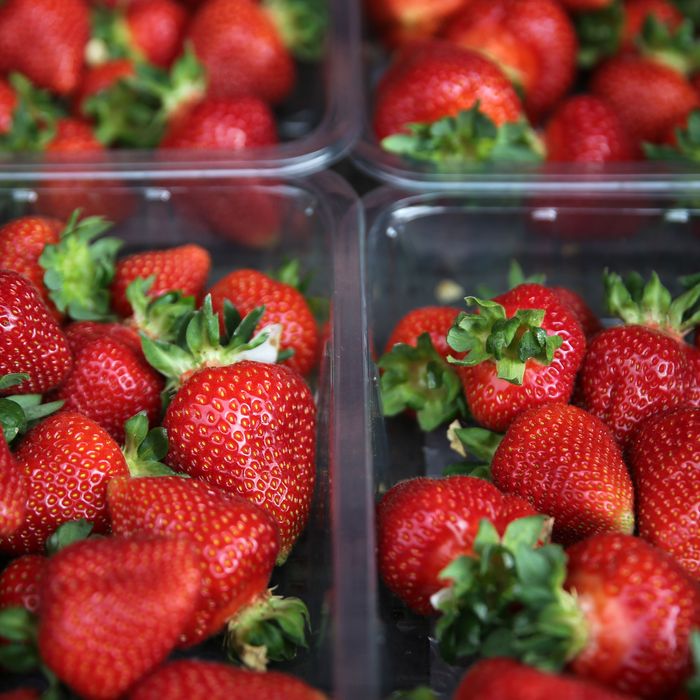 Strawberries, hopefully with no needles.
Photo: DANIEL LEAL-OLIVAS/AFP/Getty Images
In a case that is competing for "weirdest crime," a 50-year-old woman in Australia was taken into police custody in relation to nearly 100 instances of needles found in strawberries in grocery stores across the country. Australian media called the crime the "strawberry contamination crisis." According to CNN, the needles were found in strawberries in six different brands in different states across Australia.
Queensland police announced the arrest on their Twitter page Sunday morning, sharing that the suspected culprit was captured "following a complex investigation into the alleged contamination of strawberries in Queensland in September."
The needles in the strawberries understandably caused a great panic in Australia. According to Jezebel, one man had to be hospitalized after eating one of the needled fruits, and Woolworth's, an Australian store, stopped selling needles entirely. According to CNN, there were even reports of copycats, leaving needles in other fruits, like mangos and bananas.
Strawberries are a huge industry for Australia, and the needle scandal caused some countries to suspend their importing of strawberries. It took several weeks of "extensive investigation" from a police task force and interagency cooperation to find the woman they suspect is responsible. On September 12, the Australian government offered a $100,000 reward for anyone with information about the needles.
"Whoever is behind this is not just putting families at risk across Queensland and the rest of Australia — they are putting an entire industry at risk," Queensland Premier Annastacia Palaszczuk said in a statement at the time. "I would urge anyone with information that may be relevant to this incident in any way to contact police as soon as possible."
According to Australia's Canberra Times, the woman will be charged with seven counts of food contamination, a charge that carries a 10-to-15 year sentence in the country.
Hopefully, the strawberries in Australia are safe now.